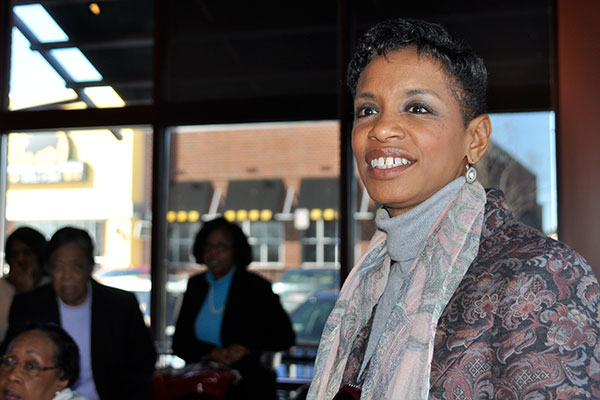 Maryland Rep. Donna Edwards, chair of the Democratic women's working group, supports the women's economic agenda in Congress. Photo by Tazeen Asiya Ahmad.
By TAZEEN ASIYA AHMAD
Capital News Service Maryland Lawmaker Pushes Women's Economic Agenda In Congress
WASHINGTON- Maryland Congresswoman Donna Edwards remembers her son curled up in the corner of a conference room where she was having a meeting, because he was sick and she couldn't afford time off to stay home with him.
Over the years, Edwards, D-Fort Washington, has worked for minimum wage, waited tables for tipped wages, and struggled to find quality, affordable childcare. That was before she was elected to Congress.
She said her firsthand experience with these issues has been invaluable as she works to bring awareness and change for working women around the country.
"These are the issues that really plague women in the workplace and get in the way of their economic success," Edwards said.
As the chair of the Democratic women's working group, she is pushing for an increase in the minimum wage, paid leave, affordable, quality childcare, and equal pay for equal work.
She speaks passionately about the importance of raising the federal minimum wage, something she says disproportionately affects women.
"I think it is a win-win situation if we raise the minimum wage...but it should be indexed to inflation" Edwards said.
She acknowledged the work of Maryland legislators in raising the minimum wage in the state, but expressed strong opposition to the decision by the House of Delegates to freeze the tipped minimum wage, in a recent op-ed in the Baltimore Sun.
In Maryland, tipped employees are paid $3.63 an hour in base pay, higher than the federal rate of $2.13 an hour. Tipped wages apply to employees like waitresses, waiters, bartenders and other service employees who earn more than $30 dollars in tips a month.
"Tipped workers are already vulnerable, as servers are three times as likely as other workers to live in poverty," Edwards wrote in the op-ed.
Edwards maintains that raising the minimum wage, including tipped wages, will improve economic prospects for women and families and be good for the country. "It would mean that they are not going to rely on food stamps and heating assistance and all kinds of support that minimum wage earners need because they work below the poverty line," Edwards said.
The Center for American Progress ranks Maryland as the top state in the nation for the economic security of women, but Edwards doesn't think enough progress has been made.
"I always love it when people point to Maryland as a leader in terms of economic prospects for women. I think that is really great, but when you are a leader among 50 states where women are doing horribly, it doesn't say much," Edwards said.
She said women in Maryland still have a long way to go.
She points to the fact that even in the best scenario, Maryland women are on average making 15 percent less than their male counterparts and that the cost of even average child care in the state is about $12,936 a year.
"Something so simple as providing quality childcare is a barrier to women being able to succeed in the workplace," Edwards said.
Edwards would also like to see more women elected to office. She said women need to know that anyone can run for political office and that holding an elective office is not a requirement to run for elective office.
"I am the first African-American woman to represent Maryland in Congress. It is actually kind of shocking to be able to say that kind of first in 2014," Edwards said.
In her leadership role she feels a great responsibility to train and grow other women leaders.
"I want to demonstrate to our young girls that it is a possibility for them to lead in the political arena. It makes me kind of sad where Maryland fits on the scale right now. We have such tremendous women in our state who are incredibly smart and talented, but they have not moved through the ranks in Congress and other elective office," Edwards said.
Before running for Congress, Edwards worked in the non-profit sector as a public interest advocate and in the private sector on NASA's Spacelab project. In 1994, as co-founder and executive director of the National Network to End Domestic Violence, Edwards worked to help pass the Violence Against Women Act that President Bill Clinton signed into law. She was also very active in development projects at the local level in Fort Washington.
She said she didn't come to her 2006 decision to run against Democratic incumbent Albert Wynn lightly.
"I was very disappointed in the member of Congress who represented our district. I went around asking other people if they wanted to run," Edwards said.
When she didn't find anyone willing to challenge the incumbent, who many perceived as unbeatable, she decided to do it herself.
"I jumped in my car, drove to Annapolis, filled out a couple pieces of paper, wrote a check for $100 and became a candidate for Congress," Edwards said, laughing.
She ended up losing that election by a narrow margin, but two years later she beat Wynn by 22 percentage points in the Democratic primary. She later went on to win the 4th District, defeating Republican Peter James.
"Mostly people want to get up in the morning and take care of themselves and their children in a comfortable way, not an extraordinary way. That frames how I think about being in Congress," Edwards said.