ANNAPOLIS — Gov.-elect Larry Hogan finalized Comptroller Peter Franchot's campaign to mandate public schools to begin after Labor Day by adding his name to the "Let Summer Be Summer" petition Thursday morning, which totaled 13,244 signatures in support of a later start date. 
Franchot and Hogan said this change will bring increased revenue for businesses and the government—without any tax hikes—and bring more opportunities for family time.
"I think it makes a whole heck of a lot of sense to start school after Labor Day," Hogan said. "There's just no downside to this issue."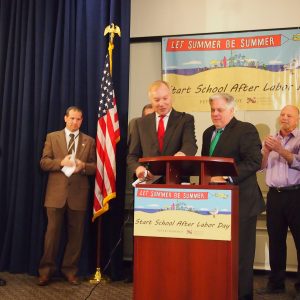 Local school boards determine start dates, which have been trending to before Labor Day since the 2000s. John Woolums, director of governmental relations for the Maryland Association of Boards of Education, said this coincided with testing initiatives from the federal No Child Left Behind Act. Many counties wanted more time for instruction before tests, Woolums said, but they also had the power to respond to local needs.
Worcester County followed the trend and switched to a start date before Labor Day, but after hearing Ocean City area businesses' concerns, Woolums said, they chose to start this year after Labor Day. He said this local response is better than a statewide mandate.

 Hogan recalled his years working summers in Ocean City as a teen, and said that extra weekend of work into Labor Day at $1.35 an hour made all the difference to him.
 Franchot said this issue crosses party lines, and is an issue of the "common sense caucus," because students, teachers, families, small businesses and taxpayers want a break. He said this date change can make that break happen.
 "We can accomplish this easily," Franchot said. "This meaningful adjustment can be done relatively smoothly and keep the current end of the school year at early- to mid-June."
 He said that local districts can determine how to make up lost pre-Labor Day school days and still ensure students are in the classroom for a minimum of 180 days by using the flexibility of winter and spring breaks, as well as eliminating "soft time" in current schedules.
 Cutting days could end up cutting teachers' professional development time, said Woolums. He also said the lost time from the beginning of the year would most naturally be made up in an extension at the end.
 In May, the Task Force to Study a Post-Labor Day start for Maryland Public Schools—which included parents, teachers, business representatives, state delegates and senators, a student, and a representative from both the Maryland Tourism Board and the Maryland State Education Association—recommended to Gov. Martin O'Malley a later start for Maryland public schools.
The task force met eight times throughout the 2013-2014 school year, reviewing the impact of a later start date on the education system, the economy and summer tourism. 
The state Bureau of Revenue Estimates released an economic impact report on the post-Labor Day start in August, which estimated a possible $74.3 million increase in direct economic activity by using assumptions about the number of families taking a new summer vacation. The Bureau of Revenue Estimates was not available for comment on the specifics behind these assumptions.
Bill Paulshock, owner of Bill's Seafood in Perry Hall, Md., said Thursday the extra weekend can be the difference between a business staying open or having to shut down.
"It's a stimulus package that's not going to cost our taxpayers a dime," Paulshock said.
But the Maryland Association of Boards of Education is completely against the idea of a statewide-mandated start date after Labor Day, said Woolums.
"There is the concern that economic interests, such as the reported sales tax revenues that could be generated by extending summer in Ocean City, are being held above and given higher priority than the educational needs of our students," Woolums said.
The Maryland Association of Boards of Education, which represents the 24 local boards of education in the state, also opposes the state's intrusion on local governance in such complex issues, like a starting date, Woolums said.
There were no teachers or representatives of education organizations at the conference
Thursday morning, though Franchot said many teachers signed the petition and are in support of the later state date.
State Senator James N. Mathias Jr., D-Somerset, Wicomico, and Worcester, said he hopes to carry a bill on the topic to the Senate, and Delegate Anne Healey, D-Prince George's County, has plans to also bring it to the House of Delegates.