CNS-TV Video: Brandi Vincent
ANNAPOLIS – Derek Dutch is a little worried about what his employer, the IKEA in College Park, might think of him speaking out about his job before state legislators. But, the 35-year-old said, something is truly wrong with the way hourly workers like him are often treated, so he's speaking up.
"I've always been a person who will fight," Dutch said.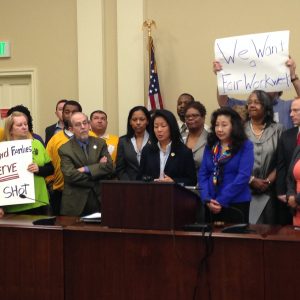 He said he logs about 22 hours a week, but recently his employer has been sending him home early once he completes his work—even if his hours aren't done—because they can then pay him less.
"It works against you," Dutch said, who would ideally like to be a full-time employee. "I don't want them to treat me special, I just want what's fair."
IKEA representatives were unavailable to comment Tuesday evening.
Walmart employee Cynthia Murray said one important issue she sees for co-workers is unfair scheduling plans.
Murray, who has worked in the Laurel store for 15 years, said that the company regularly switches employees' schedules with little notice, leaving them little time to prepare and adjust. She said this can be especially hard on parents and families, who try to plan around their schedules, and can't afford to lose their job by not showing up.
Walmart spokesman Kory Lundberg said that all stores give employees schedules two-and-a-half weeks in advance, and they do not have any on-call shifts. If the store needs coverage, Lundberg said, a manager can call employees to see if they want to work an extra shift but they wouldn't be required.
But Dutch and Murray's stories aren't uncommon, said research analyst Aditi Sen for Center for Popular Democracy. Her center's latest research found that there are 1.3 million hourly workers — which Sen said is about half of the state's workforce — in Maryland. About 22 percent of hourly workers in the state hold part-time jobs, which women are more likely to hold, the research found.
This new data, which was released Tuesday, and narratives from Maryland workers and families, have inspired three new bills in the General Assembly. The Women's Pay Equity Act, Fair Scheduling Act, and Overwork Prohibition Act were discussed in the House Economic Matters Committee Tuesday, all asking for better standards for Maryland's workers.
"(My data) shows how many people across the state would benefit, and it's such a diverse group of workers that would benefit," Sen said. "It touches all of our communities."
Charly Carter, the executive director of Maryland Working Families, recalled her own childhood growing up with a single mother who had to work an overnight shift and then went to school during the day—but the one thing they could count on was a fixed schedule.
"No one is guaranteed success in America but everyone deserves a chance to succeed," Carter said.
Delegate Sheila Hixson, D-Montgomery, along with state Senator Joanne Benson, D-Prince George's, is sponsoring the Fair Scheduling Act, which will require predictable schedules and adequate warnings of any changes for workers.
Delegate Cheryl Glenn, D-Baltimore, is sponsoring a "Right to Rest" bill, which would require employers pay one and a half times normal pay for overtime work, but only when workers agree to extra hours.
"We are a business-friendly state," Glenn said. "But we know that our businesses have to take care of our workers, and that works for everyone."
State Senator Susan Lee, D-Montgomery, and Delegate Kris Valderrama, D-Prince George's, are both sponsoring the Women's Pay Equity Act, which would expand the Equal Pay for Equal Work law to prohibit wage discrimination on gender identity and allow employees to inquire and discuss specifics of co-workers' wages.
Though Maryland is one of the best states when it comes to the wage gap, Lee said, women still earn about 85 cents to every dollar when compared to men in the state.
Though the federal government has passed laws to ensure equal pay, Lee said, there are loopholes that need to be tightened — which the state can do without waiting on Congress.
With more than 90 sponsors on the Pay Equity act from both the House and Senate, Carter said she is hopeful that bill can pass, but she expects the other two bills to face challenges.
"It might take more than one time, but we're in it for the long haul," Carter said. "It hurts the entire state when people aren't reaching their full potential."