WASHINGTON—Washington is in first place in the NFC East.
I know that concept is slightly foreign to D.C. fans, so let me repeat that. Washington is in first place in the NFC East.
With only five weeks to go in the regular season, Washington controls its own playoff fate after a 20-14 crucial victory over the New York Giants on Sunday at FedEx Field.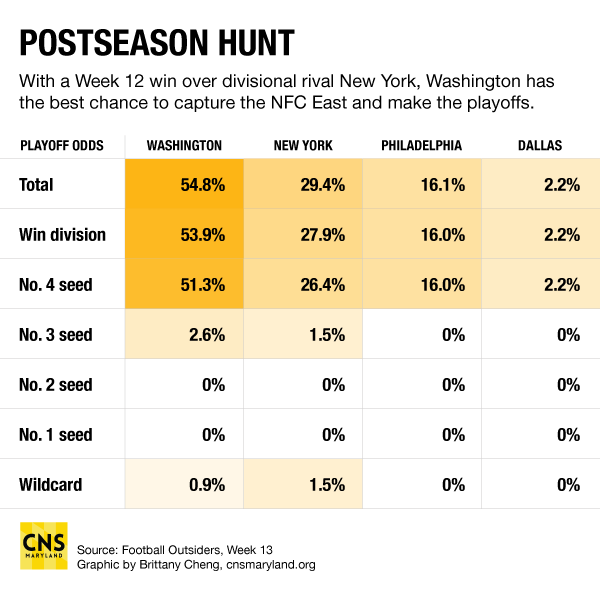 Washington and New York are now tied for the NFC-East lead at 5-6, but Washington currently owns the better division record — Washington is 2-1 while the Giants are 2-3.
At 5-6, Washington has its best record through 11 games since 2008.
While head coach Jay Gruden has his team in a playoff race that virtually nobody expected, he knows that there is a lot of work still to be done.
"There is no time to take a deep breath. We have to keep grinding," Gruden said in a press conference after the game.
"When you're this late in the season, in the position that we're in, you have to take this one game at a time…Dallas is coming so we'll just keep staying focused on them," Gruden added.
Washington last made the playoffs in 2012, winning all of its final seven games, including a winner-take-all game against the Cowboys in the final week of the regular season to snatch the division title.
Before that, the burgundy and gold hadn't sniffed the postseason since Joe Gibbs' final year as the head coach of the team in 2007. That season, Washington again beat Dallas in the final week of the regular season to clinch a playoff spot.
Washington will try to make a habit out of beating Dallas when it matters most, as Kirk Cousins and Co. will do battle with the hated Cowboys in a primetime battle under the lights on Monday night.
The good news for Washington? The team will be playing the game within the friendly confines of FedEx Field, where they are 5-1 so far in 2015.
The bad news for Washington? The team is just 4-18 in primetime games since 2008.
The only news that matters to Washington fans? Their team is in first place.
"To be 5-6 after 11 games, in the position we're in where we control our own destiny…to have that opportunity is great," Gruden added.
Kickoff is scheduled for 8:30 p.m. and will be televised on ESPN.