WASHINGTON — Promising to put "America first," Donald John Trump was sworn in as the 45th president of the United States Friday, assuming leadership of a polarized nation but with the benefits of a Republican-controlled Congress.
Trump's inaugural address, presented before what appeared to be a smaller crowd than had assembled for his predecessor Barack Obama in 2009 and 2013, echoed the themes of his divisive campaign as he pledged to fix failing schools, crime-ridden cities and a corrupt culture in Washington.
"…Today we are not merely transferring power from one Administration to another, or from one party to another – but we are transferring power from Washington, D.C., and giving it back to you, the American people," the new president declared.
"What truly matters is not which party controls our government, but whether our government is controlled by the people," Trump said. "January 20th, 2017 will be remembered as the day the people became the rulers of this nation again."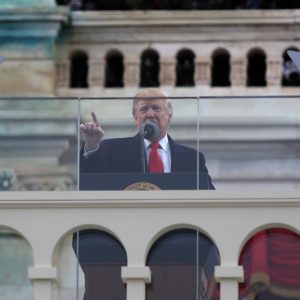 Trump is taking office as one of the most unpopular incoming presidents in modern history, and protesters set up throughout the city and across the National Mall to speak out against policies they see as intolerant, reactionary and dangerous.
Promptly at 12 p.m., a light rain began to fall as Trump raised his right hand to begin reciting the oath of office, his hand on two Bibles, one owned by his family and the other by Abraham Lincoln.
The moment he began to speak, a row of protesters near the Capitol steps tore off their coats to reveal red, white and blue tops and bandanas around their arms. Each person's shirt was adorned with a letter on the back, all of them together spelling out "R-E-S-I-S-T."
The protesters leapt onto their chairs, wrapped their arms around one another, and began reciting the preamble to the Constitution. People around the protesters began shouting at them to cease their protest, and those sitting behind the resisters pulled the folding chairs from underneath their feet, causing them to fall onto the ground or other onlookers.
Security removed the demonstrators from the area just as Trump finished his oath and the crowd cheered in celebration of the nation's new leader.
Standing in front of lawmakers from both sides of the political aisle, as well as Presidents Obama, George W. Bush, Bill Clinton and Jimmy Carter, Trump said his inauguration signaled the end of political corruption in Washington.
Also on the platform with Trump was Hillary Clinton, his almost daily foil during last year's campaign. She was dressed in a white outfit reminiscent of the one she wore to accept the Democratic presidential nomination last summer.
Throughout his campaign, Trump promised he would "drain the swamp" and return power to everyday citizens.
"For too long, a small group in our nation's capital has reaped the rewards of government while the people have borne the cost," he said. "Washington flourished, but the people did not share in its wealth. Politicians prospered, but the jobs left and the factories closed. The establishment protected itself, but not the citizens of our country."
That message is part of why Towson, Maryland, resident Janet Kines supported the New York businessman and former reality TV star's bid for president.
"I'm tired of career politicians running this country," said the 59-year-old volleyball coach. "Government has gotten way too big and we need to trim it down to get rid of the fat.""
Concerns over national security also influenced Kines' vote. During his address, Trump vowed to unite "the civilized world against radical Islamic terrorism."
At 70 years old, Trump is the oldest man to be sworn in for a first presidential term.
The crowd that welcomed him stretched from the Capitol steps to the Washington monument. Thousands of people wearing "Make America Great Again" caps spotted the crowd so much that the National Mall appeared predominantly red.
Trump did not mention his Democratic opponent during his 16-minute address. Anytime Clinton's face was broadcast on the televisions set up across the National Mall, the crowds booed and some chanted, "lock her up!"
But they cheered "USA! USA!" when Trump laid out two rules for Americans to follow during his presidency: buy American and hire American.
"At the bedrock of our politics will be a total allegiance to the United States of America, and through our loyalty to our country, we will rediscover our loyalty to each other," Trump said. "When you open your heart to patriotism, there is no room for prejudice."
John Daugherty traveled from Tulsa, Oklahoma, to attend the inauguration.
"On a personal (level) I'm excited because no one expected Trump to be sworn in today," Daugherty said. "This is a crucial time in our nation's history."
Daugherty said he is "all about" Trump's statements about bringing in more jobs and building up the country's military.
"I'm not saying that I love his personality, I'm saying that I love what he stands for," Daugherty said. "What he's saying I haven't heard in a long time…kind of a throwback America and throwback is in."
Ingrid Roettger donned a dark pink Pussyhat and a handmade T-shirt with "Pussy grabs back," written in black and pink sharpie on the front. She kept the hat on throughout the ceremony, despite people booing and yelling for her to "Go home."
"Honestly leading up to this I was terrified, walking up here people were making rude and ignorant comments," she said.
It was Roettger's first time in Washington after flying in from Chicago at 2 a.m. Friday. While she said it should be an exciting time to visit the nation's capital, she still feels "there is a dark cloud hanging overhead."
"There's so much to say about Trump's presidency," she said. "I'm honestly very scared not only as a woman but for my job."
Roettger works at a nonprofit documentary film company where most films are broadcast on PBS and receive grants from the National Endowment of the Arts. Trump has announced plans to eliminate the National Endowment and privatize PBS.
During his campaign, Trump called Mexicans rapists, mocked a disabled reporter and was in a leaked video in which he discusses sexually assaulting women.
But Kines said people need to keep an open mind about the new commander in chief, who has already begun signing executive orders.
Everyone should just give him a chance," she said. "If he starts going off the deep end, I'll be the first one to protest."