HOUSTON — When Charley Casserly examines the New England Patriots, the former longtime NFL general manager sees a scheme so comprehensive and inclusive that coach Bill Belichick can succeed with almost any player.
Of course, Belichick has quarterback Tom Brady, perhaps the best quarterback of this generation and perhaps of all time, leading the team.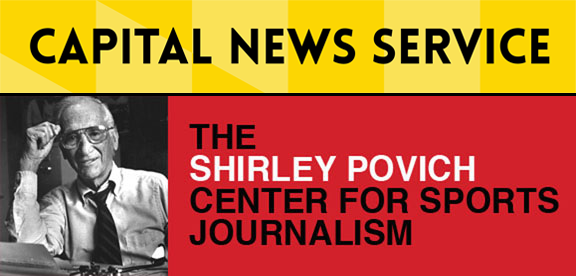 But Casserly also references the likes of running back Dion Lewis, who can line up in the backfield or at wide receiver, and tight end Rob Gronkowski, who's revolutionized expectations for tight ends. Not to mention the dozens of no-names and walk-ons Belichick, who attended Annapolis High School, turns into key players.
That diversity and creativity, Casserly said, is why Belichick could win his fifth Super Bowl on Sunday.
Beating the Atlanta Falcons and raising the (Vince) Lombardi Trophy would be a credit to his longevity and tie him in championships with the legendary Green Bay Packers coach for which the prize is named.
"He's a great teacher," Casserly told Capital News Service. "The motto is 'Do you job.' In other words, if everybody does their job, basically, he'll put them in position to succeed with his plans."
The flexibility is something that separates Belichick from Lombardi, Casserly said.
The Patriots may feature a pass-heavy, up-tempo attack one week and rush 40 times the next. He could combat one opponent with a three-man defensive front, but use four linemen against another.
Belichick doesn't hesitate to make late changes, either.
Patriots tight end Martellus Bennett, who signed with the team in the offseason, talked at media night on Monday about the team's tendency to sometimes eliminate plays during a Saturday meeting and implement new ones before playing Sunday.
"It's not an easy offense to pick up," Bennett said. "Nothing's really set in stone until we get to that game day. There's a lot of adjustments, so you've got to be able to adjust and move on the fly, but emotionally, you've just got to be able to come to work and work hard."
With this approach, Belichick has totaled a .613 winning percentage in 22 seasons as a head coach, including the Cleveland Browns' downtrodden final five years before the team relocated to Baltimore as the Ravens.
In 17 years with the Patriots, Belichick has won 73.9 percent of his regular-season contests.
The mark is similar to Lombardi, who won 73.8 percent of his regular-season games in 10 years (nine with the Packers, one, 1969, with the Washington NFL team) as a head coach. However, Lombardi, the winner of NFL championships in 1961, 1962 and 1965 and Super Bowl I and II, worked with a different style.
He relied on physicality and demand, said former Washington offensive lineman Ray Schoenke, who played for the team in 1969, Lombardi's lone year on the Washington sidelines. Schoenke also played for Lombardi in Green Bay.
Schoenke remembers Lombardi would scream if players didn't push through injuries. He led like a "tyrant" and believed in powering through foes.
While Schoenke liked to study his opponent's footwork and instincts, Lombardi had little patience for the intricacies of preparation.
"He could drive everybody so hard in fear of facing him after a game and the fear of facing him for the week," Schoenke said. "It's overwhelming, so you won by just his grind and his overwhelming demands on you."
That's not to say Lombardi wasn't inventive, Schoenke added. After all, Lombardi's Packers teams were some of the first to develop and use audibles to change plays at the line of scrimmage under quarterback Bart Starr's leadership.
It's a feature the Patriots often rely on with Brady running the offense and organizing players in and out of their natural positions. They'll do the same Sunday with the opportunity to help their coach match Lombardi's feat.
"Both are demanding, both are perfectionists, both were brilliant in football and they both communicated with the players better than it's perceived publicly," Casserly said. "Both coaches would be successful if they switched eras."
This story is part of special coverage of the Super Bowl, a collaboration between Capital News Service and the Shirley Povich Center for Sports Journalism at the University of Maryland Philip Merrill College of Journalism.