ANNAPOLIS, Maryland — Early Thursday morning, moms and children gathered inside the Miller Senate building at tables littered with paper groundhogs and markers, but this Groundhog's Day gathering was no celebration for Punxsutawney Phil.
Instead, the group of fewer than 20, each dressed up in a cape featuring a logo for family-advocacy group MomsRising, gathered to show legislators their support for a paid sick-leave bill, HB1, the Maryland Healthy Working Families Act.
After about half an hour, the group left and marched to the State House. By the time they arrived their numbers had more than doubled as they met other "heroes" on the walk.
Some state senators and delegates they encountered hurried past, others stopped by to chat, and two stole the show: Delegate Luke Clippinger, D-Montgomery, showed up wearing a mask and cape and Sen. Thomas Middleton, D-Charles, wore a cape. Clippinger is a co-sponsor of the Maryland Healthy Working Families Act, and Middleton is a co-sponsor of the Senate companion bill, SB230.
"There are 700,000 people in the state of Maryland that are looking to earn sick leave because when they get sick they have to choose between their jobs and getting better," Clippinger told the University of Maryland's Capital News Service. "These kids who are here today are making the point that you shouldn't have to be a superman just to be able to keep your family healthy and happy and keep a good quality of life."
The Maryland Healthy Working Families Act — widely supported by Democrats — is one of two earned sick leave bills being discussed in Annapolis.
The second, the Commonsense Paid Leave Act, was proposed by Gov. Larry Hogan, a Republican. Hogan contends that his bill does not place a burden the state's businesses.
"While all of us agree that more workers need sick leave in Maryland, it would be irresponsible to put a law on the books that unfairly penalizes our state's job creators," Hogan said in a press release.
The Maryland Healthy Working Families Act allows for employees at businesses with more than 15 employees to earn paid "sick and safe leave" — and unpaid leave for businesses with 14 or fewer workers — when the employee or a family member is sick, with few exceptions.
It also provides coverage to part-time employees and provides protection for any employee who takes earned sick and safe leave by making it illegal to "take action" against an employee who used their leave "in good faith."
Hogan's bill mandates that employers with more than 50 employees at each location provide "paid time off" — in whatever manner they choose — to those employees. Employers with fewer than 50 employees at each location who provide the leave are given a tax break.
Hogan's plan does not cover employees who do not work full time.
Under both bills, employees earn one hour of time off for every 30 hours they work.
According to a study by the Maryland Center on Economic Policy, The Maryland Healthy Working Families Act would guarantee earned time off for 512,000 Marylanders, compared to 272,000 Marylanders under Hogan's Commonsense Paid Leave Act.
"(The Maryland Healthy Working Families Act) simply covers more lives," said Middleton.
Delegate Susan Aumann, R-Baltimore County, said that she has not yet decided which legislation she prefers because she has not had the time to look over either closely.
Aumann, a member of the House Economic Matters Committee, said earned time off has been gaining traction for some time in Maryland.
"We're moving toward (earned time off) because the workers have expressed such trying times," she said.
Later in the afternoon, as one group of families wandered through the House of Delegates' office building, aides popped their heads out to see the costumed children.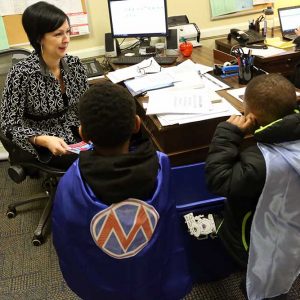 "Bringing kids puts a face to the issue," said Teresa Woorman, a legislative director for Delegate Maricé Morales, D-Montgomery.
"(Bringing kids) definitely catches the aides' attention," she added. "Aides are the ones who have the ear to delegates or legislators."