WASHINGTON – President Donald Trump's Tuesday night address to a joint session of Congress did little to ease the worries of Maryland's Democratic lawmakers.
Trump's address lacked significant detail, said Rep. Anthony Brown, D-Upper Marlboro, and left him "yearning for more."
"This speech was billed as unity and strength, but the actions of the last 40 days were everything but," Brown said in an interview with Capital News Service. "A speech to a joint session of Congress doesn't erase your 40-day record."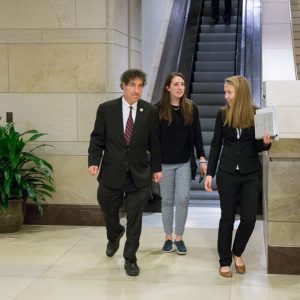 And although the address had a markedly more optimistic tone than the one Trump delivered at his inauguration, Rep. Jamie Raskin, D-Kensington, said he remained disappointed.
"The tone of the speech was slightly improved from what we saw in the inaugural address, which was full of 'American carnage' and blood and gore and violent imagery, so that's mildly reassuring," Raskin said in a CNS interview, "but the basic conceptual infrastructure of that speech still had Steve Bannon's imprint all over it."
For Democratic Whip Steny Hoyer, D-Mechanicsville, the speech sounded more like it belonged on the campaign trail.
"What the American public needs is good policy, not good rhetoric," Hoyer said in a video posted to Twitter shortly after the address.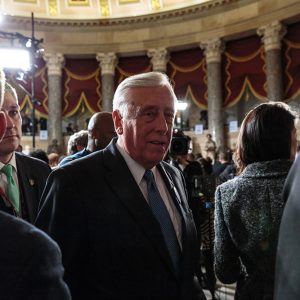 Despite criticism from Maryland's Democrats, the delegation's sole Republican said Trump "hit all the right buttons" in his address.
"The president moved from campaign mode into presidential mode and I think it was obvious," Rep. Andy Harris, R-Cockeysville, said on WBAL Radio's "News Now" Wednesday morning. "We've all been waiting to see that … I just hope the Democrats and Republicans reach across the aisle and work together to promote what the president talked about last night."
One of the primary concerns among Maryland Democrats was the absence of solid domestic policy proposals from Trump's speech, particularly in relation to issues like infrastructure, job creation and health care.
"He has failed to put forward an economic plan or offer a concrete proposal for sustained job creation," Sen. Chris Van Hollen, D-Md., said in a statement. "And he failed to drain the swamp in Washington, instead installing Wall Street billionaires in his Cabinet and failing to address serious questions about his campaign's relationship – and his personal business ties – with Russia."
Rep. John Sarbanes, D-Towson, called for "steady leadership, not another round of empty promises."
"The president was long on salesmanship and short on concrete proposals that will help hardworking Americans," he said.
Rep. Elijah Cummings, D-Baltimore, echoed the sentiment, adding that the "state of the union" he sees each day is one of fear and uncertainty.
"The American people are waiting on President Trump to keep his promises," Cummings said in a statement. " Where is his alternative to the Affordable Care Act that will provide even better and more affordable health care for everyone? Where is his plan to invest in our nation's infrastructure? Where is his plan to help Americans living in urban areas like Baltimore?"
Trump called on Congress to repeal and replace the Affordable Care Act during his speech, asking both parties to "save Americans from this imploding Obamacare disaster." He laid out five principles he said should drive the creation of a new healthcare system.
But his failure to elaborate on the details of any replacement plan worried Brown.
"He's had 120 days since Election Day to put together his plan to expand access to health care to more and more Americans," he said. So far, he added, there have been no signs of a concrete plan for a new coverage system.
In the audience sat Ola Ojewumi, a community organizer and women's health advocate. Hoyer invited the Beltsville, Maryland, resident to be his guest at the address.
Ojewumi received a heart and kidney transplant when she was a child. Late in life, she was diagnosed with cancer and "had it not been for the (Affordable Care Act), Ola would have been uninsurable," Hoyer said in a statement.
The healthcare bill enabled Ojewumi to stay on her parents' insurance until she was 26 years old.
"I hope that Ola's story and those of other constituents attending the address will remind Republicans of the harmful impact that repeal would have on Americans across the country," Hoyer said.
Rep. John Delaney, D-Potomac, posted a video to Facebook after the speech, pointing out that Trump didn't mention the "elephant in the room: the situation with Russia." The omission seemed glaring to other members of the congressional delegation as well.
"The president talks about countries respecting our sovereignty and then doesn't even mention Russia's attack on our free, democratic system," Sen. Ben Cardin, the ranking Democratic member of the Senate Foreign Relations Committee, said in a video posted to Twitter.
Raskin also thought there was something missing.
"He could have spent the entire address apologizing to all the judges and members of Congress and citizens that he has maligned and vilified," he said. "There was no apology and there was no real plan for economic progress for people who have been left behind."