COLLEGE PARK, Maryland — Ahead of the Big Ten Conference Men's Basketball Tournament, the Capital News Service social media team looked to Twitter to see how each team was building excitement for the tourney. As it turns out, some of the teams are just as strong in the Twittersphere as they are on the court.
So what would the seeding for the upcoming tournament look like if it were based on each team's Twitter follower count? Spoiler alert: Indiana would win in a blow-out with over 750,000 followers, followed by Michigan State with over 258,000 Twitter fans.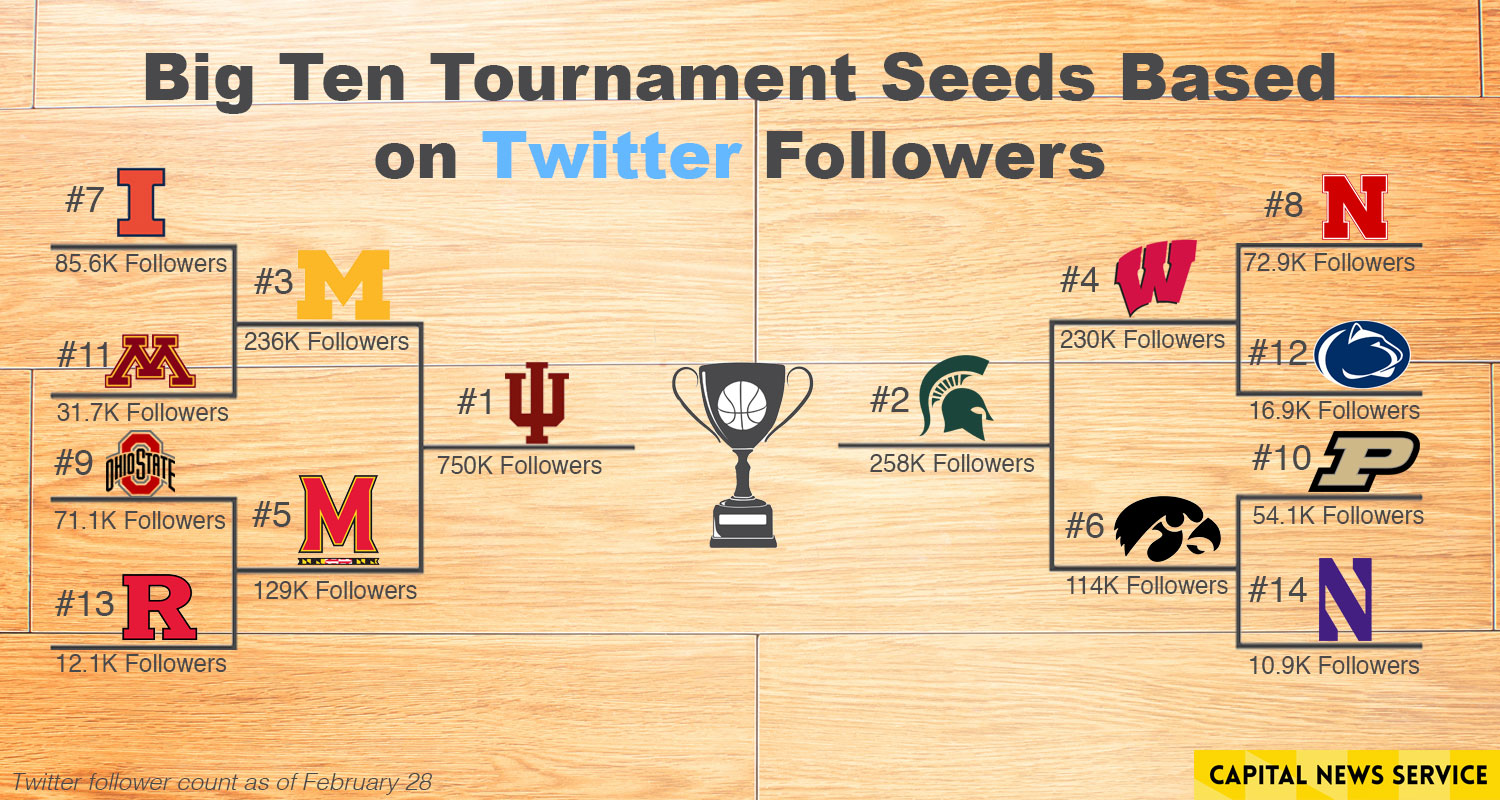 Some teams simply use their accounts to offer play-by-play details of the games, while others use their social media skills to engage with their fans, during the games and beyond.
⏪⏪⏪ Rewind: Indiana 63, Northwestern 62 ⚪️🔴 https://t.co/lGcCs0wcoN

— Indiana Basketball (@IndianaMBB) February 27, 2017
Wherever you're watching, let's hear you get loud for #GoBlue!! 🏀 pic.twitter.com/dPO3eQiVkI

— Michigan Basketball (@umichbball) March 2, 2017
Who is tonight's player of the game?

— Maryland Basketball (@TerrapinHoops) March 1, 2017
Coach Matta decided that he wanted to "channel" his inner Jackie Moon and add a sign to the locker room ala the movie Semi-Pro #ELE #GoBucks pic.twitter.com/TlbzZ31nk0

— OSU BASKETBALL (@OhioStateHoops) February 6, 2017
Happy birthday Murph! pic.twitter.com/EEQ34Zlnll

— Minnesota MBB (@GopherMBB) March 1, 2017
Shhhhh. Surprise visit to support our guy Sean Moffitt and his squad.

🛡⚔ | #KnightAndDay https://t.co/1Su4t7y7Nh

— Rutgers Basketball (@RutgersMBB) March 1, 2017
Live look at Welsh-Ryan Arena.#B1GCats | #PoundTheRock pic.twitter.com/lfEy90jCQq

— NU Men's Basketball (@NUMensBball) March 2, 2017
The Verizon Center in Washington, D.C. will host this year's Big Ten tournament, which begins Wednesday, March 8 and ends with the championship game on March 12. Follow CNS reporters on Twitter (@CNSmd), Instagram (cnsmd) and Snapchat (CNS Maryland) throughout the week!