WASHINGTON – The Big Ten tournament will continue Saturday before wrapping up Sunday, and Maryland will be watching from home, having dropped its first game after a double bye, 72-64 to the Northwestern Wildcats.
Maryland was up by as much as 10 points early in the second half, but Northwestern, just as it did in the first half, came back and took the lead.
All night the Terrapins had trouble setting up their own plays and stopping the Wildcats' big three – sophomore forward Vic Law, sophomore guard Scottie Lindsey, and sophomore guard Bryant McIntosh – from hitting their baskets and draining threes.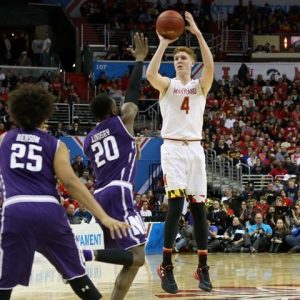 "We just didn't play with the toughness we needed to play with, we didn't play very smart," Maryland head coach Mark Turgeon said after the game. "And they were good. give them credit. Happy for (Northwestern head coach) Chris (Collins). Doing a great job with his program."
Maryland took commanding leads to begin both halves, only to see Northwestern chip away both times.
Staked to a 44-34 lead with 16:25 to go in the second half, the Terps let the Wildcats go on a brutal 20-2 run over the next nine minutes, giving Northwestern a 54-46 lead with 7:30 left to play.
Outside of those two runs, Maryland had trouble finding the basket, making 24 of 51 field goals and just six of 16 three-point attempts. Northwestern capitalized on those mistakes, too, out-rebounding the Terps 32 to 24.
It was a big difference from the game at Northwestern less than a month ago, when the Terps rode 32 points from junior guard Melo Trimble on their way to a 74-64 victory, a score eerily similar to the 72-64 difference tonight.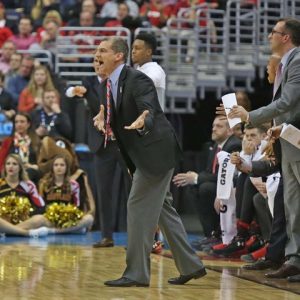 "I mean, they just took us out of our offense. (We couldn't) execute the way we executed at Northwestern," Trimble said. "They played in the gap. Everyone collapsed whenever I went to the basket. They just tried to put a lot of hands up, tried to take charges, tried to find a way to affect me."
The Terps pulled to within three with just over five minutes to play, but they would never get closer.
After Melo missed a three and guard Kevin Huerter fouled going after the rebound, hope for Maryland seemed all but lost, down 68-57 with 2:00 to go.
With a minute to go, the largely red-clad, pro-Terps crowd had made its way to the exits of the Verizon Center, leaving a small contingency of purple-waving Wildcats fans cheering, knowing their Wildcats were on to the semifinals.
The Terps now turn their focus to the NCAA tournament. Asked what they needed to do differently at practice, freshman guard Anthony Cowan just said the team needs to focus on keeping upbeat.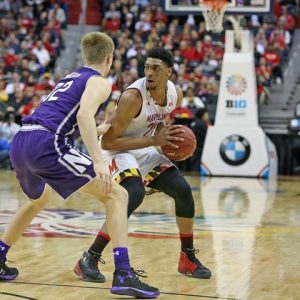 "I don't think there's anything specific (we have to do)," Cowan told Capital News Service. "I just think we need to stay more positive going into practice, that's basically it – stay positive."
Up next, the Terps will find out their region and seeding when the NCAA announces the tournament teams on Sunday.
The Wildcats will face the Wisconsin Badgers in the Big Ten Semifinals here Saturday afternoon.