TOWSON, Maryland – New Town High School girls' basketball team beat Largo High School's team 61-47 on Saturday in what senior New Town guard Maraiyah Smith called a "revenge game."
The Baltimore County team's motto this year was to "anticipate, devastate and dominate," according to New Town first-year head coach Richard Hibbert.
The game at Towson University's SECU Arena started off slowly for the Prince George's County team, the defending champs. New Town forward Khariah Kosh scored the first five points within the first two minutes of the game to take the lead in the first quarter.
The New Town Titans maintained that lead over the Largo Lions throughout the game.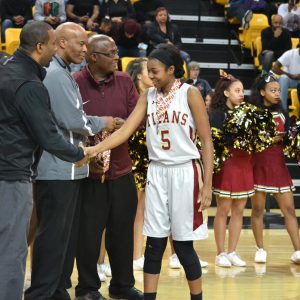 Hibbert said the game plan – to come out strong with defense – worked.
"(Largo's team) looked like they were confused on what to do and that was our game plan," Hibbert said after the win. "We go through so many different types of defenses throughout the year and (the team) finally bought into believing that defenses win championships."
With Largo down 11-0 with 2:47 left in the first quarter, Stephanie Guidon made the first shot for Largo off a foul. Largo's Brianna Jones followed up a minute later to score a layup.
Largo head coach Ayana Ball-Ward acknowledged the hole the team got into during the first quarter and attributed it to championship game jitters. "We worked hard to dig ourselves out of that hole," she said.
At the end of the first quarter, New Town led Largo 15-3.
Guidon said her failed attempts at attacking the board were frustrating, but her team kept encouraging her.
"My teammates have my back," Guidon said after the game. "They just kept telling to keep attacking and do what I had to do…When you have teammates that rally around you it makes it easier to keep going."
With six minutes left in the first half, Largo's Jocelyn Manning fouled Kosh, drawing boos from the Largo crowd that was looking for a travel call.
Towards the end of the first half, the referee called a technical foul on Largo, allowing New Town to score one point. "I asked the referee to watch No. 12 pushing off," Ball-Ward explained after the game. "I don't think that warranted a tech. It was just a question."
Early in the third quarter, New Town forward Ahriyah Richardson hurt her ankle and was out for the rest of the game. Amaya Webb stepped up to replace Richardson and did exactly what she needed to do, according to Hibbert.
Throughout the third quarter, New Town held its lead, drawing fouls and scoring off of steals, maintaining momentum into the fourth quarter to win the game.
"It was a tough game to have to sit and watch," Ball-Ward said. "They played the game plan to a tee, but it just didn't fall our way."
Smith said the team made sure to play quarter by quarter and it felt really good to win. "We knew we had to come out and want it more than they did," Smith said.
To celebrate, New Town planned to go to Sky Zone, according to Hibbert.
"My name is Rich and they think I'm rich," Hibbert said jokingly. Hibbert said if that's where the team wanted to celebrate, he would happily treat them.
"I would say Disney World, but I don't have that type of money yet," he said laughing.