GLEN BURNIE, Maryland — Heroin and opioid overdose statistics in Maryland tell the story of a merciless epidemic.
State and local governments, police departments and health officials have collaborated to expand and evolve in an effort to meet the growing challenge.
Yet there were 123 more opioid-related deaths in Maryland in the first three months of 2017 than the same January-March period a year prior, according to the Maryland Department of Health's preliminary first-quarter overdose death report.
While the epidemic has been relentless, it's also evolved.
Heroin and prescription opioids have not been responsible for the surge in fatal and non-fatal overdoses. Fentanyl — a potent synthetic opioid up to 1,000 times stronger than morphine — has ravaged the state, Maryland health statistics show.
There were 372 fentanyl-related deaths between Jan. 1 and March 31, a 136 percent increase over the 157 deaths in the first three months of 2016, health department data show.
Meanwhile, hundreds gathered at Arundel Christian Church in Glen Burnie Thursday to tell another story. That of promise, hope and resilience in spite of the imminent long-term battle.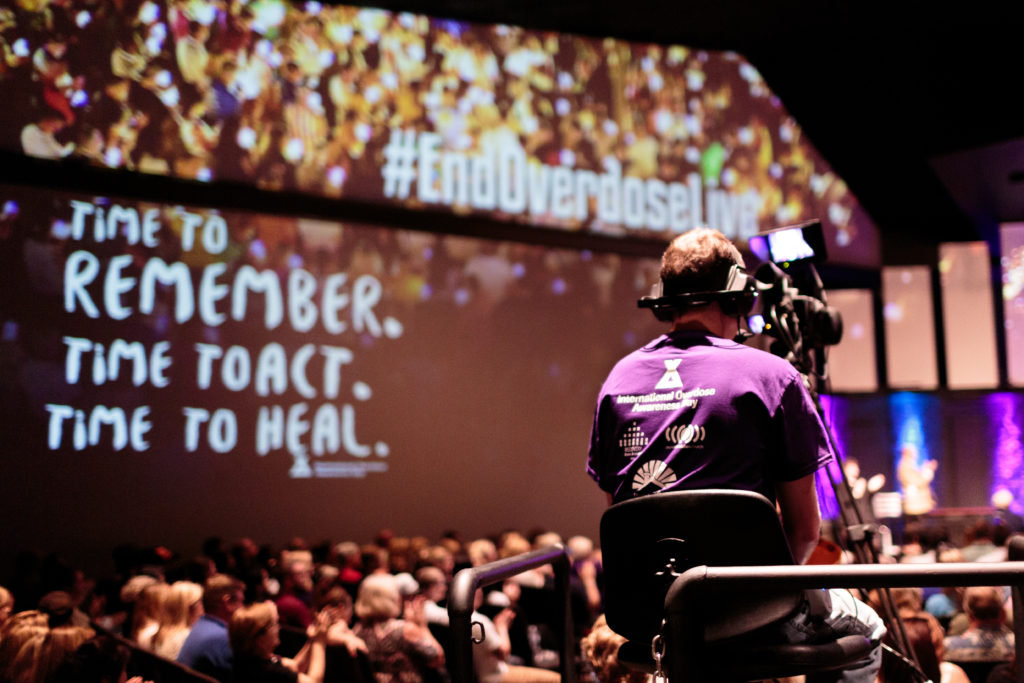 Aug. 31 is International Overdose Awareness Day. Anne Arundel County expanded upon last year's edition in an effort to destigmatize substance abuse for current and former addicts, and families who have lost loved ones to crippling addictions. Or as the event's director, Carol Boyer said, "the people left behind, those left grieving."
Recovering addicts attended in droves, with many donning T-shirts from sober homes.
Being at the vigil with others who have had similar experiences was very comforting, said Chris Vaughn, 32, who said he's been clean since Aug. 12 and just moved to a sober living home in Pasadena, Maryland. "It's a good reminder of what we're battling."
Rob Snead, a 23-year-old Pasadena, resident, wore a black "Evolve Life Centers" shirt. He said he's been clean 70 days after using drugs for 10 years. Events like Thursday's, he said, serve to destigmatize addiction.
"You see us and think we're the scourge of society," Snead said. "(An event) like this, it helps people, especially addicts, realize that it's OK to get help."
The stigma is a barrier between addicts and treatment, Snead added. "I can't tell you how many friends I've lost, that their pride got in the way of getting clean."
Nurse and Glen Burnie resident Nadine Clybourn echoed Snead's remarks.
"It's about time people take notice that addiction is a disease," she said. Addicts "shouldn't be ridiculed. They're people and have feelings."
Anne Arundel County this year has the third-most opioid-related fatalities in Maryland — behind Baltimore City and county.
As of Wednesday, the county recorded 729 suspected opioid overdoses, a 25 percent increase from the 576 over the same time frame in 2016, according to Anne Arundel County Police Department data.
Ninety-four of the 729 overdoses were fatal — 16 percent more deaths than during the same period in 2016 — police data show.
Anne Arundel has been at the forefront statewide of strategies to fight heroin and opioids — from countywide task forces to mobile crisis response teams; and safe stations to increased treatment options.
Every Anne Arundel County and Annapolis City police and fire station has been designated as a safe station for addicts seeking help.
If an addict walks into a station and says they want help, a crisis response team is deployed and the person is connected with an appropriate treatment option immediately.
The drug sanctuaries have yielded promising results: More than 150 people have utilized safe stations since the program's inception April 20.
An Anne Arundel Crisis Response System data analysis shows that out of 87 clients served through the end of July, 41 finished their first phase of treatment, while nine remained in treatment — a 57 percent success rate, according to a county fire department press release.
It will take time for numbers to reflect positive change, "it's a slow process," said Lt. Mike Ashburn, commander of Anne Arundel County Police's narcotics division.
Ashburn added that law enforcement showing "more compassion" is a key to moving forward.
It's all part of a "holistic approach to combatting the epidemic," Anne Arundel County Sheriff Ron Bateman said at the vigil Thursday.
Bateman attended not only because of his law enforcement role, but because the opioid epidemic is personal.
"Three members of my family are hooked on heroin or opioids," he told the University of Maryland's Capital News Service. Opioid addiction "destroys not only users, but the families and loved ones."
Bateman added: "I've seen what it's done to my young family members…and it sucks."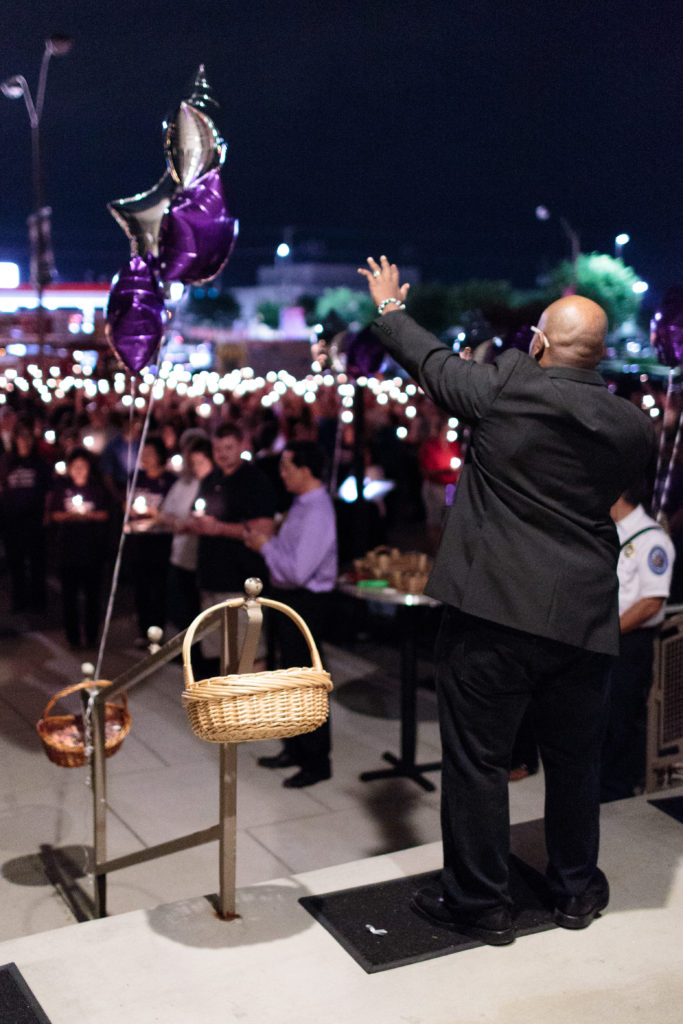 Anne Arundel County State's Attorney Wes Adams lost a family member to an opioid overdose earlier this year. He attended to help "cheer these people on," as the vigil was "a great day to talk about the hope of recovery."
Adams also routinely sees addicts in drug court. He recalled an interaction that occurred outside the event Thursday evening, when a drug court graduate introduced him to a crowd of men.
"The guys out there said, 'You're on my (criminal) paperwork," Adams said. "I said, 'It's great to see you out here,'" as opposed to the courtroom.