ROCKVILLE, Maryland — Organizing aid collections is one way that many Puerto Ricans on the mainland have begun to shake off the "impotencia," or powerlessness, they feel since Hurricane Maria slammed into their home island almost two weeks ago.
[PHOTOS: Maryland Donations for Puerto Rico]
While Gov. Larry Hogan announced Friday that he was sending a 26-member team of the Maryland National Guard to assist on the ground in Puerto Rico, many people from the territory believe that more work needs to be done. As a result, donation sites, many set up by former residents of Puerto Rico, have sprouted across the state.
"The fact is that our families being alive is not enough," said Carolyn Faría, of Gaithersburg, Maryland. "It is a blessing and we are happy that they are alive, but it is not enough. We need them being okay day-to-day."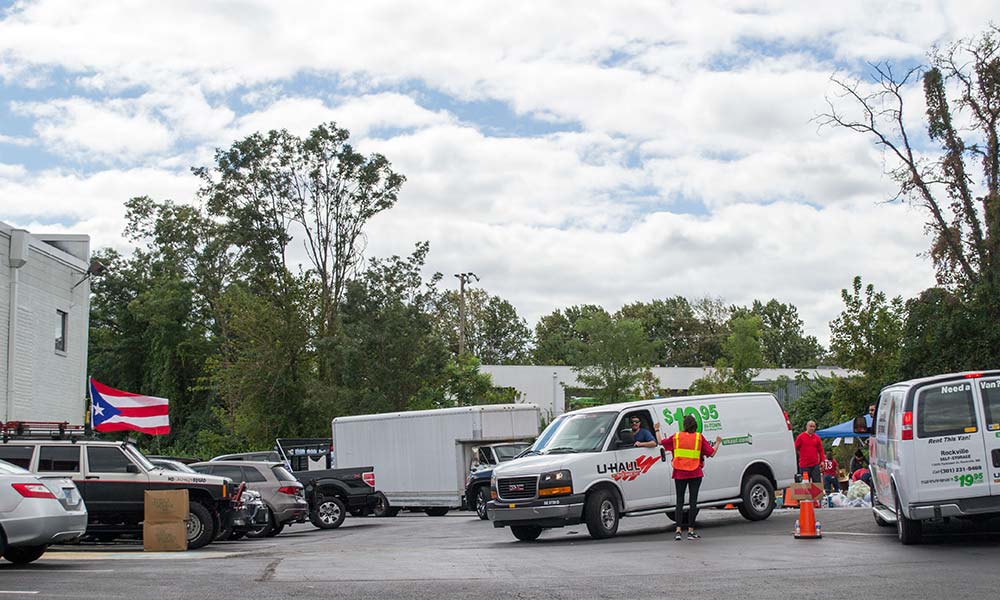 Faría, originally from Ponce, Puerto Rico, was one of several people in neon vests directing cars through the drop-off lines at Dynamite Gymnastics Center on Saturday. The Rockville site served as a centralized hub for some of Maryland's suburbs to send donations to be shipped to the island through the Puerto Rican Federal Affairs Administration (PRFAA).
"Everyone here today has been touched by a family member who is suffering in one way or another," Faría said, speaking both for herself and other volunteers, many of whom have family on the island. "We are voters, we are citizens and we are part of the United States. We are here and we need help."
There were more than sixty volunteers on site Saturday, Faría told Capital News Service. On Sunday, the number had almost doubled with more than 100 people lending support.
Over the course of the two days, Faría said that volunteers filled a dozen 26-foot trucks with the donations bound for Puerto Rico.
"We're a big community of Puerto Ricans in this area," Faría said. "When bad things like this happen, although I pray they never do again, it doesn't matter what town you're from. We're all working together because our families need us."
Hyattsville was another of several sites in Maryland that sent shipments to the Dynamite Gymnastics Center. Candace Hollingsworth, Hyattsville's mayor, was outside the municipal building with several volunteers to "stuff the van" for Puerto Rico on Saturday morning.
Hollingsworth has been critical of the federal government's actions since the storm, saying in a tweet that President Donald Trump should "work harder" at relief efforts in the Caribbean. She drove the van to Rockville herself on Saturday afternoon.
"I'm here because I have friends from Puerto Rico, and I think it's important that we help since the federal government isn't doing anything in a timely fashion," said Justine Christianson, one of the Hyattsville volunteers.
In the days after the storm, friends Waleska Cruz, Tanya Malpica and Eileen Romero channeled their heartbreak into working across almost two dozen local collection sites to gather supplies to send through PRFAA to communities on the devastated island.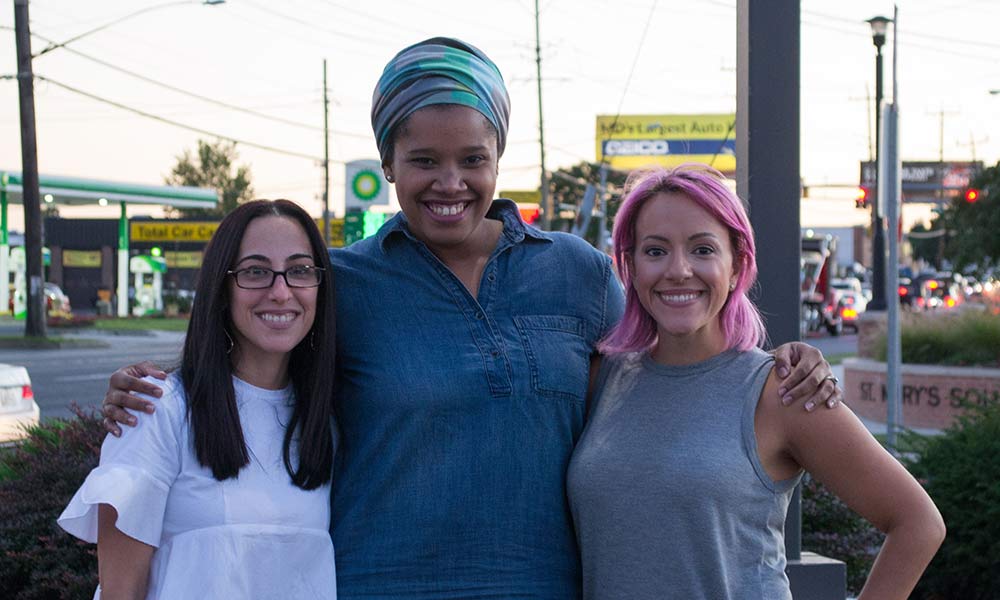 "Being in the United States, you never think you're going to get the call from your family that they need food and water," Romero said. "The tedious work of these donations is almost therapeutic when you're stripped of the ability to be there and help them."
All three women are from Carolina, a northeastern town in Puerto Rico. While Malpica and Cruz were friends growing up, they did not meet Romero until they were living in and around Laurel, Maryland.
"Most of my family is on the island," Malpica said. "I'm blessed that even though I can't be there yet, I have amazing friends checking in, and I know people are taking care of my family."
"I want to be there and help," added Cruz. "From food, water, gas – there are so many concerns, and we want take a flight down there to do anything we can."
Tabernacle Church and Loving Arms Christian Center are two of the main collection sites the women are working with in Laurel, Maryland. The churches' involvement means a lot because it is the "home churches" opening their doors, Romero said.
Vernice and Roberto Gonzalez, the pastors of Loving Arms Christian Center, canceled the usual Thursday Bible study to be able to organize donations and fill trucks with supplies.
"We are joining forces with everyone willing to sow a seed to Puerto Rico," Roberto Gonzalez said as he led the community in a closing prayer. "In this difficult and trying moment, this is where the Bible becomes reality."
"This is us putting our love for one another into action," said Vernice Gonzalez. "We're praying for God to help them, and we will be continuing to do this as long as there is need."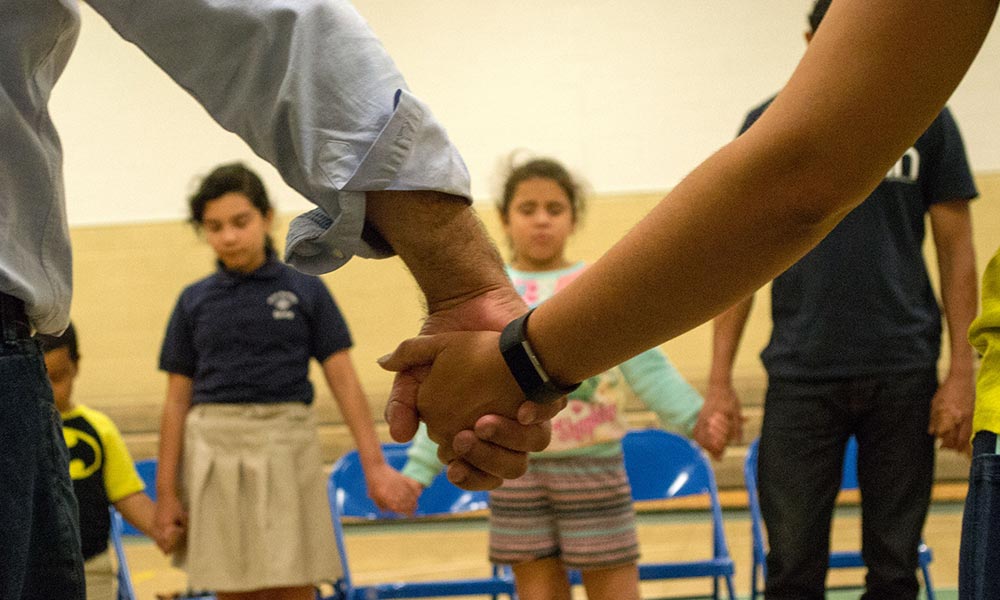 For Cruz, Malpica and Romero, it also important to plan for the future.
"In the longer term, things will stabilize and get better, but right now we don't want to deplete resources from people who need them on the island," Romero said.
The three are brainstorming ideas – from 5K races to dance parties – to keep communities on the mainland engaged once the immediacy of the storm damage begins to fade from public consciousness. They hope to be able to fly down by the end of October to be able to help rebuild and clean up their homes.
"The hardest part is the waiting game," Romero said. "It feels like it's been a month since Maria but it's not even been two weeks."
"We have to understand that this is not a three-, six-, or even one-year situation," Malpica added. "This will take years to recover from. When the hype dies down, people on the island will still be suffering. That's when our support matters even more."