BALTIMORE — Janet Arce arrived at Baltimore/Washington International Thurgood Marshall Airport before 5 a.m. last Thursday.
She wore rain boots and carted a pile of suitcases full of donations for a humanitarian trip to Puerto Rico.
"I'm going to be serving people as soon as I leave the plane," Arce said in a video interview with Capital News Service.
Born in Arecibo, Puerto Rico, Arce is the founder of Fundación Janet Arce, a Baltimore-based charity organization that she started in 2010.
After Hurricane María struck Puerto Rico, Arce and 13 volunteers from her organization pooled resources to send 119 boxes of donations to the island. She and her team traveled to Juncos, Lares, Caguas and other Puerto Rican towns to distribute goods to foster care children and elderly people in nursing homes.
The boxes, however, are being held at one of island's ports, Arce said. La Rosa Del Monte, a moving company that Fundación Janet Arce hired to deliver the boxes, told her that the boxes had to be inspected by the Department of the Treasury, a process that could take up to three weeks.
"The few things that we delivered were things that the volunteers brought in their own suitcases," Arce told Capital News Service in Spanish.
José Reynoso, a Baltimore resident from the Dominican Republic who works for a home security company, was part of the Maryland team that traveled to Puerto Rico. He has cousins living on the island.
"It's just sad what happened," Reynoso said. "And it can happen to any country, any city, any town."
Lydia Hernández, an ESL teacher in Prince George's County, was able to offer her family house in Humacao, where the most of the volunteers stayed during the trip. Some of her coworkers at Calverton Elementary School gave her donations to take to Puerto Rico.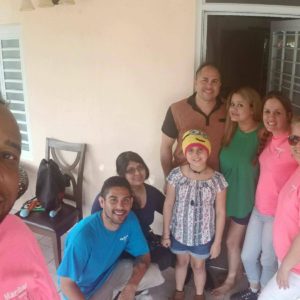 Yanitza Cerdá from Guayanilla, Puerto Rico, reached out to Arce when she saw that the organization was helping hurricane victims.
Her 9-year-old daughter, Yalianys Ocasio Cerdá, is a leukemia patient undergoing chemotherapy at Centro Médico Hospital in San Juan. Fundación Janet Arce offered its help, bringing gifts and food to Yalianys during the trip.
"She was so happy," Cerdá, Yalianys' mother, said. "She even wanted to leave with them."
Arce also offered to help the Cerdá family if they decide to move to the United States, although they have not decided on their plans for the future. Arce's nonprofit is planning to send gifts for Yalianys' birthday on Dec. 30.