ANNAPOLIS, Maryland—In the chaos of war, one thing doesn't change: People need food.
And during the turmoil of the ongoing Syrian Civil War, making desserts represented stability for Mohamad Nour.
"All other fields can be destroyed…other fields can be ruined, except when it comes to food," he said. "A lot of people enjoy eating food so this won't change."
Nour, 32, used to make desserts in his hometown of Damascus, Syria. But he and his family fled to Jordan in 2013 after the civil war erupted.
Nour, his wife, Douaa, 26, and their two children, Ghada, 3, and Zein Ediin, 9, lived in Amman, Jordan, for three years before coming to the U.S.
Their last names are not being used to protect the family's privacy. Nabila Hejazi, a case manager for Mozaic, a nonprofit organization that supports refugees in the D.C. area, interpreted their interviews with the University of Maryland's Capital News Service.
The United Nations Children's Fund came to Jordan in 2016 to evaluate families who would be eligible to have a chance to live in the U.S. Nour said his family was chosen because he was a father of two young children.
Nour and his family had quite the journey: They flew from Jordan to Qatar to New York City, where they had a four-hour layover, before — finally — arriving in Washington, D.C.
Nour and his family arrived in the U.S. on Nov. 16 of last year. His family now lives in Landover, Maryland.
If Nour had stayed in Syria, "either I would have been detained, killed or forced to work in the army," he said.
Nour learned to make desserts and cook when he was 10 years old in Damascus.
"My father chose it for me and I liked it," he said. "Usually the father does choose (a profession) for the child and if the child enjoys doing it then they continue in it but if they don't, they try to find other options."
"I worked to be able to help my family out," he said.
He worked in several shops for 12 years in Syria before he left with his family for Jordan. He also worked as a dessert chef in Jordan.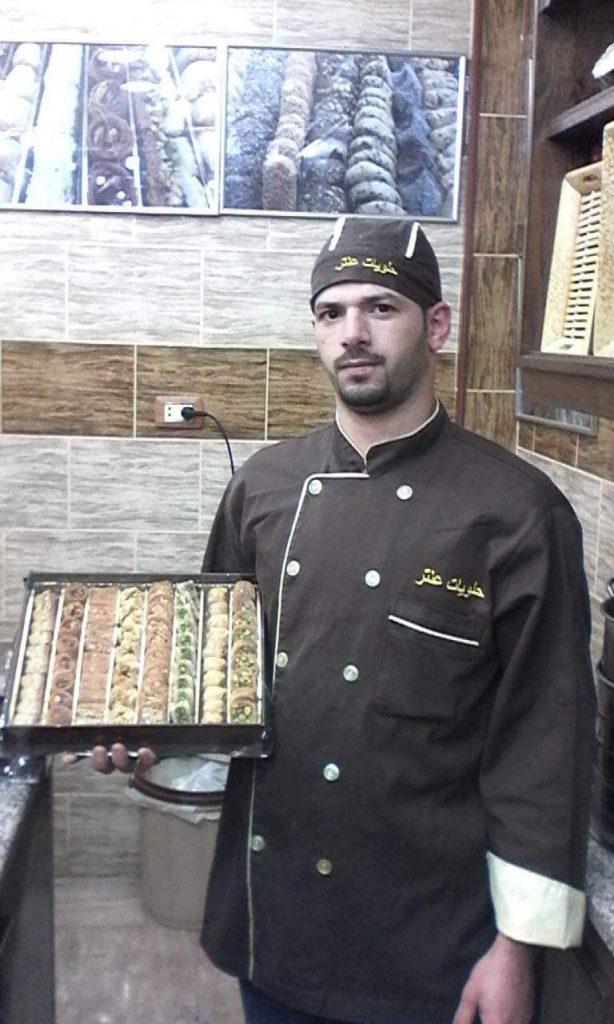 He enjoyed making all kinds of desserts, including baklava, kanafeh — a traditional Palestinian dessert made with cheese pastry and soaked in syrup — and Arab ice cream, vanilla with pistachios.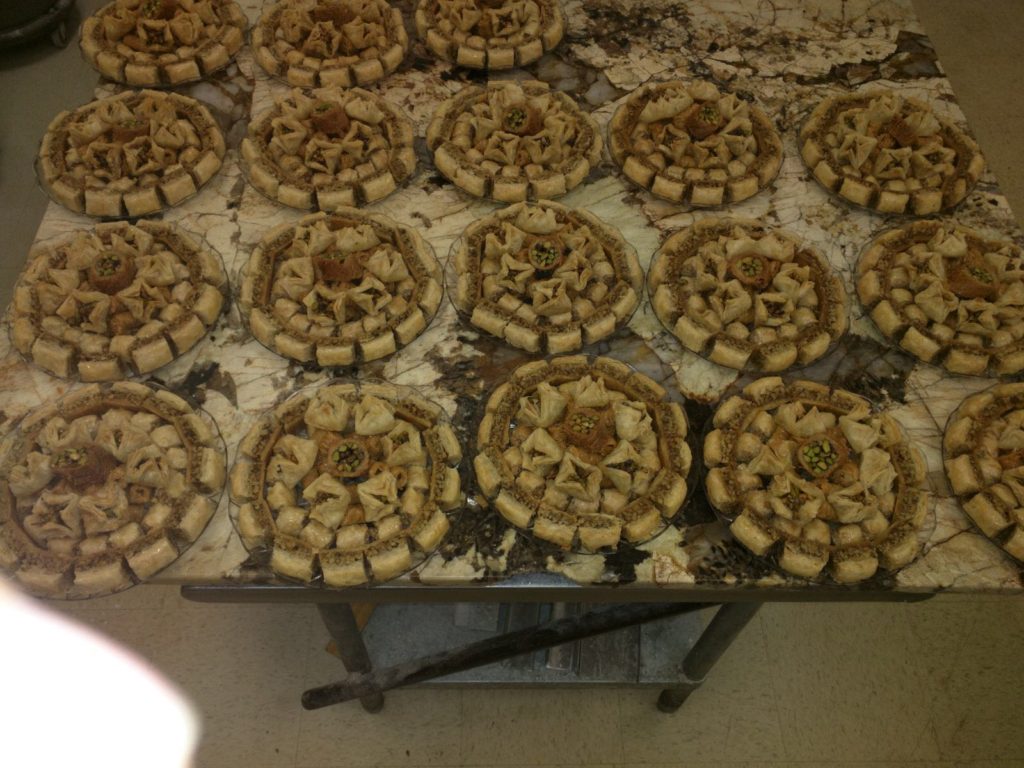 Every store he worked in he learned a new system or way of doing things. "I learned everything that is related to making desserts," he said.
Making desserts (or any kind of food) is a good business, Nour said, because "you won't lose it wherever you go…everybody enjoys food."
But even though Nour enjoyed making desserts, he didn't enjoy making them in Syria in the midst of the civil war.
"There was not pleasure in making desserts because when people are going through hard times, desserts weren't something to make them happy," he said. "It won't change what's going on."
Living in Syria was dangerous. That's why Nour had to leave — and it's why he's now in the U.S.
The refugee population entering Maryland from Syria annually is relatively small, and decreasing.
In Maryland, 214 Syrians arrived between October 2016 and September of this year, 42 percent fewer than the 368 who arrived in Maryland during the same period one year earlier, said Ruben Chandrasekar, executive director of the International Rescue Committee in Baltimore.
"We aren't talking about a huge population of people," Chandrasekar said.
Syria was one of the countries included in President Donald Trump's initial travel ban issued in late January, and was also included in two subsequent travel bans.
On Monday, the Supreme Court allowed the Trump administration to enforce its newest ban on travel on six mostly Muslim countries, including Syria.
Mozaic, which is based in Virginia and helps refugees in the D.C. area, furnished Nour's house in Landover before his arrival, said the organization's director, Raghad Bushnaq.
When Mozaic learned that Nour was a cook, the organization ordered him baking sheets and other cooking tools, said Bushnaq.
Founded in 2014, Mozaic has helped 190 Syrian refugee families in the D.C. area, including 150 families in Maryland, said Bushnaq.
"Mozaic means 'different colors in different ethnicities'" Bushnaq said in a video on the organization's website.
When Nour came to the U.S., he was first placed in a school in Silver Spring, Maryland, to learn English but he couldn't finish because he had to work to support his family. Nour doesn't know any more details about the school.
His first job was at a local car wash at a Sunoco gas station in the area.
He worked there until June, when he stopped to observe Ramadan. He didn't work outside his home that whole month.
With Mozaic's help, Nour made desserts at his house for local mosques, and Syrian and other ethnic communities in the area. He also made sweets and sold them at Mozaic's monthly bazaars, said Bushnaq. He made his desserts throughout Ramadan.
In July, the owner of Jenin Pastry, a Palestinian dessert shop in Falls Church, Virginia, reached out to Nour about working there.
An Iraqi man in Riverdale, Maryland, knew about Nour's abilities and contacted the pastry shop's owner and gave him Nour's name.
Nour traveled to Jenin in July for a week for a test run and Nour started working full-time there in August.
Nour said he makes all kinds of desserts at Jenin, including baklava, Arab ice cream and kanafeh.
Nour said he values the artistry of desserts as much as if not more than the actual taste.
"I like to make a piece of art out of what I do," he said.
Everyone knows what chocolate tastes like, he said, so it really matters to have a good design.
He enjoys making cakes — especially Swiss cake, cheesecake and wedding cakes.
But he loves making weddings cakes the most.
"When you make a (wedding) cake for 500 or 600 people, it makes you bring a better reputation to yourself that 'Oh well, I designed an amazing cake for them to eat.'"
For Nour, cake is art.
"Cake is like drawing," he said, "I feel like I can make my own designs and be very unique."
And for Nour, the art comes naturally.
"I create something from my imagination," he said, "and when I have an idea, I just make it happen, I put it on the cake."
Nour said when he makes cakes, "I am being the best of me."
Nour also likes to make maamoul, Middle Eastern shortbread cookies made with dates, pistachios or nuts.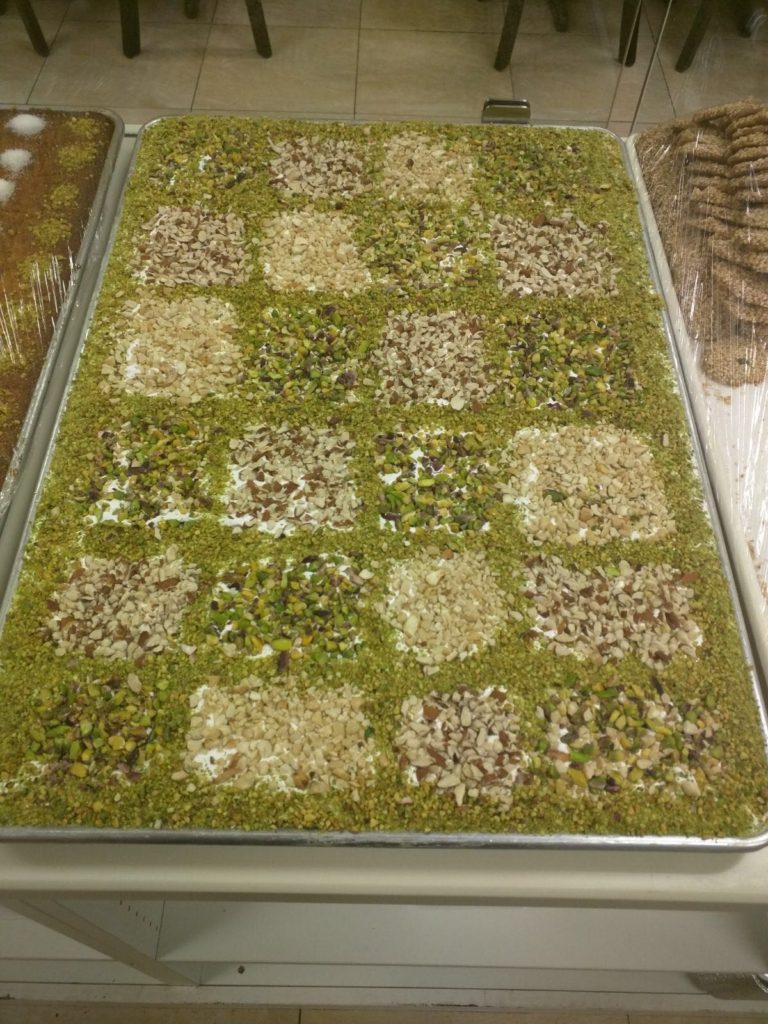 Nour's two children enjoy cake, baklava and kanafeh, he said.
Working at Jenin Pastry is quite the commitment for Nour: He works six days a week from 11 a.m. until the store closes at 10 p.m. He drives 22 miles in his van from his home to Falls Church.
Chandrasekar said that at "the most human level" refugees, like Nour, are motivated to work such long hours so that they can support their family, especially their children.
"They want to rebuild their life," Chandrasekar said. "They want to claim some normalcy" because "they know what it's like to lose it (normalcy)"
When Nour has free time at home, he focuses on family time. He likes to take his children to local playgrounds and gardens.
Though Nour works long hours, he enjoys his job and he enjoys introducing Americans to Middle Eastern desserts.
"They become very happy," he said when Americans eat his pastries. "And sometimes they call for me and they come and thank me for the work that I do."
"It makes me really happy that I'm providing sweets to people that are not Arab," he said.
And Nour is doing quite well. Besides having a job, he also has car insurance and health insurance for him and his family—things he did not have back in Syria.
Though Nour is happy he found something that he likes doing, he said he still needs time in order to "make a stronger me."
"The first four months in America, my self-esteem was very bad," he said. "New country for me, new language. Everything is different, the culture is different."
The new language is still something Nour is trying to learn.
"All that I have right now is to learn how to speak the language and after that I will be able to say that I'm very happy and stable."
This is a common hurdle for refugees, said Chandrasekar.
"Many (refugees) come here without high levels of English language literacy," he said.
Chandrasekar said that "English language literacy is highly correlated with both social integration in the U.S. and economic integration."
But Nour had other hurdles.
"When I first came, I had obstacles with knowing what food to buy, what to eat, where to go," he said, "so basically the beginning was kind of tough for me."
But luckily for Nour and his family, they have gotten by with a little help from their friends.
There are many Syrian families who live in his apartment complex and in the surrounding area. They helped him get acclimated, he said.
"Before I got here, I was very fearful," he said. But now he feels better knowing there are other Syrians in the area who can help him.
Nour worries about his father and two brothers living in Amman.
Though his brothers can depend on themselves, Nour is worried about his father because he "is an elderly person." Nour's mother is deceased.
"Their lifestyle in Amman is becoming very hard and everything is becoming very expensive," said Nour.
He is hoping to eventually bring them to the U.S.
While Nour has no problems living in Maryland, in the future, he wants to live in Virginia — largely because he works such long hours at Jenin.
Nour has several goals for the future: "I want to have my own sweets store and own my own home," he said.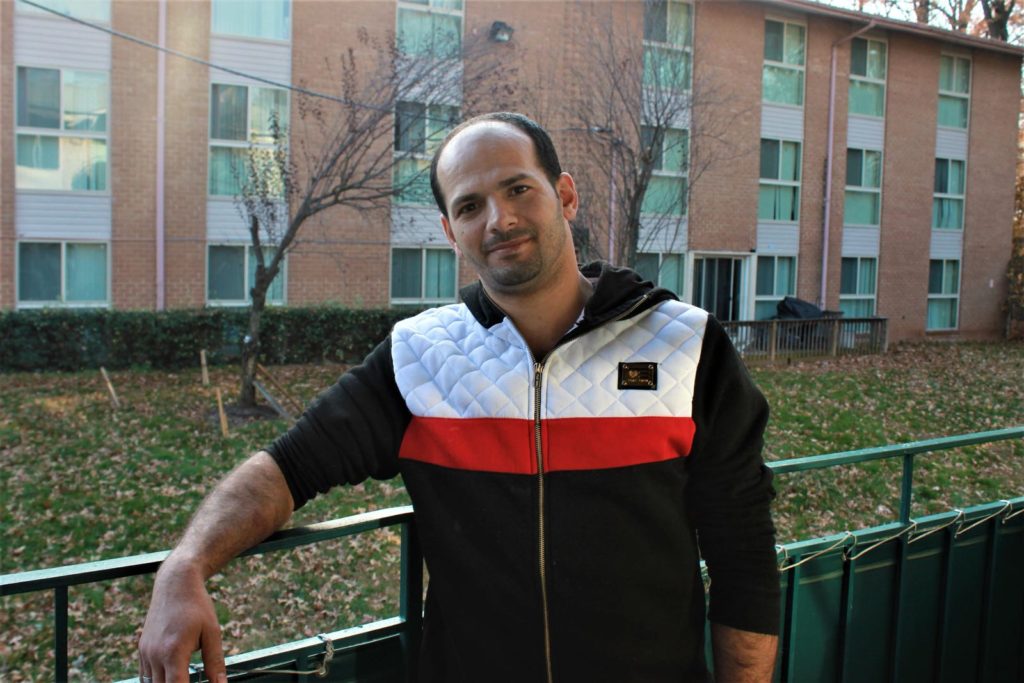 The biggest irony for a man that has made a living making sweets is that he and his wife don't enjoy them.
Though Douaa used to like sweets, "I stopped liking it because he works with sweets every day," she said. "You get tired of it."
Douaa said her husband won't even try sweets.
"If I were to eat sweets, you would have seen me double my size," Nour joked.