COLLEGE PARK, Maryland — This was part of an actual tweet by an NBA team's official account:
🐴 🔫
So was this:
\(•_•)
  (   (>
  /    \
This too: Kaaaaaa-meeeee-haaaa-meee-HAAAAAAA!
These are 30 of the world's most valuable sports brands, with the average NBA team worth $1.65 billion, according to Forbes. But on Twitter, most teams come across like creative teenagers, frequently engaging in trash-talking conversations with each other using little more than strings of animated GIFs, ASCII art and emoji.
Read more of our coverage of NBA Twitter
Done less deftly, that approach could come across as out-of-touch. But for the NBA, which has a younger fanbase than all other major professional sports, it works, serving as the foundation for a vibrant online discourse surrounding the league.
To examine the league's official footprint on Twitter, Capital News Service built a dataset of every back-and-forth Twitter conversation between NBA teams from 2012 to today. In analyzing the data, we found a few common threads that help explain what makes official NBA Twitter so unique.
Causal language is what most sets the NBA apart from other sports leagues, with frequent use of sometimes obscure slang. Take this tweet from the Philadelphia 76ers, using a locally popular term for "thing."
Rockin' the new jawns tonight 😯 pic.twitter.com/BBXaQcnelo

— Philadelphia 76ers (@sixers) February 2, 2018
"We pride ourselves on being unique and consistent voice. The voice and feel we try and go for is very Philadelphia, so using slang words that only Philadelphia people know is part of that voice. We also try to keep up with pop culture to keep things fresh," said Kurt Gies, senior social media manager for the 76ers.
The teams' Twitter accounts also present unique personality quirks, some of which have little relationship to their on-court identities.
It makes sense that the Golden State Warriors, the best team of the last few years, come across as pretty cocky. It's not as clear why the Atlanta Hawks have developed a reputation for extreme sociability, frequently starting long conversations with other teams. It's also not as clear why the Memphis Grizzlies are really into dogs.
remember to breathe this time

— Utah Jazz (@utahjazz) March 10, 2018
Although teams have adopted different management approaches, the accounts are normally run by one or two people with almost absolute freedom in what they tweet.
"There's not really an approval process – I may run something by our PR staff or community relations staff or partnerships team depending on what it is, but for the most part, I'm the approval process," said Doug Wernert, social media director for the Detroit Pistons.
A decade ago, NBA Twitter was not nearly as aggressively weird. Most teams only posted score updates and links to team Websites. And, unsurprisingly, fans didn't really engage. A cadre of young social media managers fluent in Internet culture and meme-speak helped drive change.
"I realized early on if I were a fan, I wouldn't be following the team account if all it posted were play-by-play updates and the score at the end of each quarter," said Chad Shanks, former digital communications manager for the Houston Rockets. "It was boring to read and it was boring to create, so I decided to turn it into an account that I'd like to follow – one that didn't take things so seriously and had a little more personality to it."
As more teams developed distinct personalities, the number of exchanges between teams grew, and occasionally resulted in Tweets that team executives defined as over the line.
In a 2015 round one playoff series, the Rockets were minutes away from defeating the Dallas Mavericks in the decisive game five when the Rockets account tweeted this.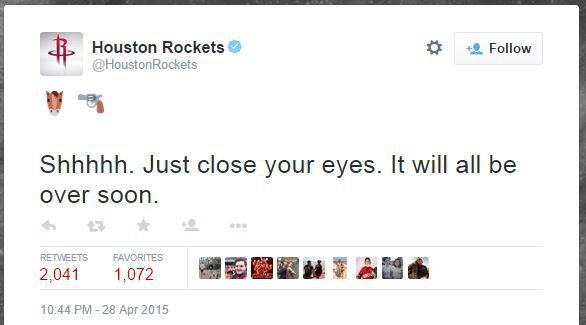 The team fired Shanks over the Tweet.
"The posts that pushed the envelope were always the ones that got the best reactions, so naturally I kept pushing. It was hard to know where the line was until it was actually crossed," Shanks said in an interview. "What crosses a line to some is comedic genius to another."
Team social media managers are constantly walking that line, and some teams push further than others. Some — like the Atlanta Hawks — push boundaries. Others — like the Indiana Pacers — have historically played it safer, taking a more "straight-laced with less of a personality" approach, said Celeste Ballou, director of digital marketing for the Pacers.
"With changes in the front office in the past year, we've been able to open up and have a bit more fun, which is the whole point of social media," Ballou said "We use our account to share…our midwestern pride, embrac[e] the underdog persona, and toe the line of being sarcastic/playful. We know there are teams that are far more edgy than us, but that's not the persona that we're seeking for the Pacers."
Teams with large established fanbases like the Lakers or Celtics tend to be less daring on social media.
The Hawks, by contrast, are one of the most experimental teams, only rivaled by the Trail Blazers. They are much more likely to engage in conversations with other teams than the average NBA team.
During the period CNS measured, the Hawks participated in 414 conversations with other teams, second only to the Trail Blazers with 438. The third place team, the Kings, had 304, which was still well above the NBA average of 134.
And the Hawks eagerness to engage with other teams leads to some memorable interactions with other teams.
Kara Hutchinson, head of strategic marketing for the Boston Celtics, said her favorite interaction with another team on Twitter started when the Hawks tweeted at a Celtics fan that they should become Hawks' fans.
Pro: After we win maybe he'll be a Hawks fan

— Atlanta Hawks (@ATLHawks) November 10, 2017
"After a few tweets exchanged back and forth I finally sent them a screenshot of the standings (we were first, they were last in the conference). That's probably the riskiest I've been tweeting at another team but it was fun and didn't go too far." Hutchinson said. The Hawks responded with a GIF of Homer Simpson melting into a hedgerow.
— Atlanta Hawks (@ATLHawks) November 10, 2017
The Hawks are known around the league for their creativity, slang and frequent use of emoji. Consider the time they — fairly effectively — tweeted out their full 2016 schedule using nothing but emoji.
Our schedule:

🔮🏛👑🌊🔮🚀⚔🎯🏛🔥💵🐝🗽🐦🏎🎺🌊🌉☀️🚗🇨🇦🌩🔥💵🎩🇨🇦🐝🌩🐺⛏🐺🗽🚗⚙🎩🐦🐴🕸☘💵🗽🚗🎯🏛✂️🎯🔮🗽🔥🚀🎩🎺⛏👑👣✂️🔥🎩☘🐴⚔🏎🌉🕸🇨🇦🐻⚙🐻👣🐝🔮💵🕸☀️🏛🎯🕸☘⚔⚔🐝🏎

— Atlanta Hawks (@ATLHawks) August 11, 2016