COLLEGE PARK, Maryland — From the tweet that got an NBA social media manager fired to the tweet that led to another social media manager getting married, there have been hundreds of funny and meaningful moments in the relatively short history of NBA Twitter.  
Read more of our coverage of NBA Twitter
Here are eight of our favorites.
1. The two emoji that got an NBA social media manager fired.
In the first round of the 2015 Western Conference playoffs, the Houston Rockets were on the brink of eliminating the Dallas Mavericks when Rockets social media manager Chad Shanks sent this tweet.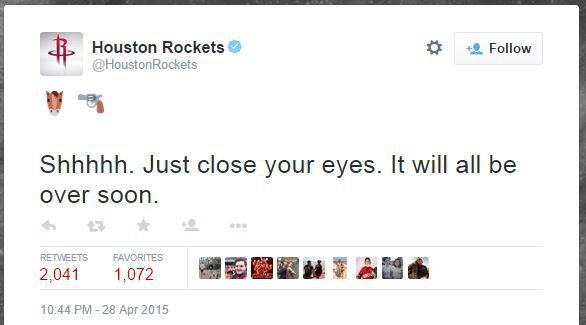 He was fired, sending a message that NBA team Twitter managers could go too far.   
2. The clever way the Atlanta Hawks tracked a winning streak.
In 2015, the Hawks went on an epic run of 19 wins in a row, the fifth longest winning streak in NBA history at the time. At some point during the run, they began to add a W to their name on Twitter for each win.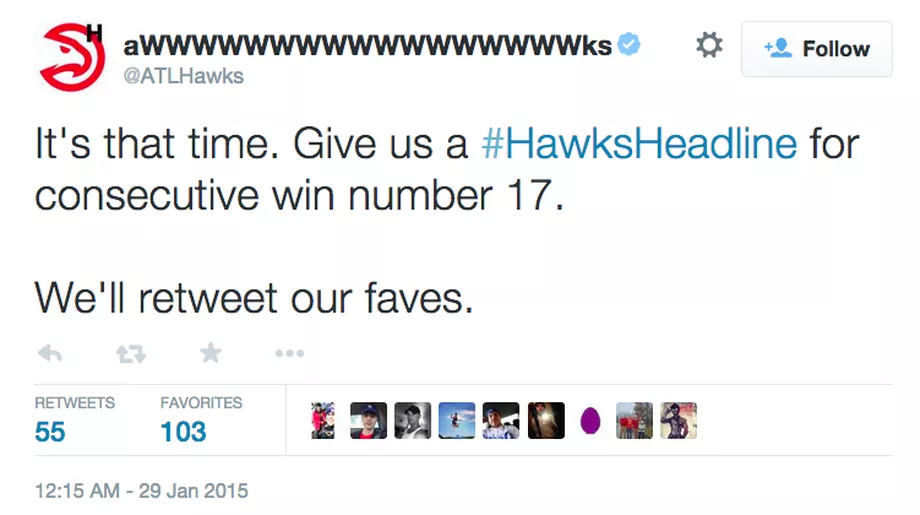 By the time the Hawks hit 19, they had had already surpassed the character limit for a Twitter account name that was in place at the time.
3. The Sacramento Kings gave the Cleveland Cavaliers a new logo.
After defeating the Cavaliers in overtime in January 2017, the Sacramento Kings rubbed it in with a photoshopped version of the Cavs logo that replaced the traditional "C" with an "L".
This one's for the Land… pic.twitter.com/GiJ2wSEoOZ

— Sacramen2 Kings (@SacramentoKings) January 26, 2017
4. The Twitter fight that led the league to crack down on trash talk.
After the Portland Trail Blazers poked fun at Memphis Grizzlies forward Chandler Parsons with a GIF of an airball he put up during a January 2017 game between the two teams, he taunted the Trail Blazers for their poor performance with this Tweet.
good luck in the lottery show this year✊🏻

— Chandler Parsons (@ChandlerParsons) January 28, 2017
That led to this back and forth between Parsons and Trail Blazers player C. J. McCollum.
stop it. Technically, I hit the lottery.

— Chandler Parsons (@ChandlerParsons) January 28, 2017
In response, the league issued a memo urging teams to tone down social media trash talk, according to ESPN.
5. A Twitter DM conversation leads to an NBA social media manager and a fan getting engaged.  
Shabaz Khan was working as a social media manager for the Kings, when he sent a DM (direct message) to a fan asking for her permission to use this picture on the Kings' social platforms.
4 days. #SacramentoProud (Photo via @ferheeeen) pic.twitter.com/Kq6Dkk8OZI

— Sacramen2 Kings (@SacramentoKings) October 24, 2015
Two years later, Kahn tweeted that the two were engaged.
When you take the "engaging with fans" part of the job a bit too seriously… 💍 @ferheeeen #WeMetOnTwitter pic.twitter.com/5Q6BlkTaYz

— Shahbaz Khan (@ShahbazMKhan) July 30, 2017
6. The time the Hawks and Kings became best friends.
Shortly after the NBA issued a memo in 2017 urging teams to avoid trash talk and use social media for "fun, light hearted banter," according to ESPN, the Hawks and Kings decided to be extra friendly to each other during a game.
— Sacramen2 Kings (@SacramentoKings) February 11, 2017
7. When the 76ers used old-school ASCII art and a video to lobby for a spot for Joel Embiid on the All-Star Team.
This kind of speaks for itself.
(•_•)
<) )╯#NBAVote
/

(•_•)
( (> Joel
/

(•_•)
<) )> Embiid
/ pic.twitter.com/O632dXQtxi

— Philadelphia 76ers (@sixers) January 12, 2017
8. The hashtag game between NBA teams takes a weird turn.
In March 2016, several NBA teams joined forces to come with the best puns they could that related to their teams. The categories were based on categories such as #NBAVegetables and #NBASitcoms.
.@MNTimberwolves @Sixers @dallasmavs @Suns @ATLHawks @trailblazers @chicagobulls Everybody Loves Draymond #NBASitcoms pic.twitter.com/qkNj2kruGy

— Golden State Warriors (@warriors) July 24, 2014
.@ATLHawks @Sixers @warriors @trailblazers Gerald Green Beans #NBAVegetables

See what you made us do.

— Phoen1x Šuns (@Suns) July 24, 2014
Two of the highlights: Everybody Loves Draymond by the Warriors and Gerald Green Beans by the Suns.
For more on the history of NBA Twitter, check out Chad Shanks podcast Sports-ish and Complex's annual ranking of the NBA Twitter accounts.