By ZACH SELBY and CHRIS CIOFFI
Capital News Service
WASHINGTON – John McCain, "a drum major for courage, truth and justice," was honored by family, friends and colleagues Friday in a United States Capitol Rotunda service.
"This is one of the bravest souls that our nation has ever produced," House Speaker Paul Ryan, R-Wis., said. "However you choose to do your part, I hope you do it the way he did it."
McCain was a U.S. Navy pilot and a prisoner of war in Vietnam. The "maverick" ran for president twice, served two terms in the House and was a senator for three decades.
He succumbed to an aggressive form of brain cancer Aug. 25 in Arizona, a few days short of his 82nd birthday. His body arrived at Joint Base Andrews Thursday night after several days of mourning and memorial services in Arizona.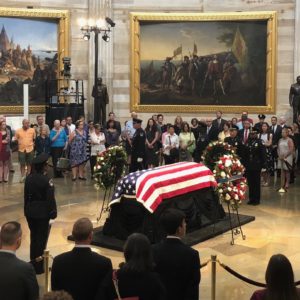 McCain's flag-draped coffin was brought to the Capitol in a black hearse Friday and carried in by uniformed pall bearers who circled the Rotunda before he was placed in the center of the room where he was to lay in state — an honor given to only 30 other Americans.
"It is only right that, at the end of John's long journey, he lies here," said Senate Majority Leader Mitch McConnell, R-Ky.
A majority of his Senate colleagues were in attendance, as was Maryland Gov. Larry Hogan and former Secretary of State Henry Kissinger. President Donald Trump was not invited, but advisors John Kelley and Kellyanne Conway joined Vice President Mike Pence at the memorial.
Family and close friends approached McCain's casket at the conclusion of the service. Widow Cindy McCain was at the head of a long line that snaked around the Rotunda, bowing her head and folding her hands in prayer.
McCain will be buried Sunday in a private ceremony at the United States Naval Academy Cemetery in Annapolis. A service will be held at the Washington National Cathedral on Saturday. Former Presidents Barack Obama and George W. Bush are scheduled to deliver eulogies.

Video by Lauren Koenig and Simret Aklilu
McConnell said the Arizonan will be remembered as a person with a fighting spirit, noble idealism, solemn patriotism and a slight irreverent streak all rolled together.
"He treated every issue with the intensity the people's business deserved," McConnell said. "He would fight tooth and nail for his vision of the common good. Depending on the issue, you knew John would be your staunchest ally or your most stubborn opponent."
The Senate chaplain, Rear Adm. Barry Black, called McCain in the closing benediction "a drum major for courage, truth and justice."
"Accept our gratitude for his commitment to make decisions based upon principals, for his pragmatic leadership during turbulent times, and for his life of exemplary and heroic service," Black said.
McCain was remembered during the service as a man who was determined to do what he felt was right for the country. That included standing by his fellow party members as allies, but it also meant disagreeing with his party if he felt it better served the country he fought for as a U.S. Navy pilot.
"We didn't always agree, and I always noticed," Pence said in his remarks.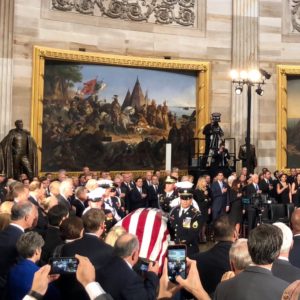 It was during one of his darkest moments as a prisoner of war that his dedication to his country blossomed into the love his fellow senators both observed and experienced. McCain was imprisoned by the Vietnamese, and endured harsh conditions and torture for more than five years.
Referring to McCain's survival as a prisoner of war, Pence said: "Americans then, as now, marvel at the iron will of John McCain."
Thousands lined up, some standing in the beating Washington sun, for a chance to give a final farewell to the man McConnell called a "generational" leader of the U.S. Senate.
Former Navy pilot Ed Gorman, 69, spontaneously decided Friday morning to make the trip from New Hampshire to Washington to honor a man he believes "we won't see his like again."
Gorman was a flight student about four years after McCain had been captured in Vietnam.
Gorman said he and his fellow students visited an officers' club on what felt like "just any other Friday" where they were selling P.O.W. bracelets.
Gorman randomly selected McCain's bracelet, and since then he felt a special connection with the fellow pilot. Gorman followed McCain throughout New Hampshire when he visited the state during McCain's second presidential campaign in 2008.
"It would be a better country today if he were elected," said Gorman, his eyes glistening with tears.
Elizabeth White, 64, took the train from her home in Prince George's County, Maryland, to pay her final respects to a man whose honor and integrity was something she respected.
"He understood some of his shortcomings and was willing to acknowledge them and correct them," she said.
That ability earned White's admiration after McCain changed course on his support for the conflicts in Iraq and Afghanistan, and condemned torture perpetrated by Americans during those conflicts.
"We are a better people than that, and to have such activities done on my behalf I found to be reprehensible," she said. "He knew what that was about because he had to survive it."
A registered Democrat, White said she has always voted her conscience, and would have cast a ballot for him in 2000, but he lost the nomination to President George W. Bush. She said she chose to not support him in 2008 after he chose Sarah Palin as his running mate.
White said that she understood that he was elected by voters in Arizona, but felt that he worked in her best interest too.
"In some respects," she said. "He represents all of us."