By SAMANTHA ROSEN, MORGAN CAPLAN and ALBANE GUICHARD
Capital News Service
WASHINGTON – The drama and emotion inside Thursday's Senate hearing on Brett Kavanaugh's nomination to the Supreme Court was matched by scenes in the surrounding crowded hallways, where opponents and supporters listened intently on mobile phones and shared their opinions in anger and sometimes through tears.
Protestors from Maryland and across the country arrived in Washington early this morning, both in support of Christine Blasey Ford and in support of Kavanaugh. Individuals came prepared with posters, buttons and coordinated outfits to express their allegiance to one side or the other.
People assembled outside the Dirksen Senate Office Building, where the hearing was held, in senators' offices, in the hallways outside the hearing room and the overflow room, as well as in the building's stairways, hoping a senator would walk by.
Groups of women wearing "I am a survivor and I vote" shirts lined the hallways, with their mouths taped shut in silent protest and the words "Believe Women" written across their mouths and hands.
Kavanaugh supporters, on the other hand, were wearing "Women for Kavanaugh" and "I stand with Brett" shirts, as well as holding "Confirm Kavanaugh" and "Innocent until proven guilty" signs.
Julie Kotler, 48-years-old, went to high school in Bethesda, Maryland, during the same time as Ford and Kavanaugh.
"I came to support Dr. Ford. I know of those parties and those boys," Kotler told Capital News Service as she waited in line to enter the overflow room. "I am tired of it being the 'old boys' network.' Look at the testimony, no one says this information without it really being true. I hope for all survivors."
But Lourdes Washington, who came to the capital from New Orleans, insisted "there is no evidence, no physical, circumstantial evidence."
"The statute of rape, it has been 30 years, I don't understand why she started this," she said, apparently referring to Ford.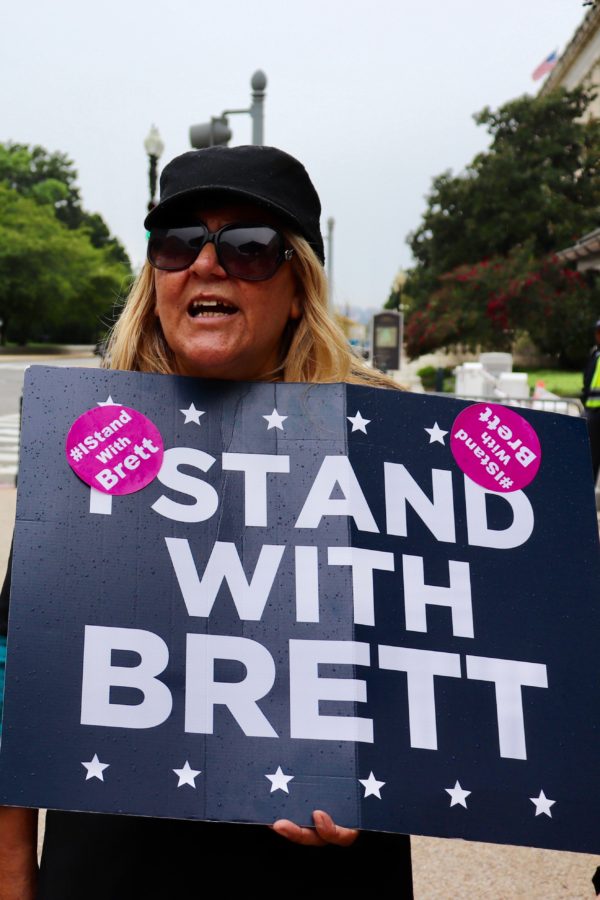 Triana Arnold James, representing the Center for Popular Democracy and the Women's March, traveled from her home state of Georgia to Washington to "speak up for women that have been sexually assaulted, raped, or attempted rape." She said women she protested with traveled from as far away as California, Maine, Nebraska and Alaska to make it to the Senate.
 "We are speaking for those that feel like they don't have a voice," James said. "We need to continue to write letters, make calls, sign petitions. We need to continue to come to Washington, D.C."
Outside the public and press overflow room, emotions ranged from anger to sadness, as Ford began her testimony, recounting explicit details of the alleged incident in which she said Kavanaugh sexually assaulted her at a party in 1982.
Those waiting in line to enter the room crowded around cell phones, listening to her story. Many sat on the floor, openly upset, with tears streaming down their faces. Little conversation occurred as organizers from "Women with Kavanaugh" stood side-by-side with Ford supporters.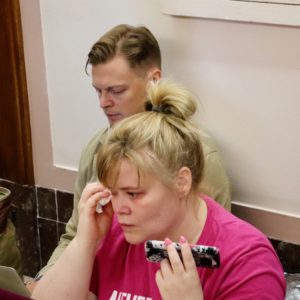 In the overflow room, people stared at the television in silence as Ford's testimony aired. If Kavanaugh's hearings over the past few weeks were characterized by loud protests, this hearing was relatively calm. Held in a smaller room, today's hearing had less space for reporters and the public.
However, not only women came in support of Ford and rape survivors – many men were also present, wearing "Trust Women" signs and the words "Believe Women" written on their hands. One woman even brought her young boy to protest, with a "No More 'Boys will be boys'" sign.
In response to Ford's testimony, both men and women supporting Kavanaugh defended the candidate and the justice system. Stating that there is no factual evidence to support a sexual assault claim from 36 years ago, they said they continued to back his confirmation.
Kavanaugh supporters also took the position that adults should not be held responsible for decisions made in high school, especially when everyone may have been intoxicated and details may not be remembered properly.
"They all were intoxicated, boys and girls, it's not like they were adults," Washington said. "They were all teenagers. You have to make sure you are pointing the finger at the right person. When you get drunk like that, you don't know who is actually touching you."
Other Maryland residents stood outside the office of Sen. Chris Van Hollen, D-Maryland.
Two women from Baltimore, close in age to Kavanaugh and familiar with his hometown, compared today's controversy to the 1991 showdown between Anita Hill and Supreme Court Judge Clarence Thomas.
"I think some people, men, have changed their mind about that (the Anita Hill hearing) and some people haven't, and it seems to be men of a certain age and I think that carried down to other men," Donna Goodlet said. "And until it changes, it will continue to be acceptable."
Barbara Brooks agreed: "I am 60 years old. I am tired of it."