WASHINGTON — People searching for the unique atmosphere of a sports bar in the nation's capital have a solid chance of finding it at Buffalo Billiards.
With its numerous pool tables and scores of televisions, the local bar, located on 19th Street, N.W., near Dupont Circle offers customers a chance to watch their favorite game or just grab a drink with friends.
But for those in social sports company D.C Fray's skeeball league, the true fun can be found in the back, where the skeeball lanes are lined up on the back wall next to the ping pong table.
"Flag football and soccer and…a lot of those team sports are great, but they don't draw a wide group of people to the table," D.C. Fray sports coordinator Ian Howard told Capital News Service. "With this, you don't have to be a former (college athlete) to play."
Whether it's playing alone or on a team, Washington area residents are using unusual sports leagues as a different way to compete in a relaxed setting and establish lasting relationships. Players range from experienced former college athletes to casual fans, and the uncomplicated nature of these sports is what brings them together.
"There's just something simple about skeeball," Howard said. "You roll the ball, you put it in and you can have a few drinks. I think this is something everyone can do."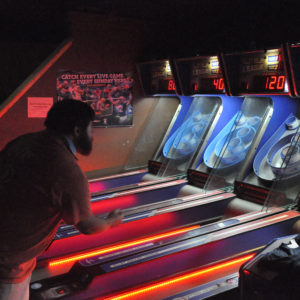 Social sports leagues have seen a rise in participation, particularly among millenials, in recent years. According to a study conducted by Sports Marketing Surveys USA in 2017, millenials are more likely to join team sports leagues than Generation X.
D.C Fray, formerly known as United Social Sports, has offered members simple, fun social sports leagues to the District since 2010. Social sports are played informally and they include a wide variety of options, including skeeball, bocce and shuffleboard. There is even a competitive league for Bingo.
The social aspect of the leagues is D.C. Fray's selling point. Organizers say being in these leagues gives people an excuse to step out of their comfort zones and be with others in their area.
"Obviously, they can (have a social life) by themselves without a league, but it gives people a reason to go do something instead of saying they're tired and want to go home," said D.C. Fray skeeball league leader Joe Langley. "It concretes that social aspect of their week."
Langley, who is in his second season working with D.C. Fray, has led three leagues, including skeeball, and has participated in two. He's played in volleyball and cornhole leagues, and he has seen different levels of competition.
Popular sports like basketball and flag football have the most options for leagues for D.C. Fray, with venues in Bethesda, Maryland, and Arlington, Virginia. But other unique sports like ultimate Frisbee are popular as well, with four leagues played in areas like the National Mall and near the Southwest Waterfront in the District.
As the level of athleticism required for each sports increases, the competitiveness between teams follows.
But less intense sports can have a competitive edge to them as well. Langley said one of his cornhole teammates provided his team with weather updates and videos on how to improve throws based on the weather.
"It's competitive, but it's not against someone else," Langley said. "It's competitive for yourself. I think that's more fun anyway. I like getting better as a player. It fosters personal competitiveness."
While these social sports can create a fun experience for some players, it can also build a career that can expand to multiple states and regions.
Sarah DeLucas, co-owner of D.C. Bocce League, is one of those players.
DeLucas moved to the District from Philadelphia in 2002. She and some friends who were also new to the area wanted to meet new people. So, they decided to join a kickball league based in Washington's Adams Morgan neighborhood.
But while DeLucas and her friends like the idea of social sports, they wanted a little more out of their experience than what kickball offered to them.
"We said to ourselves, 'That was fun, but we can do it better,'" she said.
Delucas said bocce was one of the sports she and all of her friends had been exposed to at different points in their lives. The D.C. Bocce League was formed in 2004, and it quickly grew in popularity; 50 players competed in the first season.
"It became really big on Capitol Hill, and then it expanded to other areas,"  DeLucas said. "It grew to Adams Morgan and Dupont Circle. It was really fun."
As a result, DeLucas created a "huge friendship group" for herself. But the league continued to grow at a rapid pace, and DeLucas and her friend found themselves managing sponsorships and park permits. The league launched Major League Bocce and began to expand to areas outside of the Washington metro area, including Boston and Philadelphia.
Now, Major League Bocce is in 12 cities.
When asked what makes bocce special, DeLucas said, "It's very acceptable to all people. You can be good at bocce without a single athletic bone in your body. Literally anyone can play it."
The D.C. Bocce League has several divisions in the District, and the locations can range from parks to outdoor bar areas like the one at Vinoteca on 11th Street, N.W., near Pleasant Plains
"I like playing here especially because it's very laid back," said division leader Alexandra Carlier, who has been playing in the league since 2014. "It's a smaller court, and you have the bar right there (next to the court)."
Howard said the equal playing field is what creates the relaxed setting that allows people to socialize.
"You can have the jockiest jock of all time and the person who's never played a game of basketball or football in their life," he said. "But you put together in a game of skeeball, everyone is on the same playing field. You can compete."