WASHINGTON – For the third time in four weeks, the Division III football team at Salisbury University was making final preparations for a trip to face an opposing team.
Friday mornings before a trip to another school are busy affairs for college football teams, but two defensive starters for the Seagulls had an extra item on their checklist: they had to take an exam for one of their classes they would miss that day.
"Their instructor said they either take the exam today, or they get a zero," Salisbury head coach Sherman Wood told Capital News Service. "Their final (exams) will make up for their worst score. Well, if they missed today, their final would make up for a zero."
This is a common occurrence with Division III football programs, and it's an example of the stark contrast between how those division's schools handle student-athletes and how higher-profile Division I schools tackle the balance between the classroom and the playing field.
All three division of the NCAA stress high academic standards, but Division III is the only one branded with academics as the primary focus for student-athletes. While the athletic association's description of Division III highlights putting the student before the athletics, its promotion of Division I includes sponsors, football championships and a "wide range of opportunities for athletics participation."
The pitch from Division III football coaches to high school recruits is simple: they will have the chance to get quality educations while receiving the experience of being a college athlete.
But being a football player in Division III does not have the glitz and glamour that comes with playing for a Division I team. The lower division teams take buses to away games instead of flying; professors are more strict when it comes to missing class; and uneven levels of funding for programs create irregular conditions for game preparation.
Many players enjoy their time in Division III, though, and some believe it is the truest form of the student-athlete.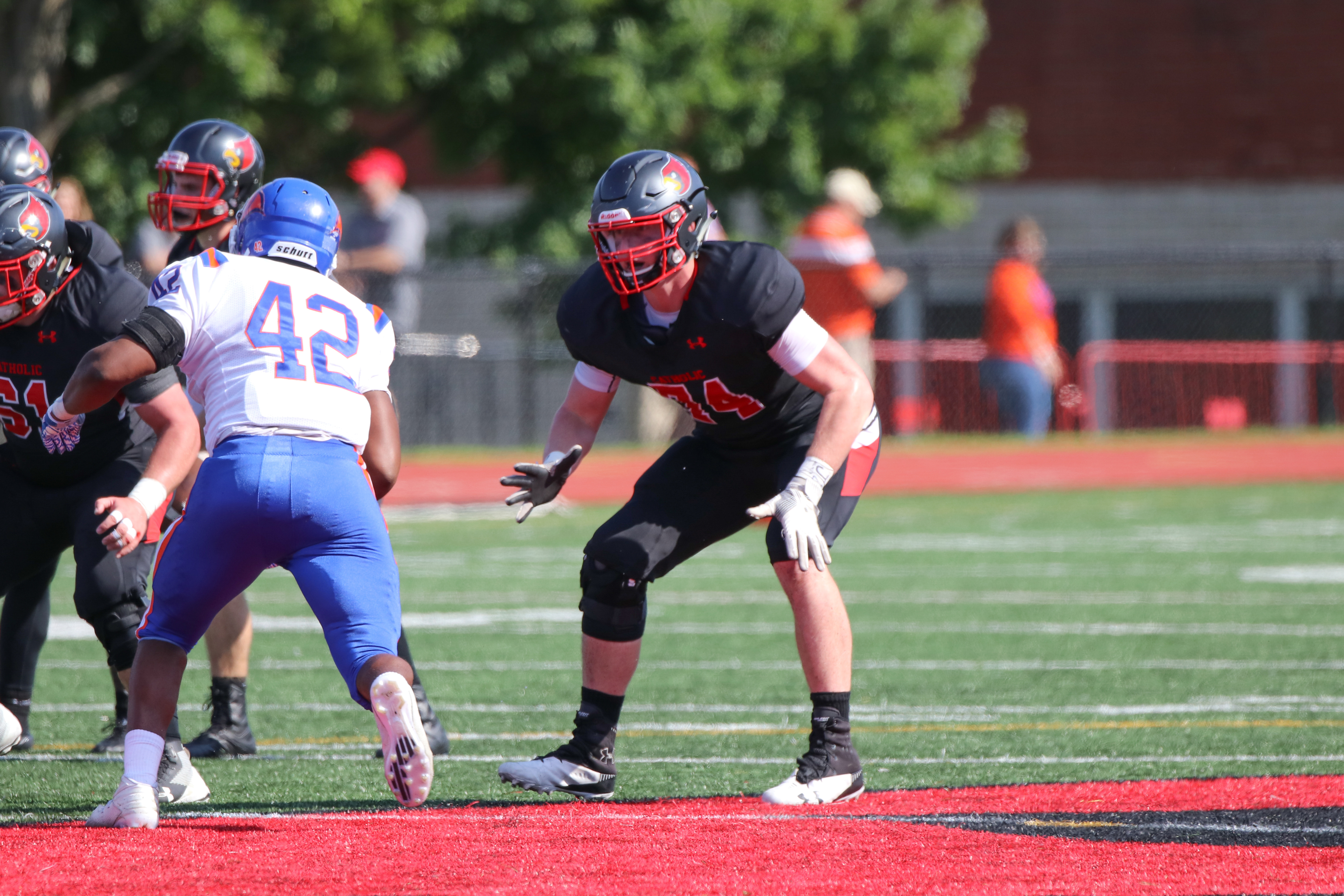 "Don't get me wrong, Division I players are very athletically gifted," said Catholic University of America sophomore Kevin Zimmerman. "That's what got them to the next level. But I know their schedules are very maneuvered to focus on their athletics and not as much on their academics."
Recruiting with a wide net and high standards
Division III has the largest number of student-athletes playing college sports in the NCAA. According the association's website, about 39 percent of all student-athletes compete in Division III in 443 active-member schools.
As a result, each team is a mixture of players of different backgrounds and talent levels. There are some who are talented enough to land on the fringes of Division II but felt more comfortable playing Division III; others have limited options or are just happy to be on a college roster.
"We can have athletes who are high-end, and we can have some who really need a lot of work before they're ready to step on the field," said CUA head coach Michael Gutelius. "But because we're not worried about a roster cap, we can…take a lot of guys."
But institutional requirements carry more weight when evaluating players. Coaches at Salisbury look at a student-athlete's high school grade transcripts almost immediately after determining they might be a fit for their program.
"It has to be at least within our range," Wood said of the transcripts.
If a student's transcript fits the university's qualifications, Wood and his staff evaluate the player's character, talent and work ethic.
But schools don't always have a large recruiting budget, meaning coaching staffs have to find alternative ways to save money, like staying with family on out-of-state recruiting trips.
"It's not unheard of for us to say…'Okay, you got family in Northern New Jersey, so you cover Southern New Jersey and Southern New York," Gutelius said.
Division III coaches search for the best available athletes like higher divisions, but those athletes can come from other sports. Salisbury senior defensive lineman Isaac Johnson spent most of his time playing basketball at Parkside High School in Washington and didn't consider switching to football until his senior year.
"In Division III recruiting, you cast a wider net to see who fits," Gutelius said. "And you have to…whittle it down to a tighter group."
Student first, athlete second
Professors at Division III colleges don't usually make exceptions for student-athletes when it comes to attendance, and when they do, it has to come with a written excuse.
"It's academics," Wood said. "We have to work around them. And we don't complain. That's why (the athletes) are here."
Wood had to stay after practice and a team meeting on Thursday to write excuses to 12 of his players' instructors for them to miss class on Friday.
"I get replies from instructors saying they received the letters and the kids are excused, so you get a few who are OK with it," Wood said.
But Wood added there are some professors who want to make sure important grades like exams are taken the day they are scheduled. For his players who had to take an exam before they left for Southern Virginia, their instructor allowed them to take the exam with her 9 a.m. class to make up for missing class that day.
Division III athletes have limited control when it comes to picking their classes; they have the ability to register like other students, but they have few options on choosing which semester the class falls in.
So, if a more difficult course is only offered during football season, they have to take it.
"I think the academics in general make the Division III experience a little tougher, especially during the season," CUA sophomore quarterback Brady Berger said. "I have to go listen to lectures, go to classes to prepare me for internships. And you have to make sure you go to the athletic center for a two-hour practice, film study and weight-lifting."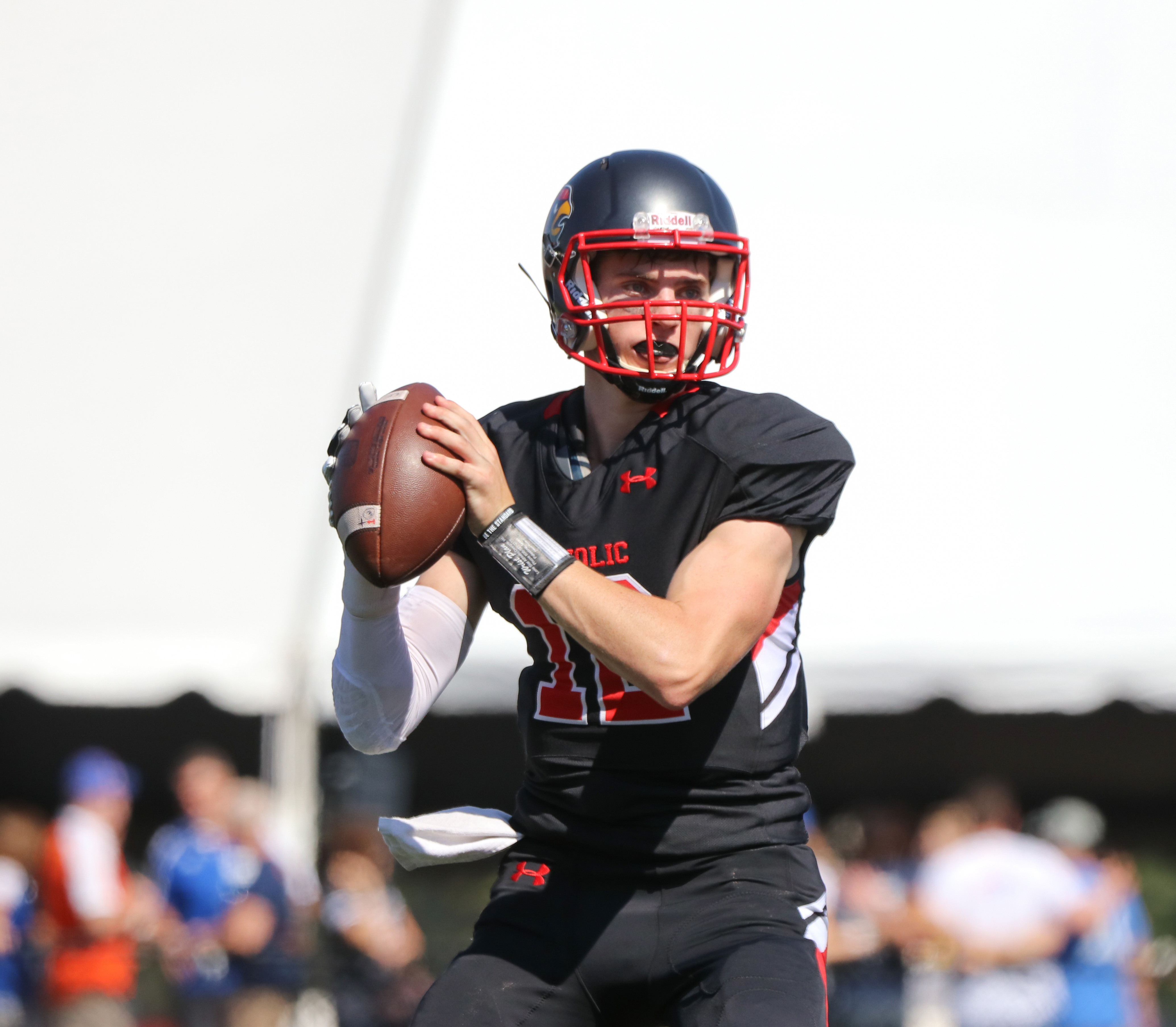 Although they do have access to tutors to help them in class, passing the class is completely on the players.
"As far as getting the grades, you have to be a man, get them yourself," Johnson said.
Zimmerman said he is currently enrolled in a class that has regular quizzes on Fridays, so he's had to miss "a handful" of them over the course of the season. Those quizzes don't account for a large total of his grade, but Zimmerman said that his teammates advise taking any easy class that can balance out the workload in the fall semester.
"If you're going to play football…you need to take classes you can afford to miss," he said.
Bus rides and wedding tents
There are Division III schools that have well-funded facilities. Salisbury's Seagull Stadium cost $21 million and CUA recently opened a new weight room.
But there are some schools that don't have new facilities like locker rooms for visiting teams. Johnson recalled a situation in his sophomore season when the team had to dress in a wedding tent and had to walk to a high school to take a shower after the game.
Now in his senior year at Salisbury, Johnson said he got used to those conditions eventually.
"After the first year or so it doesn't really bother you," he said. "You tend to like it."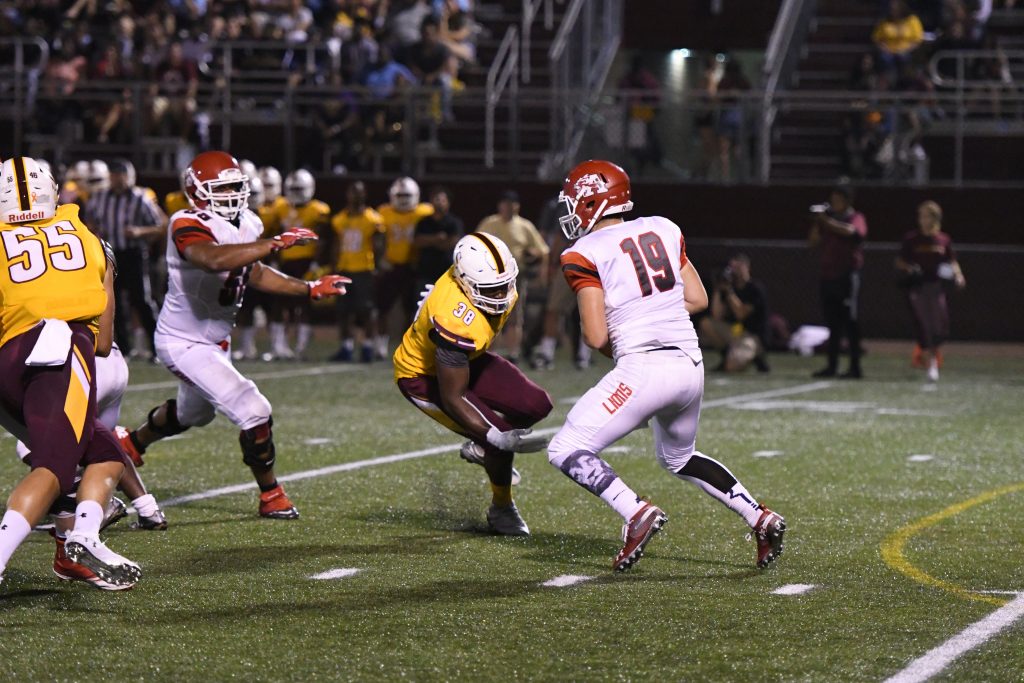 Most Division III schools don't have the budget to allow teams to fly to every game, which means they take buses.
Many schools play in a localized conference, meaning they rarely have to travel long distances. As a member of the Capital Athletic Conference, Salisbury plays teams in Pennsylvania and Virginia.
But sometimes schools have to make longer treks for games. For example, CUA traveled 15 hours to play a game against Maine Maritime Academy in Castine, Maine, in 2017.
"We started driving that Thursday, made it halfway, then drove the rest of the way on Friday," Berger said. "Then we drove the whole 15 hours back after the game. I think we got back around 5:30 the following morning." CUA won the season finale 33-14.
The trick to making such a long ride depends on getting as comfortable as possible, Zimmerman said, but he added that it doesn't have too much of an impact on performance.
The other aspects of Division III football that aren't as flashy as Division I don't seem to bother the players, either. They may not get as much national television exposure or looks from NFL scouts, but most of them are just happy to play the sport they love and thankful for the coaches who gave them a chance.
"I still love this program even though we don't have all the things they get in Division I," Johnson said. "It teaches me what the true sport of football is. I never thought I would be who I am today."