COLLEGE PARK, Maryland — Campaigning is a big part of running for public office and gubernatorial candidates across the country have been canvassing their states for months.
From Sept. 1 to Oct. 26, Republican Gov. Larry Hogan and Democratic gubernatorial candidate Ben Jealous have taken different approaches to their campaign events, according to data obtained from the candidates' public Facebook pages, which can be viewed here.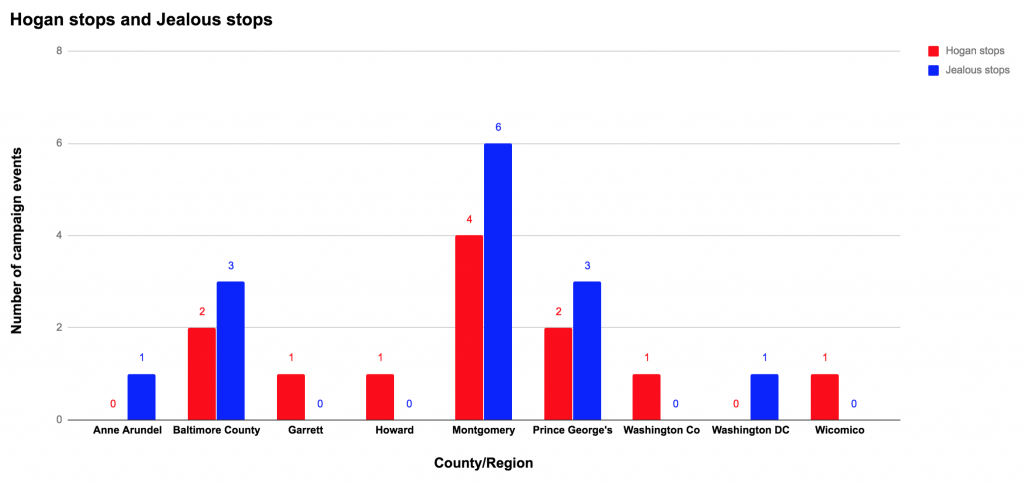 Hogan and Jealous have both focused on Montgomery County, with a combined 10 campaign events in the area since the start of September. In 2014, Democratic gubernatorial candidate Anthony Brown won almost 62 percent of the votes in the county, and presidential hopeful and Democrat Hillary Clinton won 75 percent of the votes.
While both candidates have focused on Montgomery County, Hogan has held events in four counties Jealous has not visited: Garrett, Howard, Washington and Wicomico. However, Jealous made campaign stops in Anne Arundel County and Washington, D.C., both of which Hogan did not visit during this time.
Other interesting trends emerge when analyzing data from their Facebook pages.
Jealous has had more star power in his campaign
Jealous held two campaign events with comedian Dave Chappelle. The two have been longtime friends, according to NPR, and Chapelle hit the campaign trail with the gubernatorial hopeful at events in Silver Spring and at the University of Maryland, both on Oct. 6.  
The University of Maryland has also been a focus for Jealous
In addition to Chappelle's event with Jealous on Oct. 6, he held an event with Sen. Cory Booker, D-N.J., at Cornerstone, a popular College Park bar, on Oct. 10. Meanwhile, Hogan didn't make a single appearance at the state's flagship university in the same time frame.
Hogan really loves parades
Hogan and Lieutenant Governor Boyd Rutherford spent a fair amount of time campaigning at parades over the last couple months. Of the 13 events listed on Facebook during the time period of analysis, seven were parades.
As Hogan looks to secure a second term, and Jealous hopes to turn the governor's seat back over to the Democrats, the two have taken different approaches to motivating voters in Maryland. Stay tuned for more coverage of early voting and election day.