WASHINGTON – The Smithsonian National Zoological Park on March 1 welcomed a new Amur tiger to its "Great Cats" exhibit in a conservation effort to increase the population of the critically endangered subspecies.
If all goes well, 6-year-old Nikita will mate with a tiger the zoo already has and produce offspring.
Nikita came from New York's Bronx Zoo as part of a recommendation from the Association of Zoos and Aquariums' (AZA) Species Survival Plan (SSP), a program that oversees population management and conservation of select species.
The National Zoo is one of about 200 North American zoos in the AZA membership organization that work together to help struggling animal populations.
Zoos and aquariums cooperatively send and exchange animals through the network when they need to focus on a specific species or are working to expand exhibits.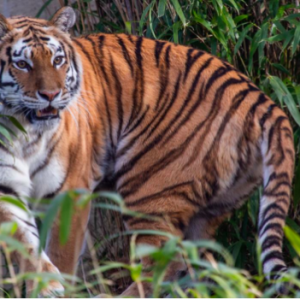 Amur tigers are considered critically endangered. Illegal poaching to supply black market demand for tiger parts, habitat destruction and trophy hunting have led to a dramatic, more than 95 percent decline in the population of the cats over the last century. Less than 4,000 remain in the wild, according to National Geographic.
The Amur subspecies, one of six tiger subspecies now that three have gone extinct, are normally found in the Russian Far East, northern China and Korean peninsula.
Nikita is expected to breed with Pavel, an 11-year-old Amur male who was brought to the zoo in October 2017 from the Lincoln Park Zoo in Chicago.
The zoo has another tiger, Damai, who is a Sumatran tiger, but wouldn't breed this subspecies with an Amur tiger in order to "keep the bloodlines of recognized subspecies pure," according to Craig Saffoe, a zoo curator of the "Great Cats" exhibit.
Pavel and Nikita currently do not share an enclosure but have "done their introductions from afar" according to a Q & A conducted by the zoo with animal keeper Dell Guglielmo. The two can hear, smell and see each other through a glass partition.
A big concern about the breeding process is whether the two tigers will get along, according to Saffoe.
In the wild, a female tiger gets to pick who she mates with. But in a zoo setting, the decision is already made. Curators are waiting to see if Nikita and Pavel are compatible for breeding, which means there is no time frame for this process.
Nikita needs to first acclimate to her new setting before physical introductions can be made.
Born at the Bronx Zoo, Nikita is now in a completely different place where the smells, the people and location are all new.
"Once she shows us that she is used to the area, then we can introduce her to Pavel," Saffoe said. "If we introduce them at the wrong time, it could lead to fights. And that could lead to injury or death."
Tiger attraction signs include making friendly "chuffing" sounds at the other, rubbing their heads together through a mesh barrier, Nikita rolling on her back, or showing a calm demeanor in the presence of the other tiger.
The last time the zoo bred Amur tigers was 71 years ago. The zoo, under the SSP program, opted to focus on breeding Sumatran tigers, Saffoe said.