COLLEGE PARK, Maryland – Recently freed from a Turkmen prison, a journalist once working undercover for Radio Free Europe/Radio Liberty recently told Capital News Service he still feels "very bad (as a result of) the sores and consequences of torture in prison."
The rare email exchange from authoritarian Turkmenistan was cut off shortly after it arrived by authorities who disabled the electric circuit in his phone, known as a SIM card, that allowed him to communicate abroad, according to his editor working in Prague.
But before it was disabled, Saparmamed Nepeskuliev had been able to tell his editor about his three years behind bars. The prison guards "used batons and their hands (to beat him)," said Farruh Yusupov, director of RFE/RL's Turkmen service in a recent interview from its Prague headquarters. He was often held in solitary confinement, subjected to sleep deprivation and deprived of food, Yusupov said Nepeskuliev told him.
"They would just turn on the lights in the cell (at night) and come into the cell and wake him up," said Yusupov.
Nepeskuliev was arrested in 2015 while taking photos of one of the government's empty, new showcase resorts. He is the fifth RFE/RL reporter in the past four years to have been imprisoned by authorities for his work.
Nepeskuliev worked for Azatlyk Radiosy, the Turkmen news service of the RFE/RL, a U.S.-funded but independent constellation of media outlets reporting on 23 countries. Created during the Cold War to compete with Soviet propaganda, by law the U.S. government is not allowed to interfere in editorial content or decision-making.
Although banned in Turkmenistan, RFE/RL manages to reach people inside the country by a variety of electronic means. The only reporters working for the outlet in the country must do so undercover and at great risk to themselves.
"People in Turkmenistan really want to have some attention and want the world to know about them," said Gulnoza Said, the Europe and Central Asia program coordinator for the Committee to Protect Journalists. "Very few journalists left in the country try to do that, but are under constant risk for trying to paint a realistic picture of the country, which goes against the state propaganda."
The Embassy of Turkmenistan declined to comment.
Experts on the country said the president, Gurbanguly Berdimuhamedow, jails reporters out of fear that their reporting may cause an uprising in the country.
Turkmenistan "has always been tightly controlled. The government is sensitive to the way the country is portrayed because they are worried about instability," said Jeffrey Mankoff, deputy director and senior fellow with the Center for Strategic and International Studies' Russia and Eurasia Program.
Located in Central Asia, Turkmenistan borders Kazakhstan, Afghanistan, Uzbekistan and Iran. It is considered one of the most repressed countries in the world, only slightly ahead of North Korea.
Formerly part of the Soviet Union, the country gained independence in 1991. Berdimuhamedow was sworn in in February 2007 after winning an election with almost 90 percent of votes among six candidates.
Most media are state-owned. Front pages full of the president are common.
In 2013, the first media law in Turkmenistan's history came into effect. It proclaimed freedom of expression and banned censorship. Yet two years later, authorities forced residents to dismantle privately owned satellite dishes, preventing them from receiving information from independent media overseas.
This crackdown was how Nepeskuliev landed in trouble. In 2014, he asked Ruslan Myatiev, editor and founder of the Netherlands-based Alternative Turkmenistan News, if he could contribute to the publication. Myatiev said Nepeskuliev simply introduced himself and shared his understanding about water shortage issues and undesirable hospital conditions he faced in his hometown of Balkanabat, a city in the west. He wanted to write about these problems.
"He is a very just person. He cannot stand injustice. He cannot stand things that are clearly against human principles," said Myatiev.
In 2015, Nepeskuliev joined Azatlyk Radiosy. For about three months he was able to send articles reporting on decrepit infrastructure and poverty issues, said Muhammad Tahir, former director of RFE/RL's Turkmen Service and now the outlet's media relations manager in Washington.
"He has a strong feeling about what's going wrong in the country and him wanting to contribute to a change," said Tahir. "That feeling eventually brought him to working with us."
On July 7, 2015, Nepeskuliev was on assignment in Awaza, a resort city constructed along the east side of the Caspian Sea. Berdimuhamedow had promised to turn the resort into the "new Las Vegas." However, since its opening, the resort has seen barely any visitors.
Nepeskuliev was photographing an amusement park and other sites in the area when he was detained by National Security Ministry agents. Police said they found Tramadol, an opioid pain medication, in his luggage at his hotel room.
In a video interview with the Alternative Turkmenistan News website, Yerik Supushev, a Kazakh national who shared a cell with Nepeskuliev for a month in a pre-trial prison, said Nepeskuliev told him "that he was framed" and that the drug "was planted on him" as a pretext to arrest him.
When he did not return home or respond to phone calls, his family filed a police report. For three weeks, his family heard nothing. On July 28, 2015, authorities told them Nepeskuliev had been arrested and charged with possession of Tramadol. A month later, he was sentenced to three years in prison.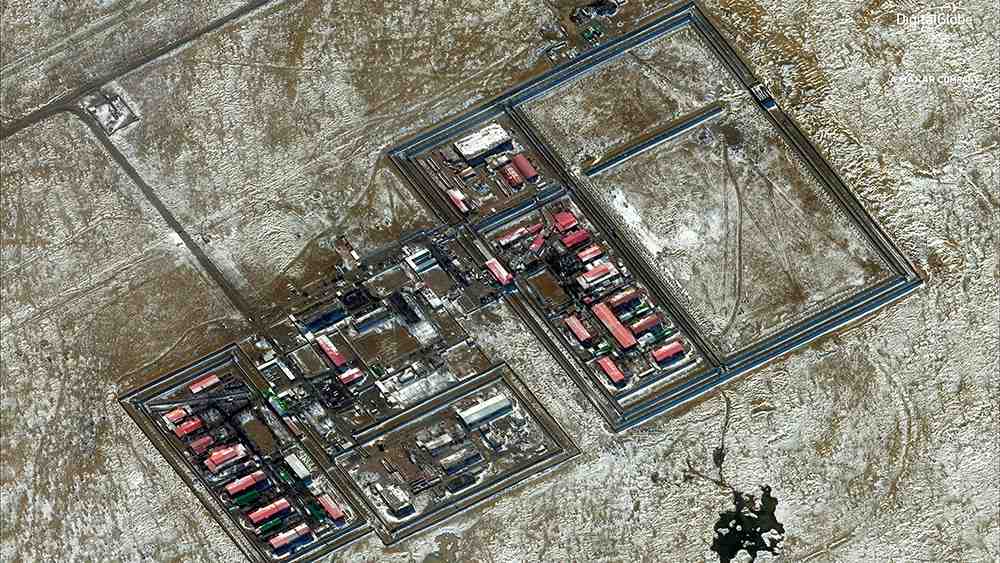 The first few years of Nepeskuliev's imprisonment, he was held incommunicado, said Yusupov. Only after that was his sister in Turkmenistan allowed to visit him.
As a result of his treatment, Nepeskuliev suffered kidney and heart failure but was denied proper medical care and his family was not allowed to bring him any medication, Yusupov said.
Nepeskuliev was released on May 19, 2018. He got in touch with Yusupov and asked him to send 15 types of medication to help treat his deteriorating health conditions, which he did.
Established in 1953, Azatlyk Radiosy is the only international Turkmen-language media working inside the country. With no bureau permitted in the country, its six reporters are based at RFE/RL headquarters in Prague. Other local correspondents operate within the country clandestinely.
"Only I know their names, and one other person knows some of them," said Yusupov. The correspondents "will get in touch with me, send me the information, and I'll check it with other sources from different localities."
All social networking sites and most foreign sites are blocked, but journalists still find ways to get their reporting out. But the government, too, has also adapted to the new technology.
In one of the most recent incidents, in October, a correspondent with Azatlyk Radiosy had sent a video overseas showing hundreds of Turkmen citizens lining up for bread. Authorities tracked down the location where the video was taken and raided the village in the middle of the night, arresting 50 people. They were released after questioning, but security remained heightened for several days following the event, as officials tried to identify the journalist.
According to Tahir, the number of journalists reporting on Turkmenistan has decreased significantly over the years due to the threats and intimidation they face from authorities.
In 2006, Ogulsapar Muradova, a former reporter for the Turkmen service, died in prison just weeks after she was sentenced to six years for being convicted of possessing ammunition.
In May 2018, the U.N. Human Rights Committee found the Turkmen government responsible for her death.
Currently, Nepeskuliev lives in Balkanabat with his sister. At the end of 2018, he successfully obtained his Russian citizenship and passport, but has decided to stay where he is out of concern he might not be safe in Russia. He is under round-the-clock surveillance and, in addition to blocking his SIM card, authorities have cut off his internet access.