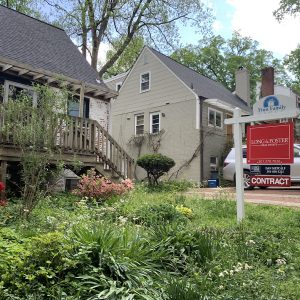 TAKOMA PARK, Md. – The most recent Takoma Park survey of residents showed that the majority are satisfied with their overall quality of life but share concerns about the availability of quality affordable housing in the area.
In the 2018 City of Takoma Park Resident Survey, only 31 percent of residents who responded to the randomly administered survey felt that there was an "availability of good quality affordable housing," down by 12 percentage points since 2014. Only 3 in 10 residents responding to the recent survey said the quality of housing was good or excellent, whereas the other 7 in 10 said it was poor or fair.
"Housing affordability is a concern for many members of the community," said Councilmember Kacy Kostiuk of Ward 3. "In Ward 3 in particular, this was an issue many expressed concern about."
The survey was mailed to 3,000 households. It was completed and returned by 826, or 29 percent, the report says. The margin of error for responses was plus or minus 3 points.
Realtor Elliot Barber of the Maplesden Group of Long & Foster said in Takoma Park a person can purchase a 1-bedroom, 1-bathroom condo for around $150,000, but there are also houses in the town that sell for upwards of $1 million.
According to Trulia, the median price of a home in Takoma Park was $350,000 and the median rent was $2,600 a month as of April 29. Since May 2014, median sales prices in the area have increased by about $160,000.
That jump in the median sales price in Takoma Park in the last five years is considerably greater than the $32,000 increase seen in neighboring Silver Spring, according to Trulia data. But the median sales price of a home in Silver Spring was higher than Takoma Park's — at $386,500 to Takoma Park's $350,000. The median rent in Silver Spring was $2,300 a month — $300 less than in Takoma Park.
Councilmember Terry Seamens of Ward 4 said the city does not control owner-occupied housing prices, but they change as the market does. "Housing prices in Takoma Park continue to rise, partly because Takoma Park is a desirable place to live. We provide good services and we are located inside the [Capital] Beltway close to many well-paying jobs," he said.
Barber attributed the change in prices in part to the gentrification of the city and the surrounding suburbs.
People are starting to get priced out of Northwest Washington neighborhoods, he said, leading them to move northeast toward Takoma Park.
Barber also noted that Takoma Park is a seller's market.
"I represent at a 10:1 ratio of buyers to sellers," he said.
As a result, there is never enough inventory for those looking to buy a home. Because of the low inventory and the high number of buyers, buyers must outbid each other, either in price or in other ways to "tip the scales," Barber said.  
Economic market forces are also at work. "Because money is cheap, people are willing to borrow more," Barber said, referring to the nearly 10-year stretch of low interest rates.
Lower interest rates bring down the long-term costs of owning a home. For example, if a buyer borrowed $100,000 with a 10 percent interest rate, the buyer would owe $315,926 over 30 years. However, if a buyer borrowed the same $100,000 with 5 percent interest rate on a 30-year loan, the buyer would only pay $193,256 after 30 years, according to www.amortization-calc.com.
The Takoma Park City Council is working toward making housing more affordable for residents, members said.
"Our goal in Takoma Park is to have a variety of housing options across the entire spectrum of income levels," Seamens said. "We believe that a healthy community offers housing options for people from all income levels."
Kostiuk said the council has created a Housing & Economic Development Strategic Plan "that would create a roadmap for future work on these issues."
According to the plan published on the city's website, it was established to ensure that a "range of safe, quality and stable housing options are available for residents of varying incomes" and "to attract new businesses to the community and prepare for economic development" within the city and region.
Kostiuk listed a few programs on which the council is working, including rent stabilization, a down-payment assistance program and landlord-tenant assistance programs.
Seamens said the council has put aside money in the budget for affordable housing.
"Although we haven't decided how this money will be used, our goal is to ensure that housing is available for households with a wide range of incomes," Seamens said. "We may offer assistance with the down payment to first-time home buyers."
On a smaller, more immediate scale, Seamens said, "we offer free first-time home buyer seminars to help people understand the home buying process and financial good habits necessary for obtaining a mortgage."
He added city officials "are trying our best to put together a solid plan to improve the quality of our housing stock and ensure that people of all income levels have a chance to live in the city.
"Income diversity is part of what makes Takoma Park a special place to live."