BALTIMORE – On a recent Saturday night, Baltimore chef Malik Anderson was fast at work organizing an extravagant eight-course meal in time for the dinner rush.
Sporting a freshly etched tattoo of a kitchen knife on his forearm, Anderson had his preparation down to a science. He tossed a pan sizzling with juicy lamb chops, dripping off the bone.
Nearby, copper pans were filled with jerk chicken, pepper steak, crispy bacon-wrapped scallops and other delicacies.
"Everything is done from scratch. Everything, all the seasonings, all the spices," said Anderson, whose guests were charged $86 per person.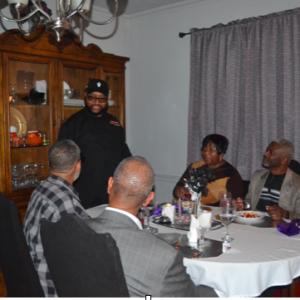 But this wasn't a typical restaurant. Anderson was serving dinner in his private home to strangers who found him via an internet meal-sharing platform called BonAppetour.com, one of several websites that match diners seeking unique meals to chefs looking to earn extra income in the gig economy.
Gig workers are independent contractors, freelancers and other self-employed Americans who work numerous short-term jobs, or gigs, rather than hold a traditional job with a single company.
In many ways, Anderson is a typical example of a gig worker who hustles in today's economy to make ends meet. In addition to hosting dinners, which he said accounts for about 25 percent of his income, Anderson caters events and teaches cooking classes. He hopes to one day open a catering hall.
Gig work is often associated with drivers for companies like Uber Technologies Inc. or carpenters picking up handyman jobs on Taskrabbit.com. But economist Steve King, a partner at San Francisco-based Emergent Research, said that meal-sharing services and other food preparation businesses are "a pretty rapidly growing area" in the gig economy.
King even confesses to attending meal-sharing dinners with his wife every few months. "When they click, they're really great fun."
BonAppetour, based in Singapore, was founded in 2013 and started out catering to international travelers searching for authentic regional dining experiences, such as paella in the home of a Barcelona resident or a traditional tea ceremony in Tokyo, according to the website.
The site now operates in more than 100 cities worldwide and works with more than 1,000 chefs. Both locals and travelers are scanning the website for unique events.
"The idea is to connect people back to our roots, that is, to share social experiences together over a hearty meal," said Inez Wihardjo, BonAppetour's chief operating officer. "Instead of investing so much on marketing, we invest more in ensuring the quality of the product, that is, the experiences itself."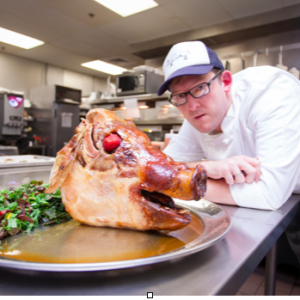 Some consumers agree.
"For me, it's the ambiance," said Brian Copeland, a Baltimore resident and one of Anderson's recent guests. "It's a very intimate dinner. It's a real personal dinner. You know the chef; you see the chef." Copeland said he also likes the idea of supporting local chefs.
To become a host for BonAppetour, chefs must register online and go through a background check. To reach a higher level called a "verified host," a chef must prepare a meal and present it to a BonAppetour employee or ambassador.
The website then posts appetizing photos of the chef's cuisine, provides information to customers about upcoming meals and collects payments from customers in advance through the website.
Only after payment is collected does the customer see the address of the dinner event. For its service, BonAppetour charges the host a 15 percent service fee.
Most other meal-sharing sites operate similarly, although some have more stringent inspections and requirements. Feastly.com, for example, requires all potential chefs to prepare a test meal for the company before they can become a Feastly host.
While meal-sharing platforms have been praised for providing opportunities to amateur chefs—including large numbers of women and minorities—some critics are dubbing them the Airbnbs of the food eatery business.
Airbnb Inc. operates a website that allows homeowners to rent out rooms or apartments to travelers, in competition with hotels. And just as Airbnb has raised concerns from the hotel industry and government regulators, some meal-sharing platforms are running into trouble.
In 2018, Josephine's Kitchen, a San Francisco-based website created by entrepreneur Charley Wang, shut down partly due to problems with government regulators.
"At this point, our team has simply run out of the resources to continue to drive the legislative change, business innovation, and broader cultural shift needed to build this business," Wang wrote in a statement online.
Last year, the Maryland House of Delegates passed a bill that allows home cooks to sell "cottage foods" through delivery services or from their homes, special events or farmer's markets without a license.
Cottage foods include items such as fruit jams, candy, baked goods and a few other products that don't require refrigeration and aren't considered a big risk to consumer health.
However, the Maryland Department of Health still prohibits cooks from selling prepared food out of their homes without proper retail licensing. "If you're preparing (non-cottage) food to sell, then you have to be licensed," said Patricia Vauls, chief of the Department's Office of Food Protection.
But so far, the state hasn't shown much interest in enforcement, in part because meal-sharing, while growing, remains relatively small and goes unnoticed.
"As long as this is just the occasional thing with relatively small numbers, the health department doesn't look like it's all that interested," said Rob Enderle, a principal at the Enderle Group, a consulting firm that works with the restaurant industry.
"Once you reach a critical mass, suddenly the restaurants start complaining," he said, adding that if people start to get sick from meal-sharing dining, "there will be investigations, statistics, and FDA regulation."
Rich Maggiotto, the chief executive of Feastly.com, argues that meal-sharing websites shouldn't be viewed as competitors to restaurants, but rather as proving grounds and incubators for future restaurants.
"A lot of times we have chefs that might do a pop-up event that are really looking to raise money for a restaurant, so this is their showcase," Maggiotto said. He said meal-sharing is also a way for hosts to experiment and to "test concepts, test new menus, try new things, do something different."
For the home chefs, another reason for working in the gig economy is flexibility.
"It's an easier lifestyle," said Chris Spear, a personal chef and culinary instructor in Frederick, Maryland. "When you think of a traditional chef working 70 or 80 hours a week, working 16-hour-days, getting home at two in the morning….that's kind of hard."  
Spear says he works when he wants to work and changes his cuisine depending upon his interest at any given time.
Unlike Anderson, Spear doesn't host dinners in his home. Instead, he prepares meals in the homes of his guests or in apartments booked via Airbnb.
"I've started a really cool thing where I'm starting to partner with local Airbnbs," said Spear, who is also founder of Chefs Without Restaurants, a project that works to connect gig chefs and help them navigate the industry.
Despite its growing popularity, it's not clear whether the in-home meal-sharing model will last. Feastly is starting to encourage more chefs to host dinner parties in commercial kitchens and other venues instead of their homes.
Working in his cramped galley kitchen during his recent dinner party, Anderson was calm and composed, a skill that comes with years of experience and hours of hustling. It's a lifestyle he feels is worth pursuing.
"I wouldn't want to do anything else but cook," says Anderson, showing off his tattoo with a gleeful smile. "Cook or die."