WASHINGTON – One year ago, Washington Post columnist Jamal Khashoggi entered the Saudi consulate in Istanbul and never emerged. 
The global impact of his murder was reflected Wednesday night as crowds gathered outside the Embassy of the Kingdom of Saudi Arabia in Washington for a candlelight vigil in his honor. Hours earlier, halfway around the world, similar crowds gathered at the Saudi consulate in Istanbul. 
The message at the vigil was not one of silence, although crowds holding candles took a moment of silence to remember Khashoggi's life. The attendees wanted justice. 
"This has been a very high-profile and highly visible murder and I think that it sends a very, very dark message to all journalists around the world," said Justin Shilad, senior researcher for the Committee to Protect Journalists, while standing at the vigil. "And we want to make sure we are very visibly sending a message back."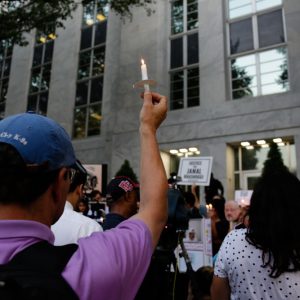 On Oct. 2, 2018, Khashoggi walked into the consulate to obtain papers to marry his Turkish fiancé, researcher Hatice Cengiz. He never came out and his disappearance made international headlines within hours. 
As a Saudia Arabian dissident and critic of the Crown Prince Mohammed bin Salman, 59-year-old Khashoggi was a target of the regime in Riyadh. The CIA concluded that the prince himself ordered the assassination, a gruesome dismemberment within 10 minutes of Khashoggi's arrival.  
Khashoggi is one of hundreds of journalists who are attacked, imprisoned or killed around the globe each year. 
Shilad said that after one year, there haven't been any meaningful consequences for Saudi Arabia's leadership and no significant international investigation. He added that President Donald Trump has largely ignored the murder – instead choosing to focus on the benefits of the U.S.-Saudi relationship. 
"The fact that Donald Trump is protecting him is a scandal and an outrage and it will not stand," Rep. Jamie Raskin, D-Kensington, said at the vigil, referring to the Saudi prince.
He asked the 10 press freedom and human rights advocacy organizations who co-sponsored the vigil to continue to stand up to tyranny both in Saudi Arabia and in the United States. 
Last week, Shilad's organization filed a lawsuit in the United States District Court for the District of Columbia seeking documents that might show whether the U.S. intelligence community knew of threats to Khashoggi's life.
The organization is also pushing Congress to pass a bill mandating the release of U.S. intelligence documents detailing who was involved in the murder, and then to hold those responsible accountable. 
"This inaction sends the message not just to Saudi Arabia, but to governments around the world that killing journalists is acceptable," Courtney Radseh, director of the Committee for Protected Journalists, said.  "It is not."