Electric scooters are making their way onto college campuses across the country. But with this new alternative transportation method comes e-scooter-related accidents that campus officials expect to rise.
The University of Maryland (UMD) welcomed an electric fleet at the beginning of this academic year with the company VeoRide. They introduced 70 e-scooters with specific drop-off locations scattered around the campus.
E-scooter users on college campuses, including UMD, say they're a fast and efficient way to get to class. But those who don't use e-scooters think they're annoying and have been incorrectly implemented.
"Electric scooters are really good in theory," Matthew Nagler, an undergraduate student at UMD, said. "I think they're really great for helping people get around more quickly. It's another sustainable transportation option when compared to cars. The problem is the way they've been implemented is kind of poor. There are designated spots for people to park scooters, but I don't think people follow those rules."
Since 2016, more than 35 colleges across the United States have crafted efforts to offer students this alternative to driving or walking – and this number continues to grow. 
Boise State University in Boise, Idaho, implemented programs with Lime and Bird to bring about 500 e-scooters to the campus. The program's main purpose is to provide "alternative modes of transportation," according to the Boise State News website. 
Other schools, like James Madison University (JMU) in Harrisonburg, Virginia, set specific regulations for e-scooter drivers. They must wear helmets, drive on the roads and stay out of indoor areas. JMU also shuts off all Birds from 9 p.m. to 7 a.m., according to The Breeze, a student-run newspaper at the university.
"When e-scooters arrived here on campus, they came in very quickly and without much notice," Lieutenant Kevin Kilgore with the University of California, Los Angeles (UCLA) Police Department, said in a phone interview. "There's been a significant use of them since they came in and they've continued to be very prevalent on campus."
E-scooter companies such as Bird, Lyft, VeoRide and Lime have affiliated with colleges to bring their e-scooters within the campus boundaries. To use one, riders download an app onto their smartphone, find an e-scooter, tap to unlock it and start driving. It sounds simple, but some college campuses have reported multiple accidents involving e-scooters.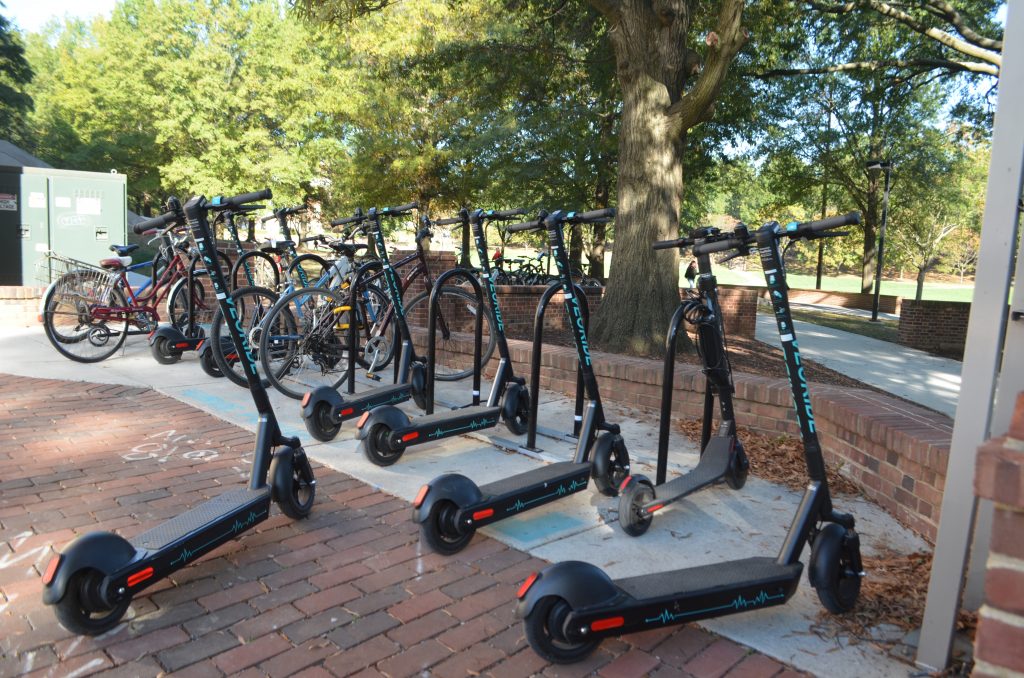 "The first time I rode one on campus, I was with a bunch of my friends. It seemed really simple to use, so I didn't even think about reading the instructions to figure out how to ride it," Olivia White, an undergraduate at UMD, said. "The majority of my friends had already ridden one before, so they just helped me out."
Although they're viewed as a fun and easy way to travel, they are not always safe. The e-scooters have been involved in accidents at colleges and universities across the country, according to data collected by Capital News Service (CNS).
There were 25 reported incidents at the Georgia Institute of Technology in Atlanta, Georgia, from January 2018 to June 2019, according to the Georgia Tech Police Department. This college had the highest number of e-scooters incidents among schools that responded to a CNS data request. Of these 25 incidents, about 68 percent happened in 2019 alone. 
Accidents were considered as improper use, collisions, reckless behavior, crashes or Operating a Vehicle Impaired (OVI)/ Driving Under the Influence (DUI).
The Ohio State University (OSU) trails behind with 15 reported accidents since July 2018 when e-scooters were first introduced. The two main causes were improper use and OVI. The university has made efforts to reduce these numbers through "physical signage and other means of communications," according to a representative at the Office of Administration and Planning at OSU.
Boise State University reported 13 accidents since 2017, while Southern Methodist University had six since 2018. The University of Virginia had five over a three-year period.
The University of Oklahoma only reported three accidents in 2019.
Some institutions, such as Kansas State University (K-State), went as far as banning electric scooters completely. 
However, some colleges have had no more than two accidents since January 2018. San Diego State University and JMU reported two accidents each. The University of Missouri reported only one accident. The data revealed there weren't any reported accidents at Duke University, the University of Utah or the University of Illinois. 
This data was collected through accident report requests with the police departments affiliated with the universities. Several schools with e-scooter programs didn't respond to the requests, such as the University of Miami, the University of Louisville and the University of Colorado in Denver.
The Maryland State Police didn't respond to repeated requests involving e-scooter accidents at UMD. 
Some e-scooter users found they have improved their overall quality of life. These users say they're a fast and fun alternative to the car.
"By using the scooter, I get to class a lot faster and I have a lot more energy for other activities," Oliver Hull, an undergraduate at UMD, said. "I recently had an injury and it's been a much easier way for me to get around campus. The university is always so congested with students, so I don't like using a car on campus."
Hull along with other students at UMD decided to rent Birds on a month-by-month basis. 
"The scooter has honestly just made everything more efficient," Taylor Ford, an undergraduate student at UMD, said. "Getting from point A to point B is just a lot easier. I'm able to do a lot more things that I wouldn't be able to do on foot." 
Ford emphasized that he uses it to get to class and to spend more time with friends who don't live close by. 
Bird first launched its rental program at the end of April 2019 in San Francisco and Barcelona. Bird advertises that the cost to rent is $24.99 per month, which includes unlimited rides, flexibility and free delivery.
"As the amount of time people spend commuting in their car increases around the world, so does the amount of carbon emissions polluting our planet," Bird posted in a press release on April 30, 2019. "Personal rentals offers commuters the ability to exchange the daily trudge that has become all too common – losing hours every week sitting idly in traffic, day in and day out – with a more reliable and sustainable alternative." 
Both Hull and Ford said that they plan to continue their rentals. Ford said that he might return his Bird once it gets colder but renew it in the spring.
Rentals aren't a common form of service for e-scooters. Usually these companies offer pay-as-you-ride options with prices that vary depending on the customer's location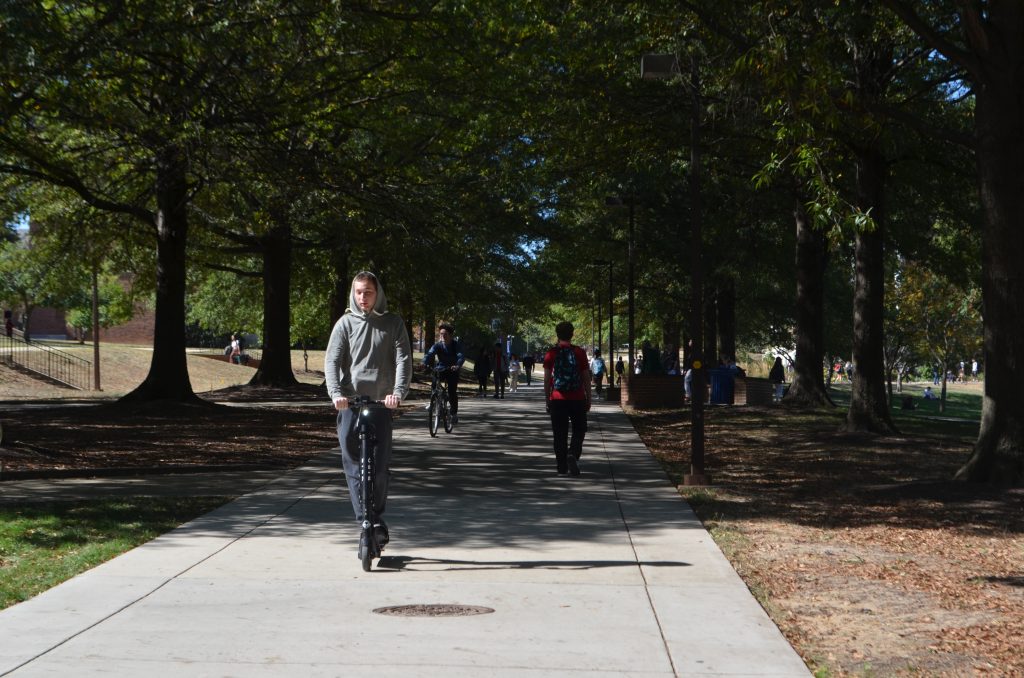 Bird charges $1 to start and $0.39 per minute in College Park, Maryland according to its app. Lyft charges $1 to start and $0.24 per minute in the Washington D.C. area according to its website. VeoRide charges $1 to unlock and $0.15 per minute in the College Park area, and Lime charges $1 to unlock and $0.24 per minute in the Washington D.C. area, according to its app.
UMD has specific parking zones for the e-scooters, rather than allowing riders to leave them anywhere. These locations are outlined in VeoRide's app. If an e-scooter isn't put at an official parking zone, then the e-scooter doesn't lock and the customer continues to get charged.
Other campuses, like UCLA, have specific drop-off locations but customers can ultimately park them anywhere.
"One of the criteria for the e-scooter company was to incentivize the right drop-off area, so that we don't have complaints," Lieutenant Kilgore said. He also said that e-scooters often block sidewalks and stairwells. "UCLA is a large university in a very large metropolitan city. As population and ridership increases, the risk increases as well because of the densely populated area."
The Lieutenant stressed that they are "neat inventions" when properly used.
Even though universities like UMD have specific drop-off locations, those with a Bird rental could park or ride seemingly anywhere, even a campus building hallway. Just last week, a student was seen driving a Bird e-scooter in a crowded hallway, according to Nagler. 
"They really need to crack down on parking areas for the scooters because I know they're dockless. I've seen designated spots for them, so I think either the companies or the city or the university needs to crack down on it," Nagler said. "People are just parking at random places all over the place and they're in the way. They also need to really focus on people scootering in the road and being safe with them."
Nagler refuses to use the e-scooter because he simply has no interest. 
"I tend to stick to the road almost all of the time unless there's a red light," Ford said. "I'll just use the pedestrian walkway so that I don't have to wait."
Ford suggested creating more bike lanes on the UMD campus and to "heavily enforce" e-scooter drivers as a way to reduce traffic and accidents on the sidewalks.
"In terms of e-scooters in general, they work really well in bigger cities," Nagler said. "They have them in D.C., and people use them all the time. I think the city has better infrastructure for them there. Since it's new here and the university isn't that big, I don't know if they're the best fit for this campus."