BALTIMORE – Marking the passing of Rep. Elijah Cummings last week, community leaders, elected officials and friends gathered together Wednesday night to honor the former congressman at Morgan State University, where Cummings served as a member of the Board of Regents for 19 years. 
"I have lost a friend," Sen. Ben Cardin, D-Maryland, said. "Our nation has lost a booming voice for truth, fairness and liberty." 
Cummings's roots ran deep in Morgan State University, a historically black university located in his Baltimore district. During his long service on the board, Cummings increased Pell Grant funding and created partnerships with NASA. Just this past May, the Democratic congressman delivered the commencement address. 
Cummings once said that sitting on the Board of Regents was one of the proudest things he did.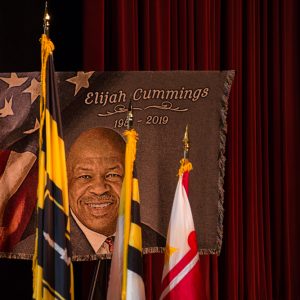 Cummings lay in repose at the university all day Wednesday before the evening commemoration, fulfilling his wish for the campus to serve as a venue for the people of Baltimore to pay their last respects.  
Neighbors, friends and admirers poured in from around Baltimore and from around the country, forming long lines at the university's Murphy Fine Arts Center.
"I just had to see him one last time," said Vivian Bort, a Baltimorean who saw Cummings at church often. "I might never see a congressman like that again."
Bort says that she felt that Cummings was the only person in Congress who was fighting for her as a black woman. 
She was in tears when she heard Cummings had died. 
"Now he is gone, who is going to fight for me?" Bort asked.
The community has long-regarded Cummings as their advocate— he was known as being accessible to his constituents; he was regarded as one of them. 
"He showed us that to be effective in places like Baltimore, you have to be a shepherd that smells like a sheep," Marilyn Mosby, state attorney for Baltimore City and personal friend of Cummings, said at the commemoration. "And the people have to be able to see you and to touch you and not just hear you."  
Mosby was one of 27 elected officials, religious and community leaders and friends who briefly spoke about the life and legacy of Cummings, including Sen. Chris Van Hollen, D-Maryland, and Baltimore Mayor Bernard "Jack" Young.
Former Maryland Sen. Barbara Mikulski delivered a message from Katherine Johnson, the now-100-year-old woman who calculated the trajectory for America's first trip to space: "I might have helped John Glenn get to the moon, but he helped children reach for the stars." 
"Not failure — but low aim — is sin," said Rev. Sheridan Todd Yeary, pastor of the Douglass Memorial Community Church. He said Cummings aimed high, wasted no time and worked until justice was achieved. Yeary, along with several other speakers, recalled a poem that Cummings recited for his first speech to Congress in 1996: 
I only have a minute.
Sixty seconds in it.
Forced upon me, I did not choose it,
But I know that I must use it.
Give account if I abuse it.
Suffer, if I lose it.
Only a tiny little minute,
But eternity is in it.
Cummings was a shining example of making the most of the time we had on earth, speakers said.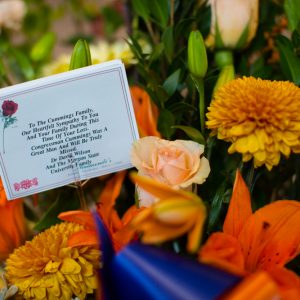 The day he was sworn into Congress, Cummings looked up and saw his father crying, Rep. John Sarbanes, D-Towson, recalled, from a story his colleague told him. His father had to drop out of 3rd grade to plant cotton and pick strawberries, and told Cummings he was thinking about what he could have been.  
"We can't afford to have anyone grow up to be 70 years old thinking about what they could have been," Cummings said when he told the story to Sarbanes.  
Speakers said Cummings held up a mirror to our country's failures and shortcomings and urged us to become better.
"Elijah would not have left us if he thought we did not have the power to finish that fight without him," Sarbanes said. 
Cummings will lie in state in National Statuary Hall at the United States Capitol on Thursday, and funeral services will be held on Friday at New Psalmist Baptist Church in Baltimore, where Cummings attended services for nearly four decades.