ANNAPOLIS, MARYLAND – As states across the nation ease restrictions related to COVID-19, Maryland Gov. Larry Hogan has introduced a multi-stage strategy to gradually lift physical distancing orders here.
Hogan's "Maryland Strong Roadmap to Recovery" is divided into three stages — low, medium and high risk. Each stage will slowly ease lockdown orders for specific activities and businesses based on their likelihood of allowing infection to spread.
Stage One: Low-risk
The low-risk phase will allow certain businesses to re-open and lift restrictions on some community activities, religious gatherings, and stay-at-home orders. Businesses and activities that would re-open or resume include:
– Medical offices
– Stores with curbside pick-up and drop-off services
– Car washes
– Certain small businesses and outdoor establishments
– Outdoor sports, gym classes and recreational activities (such as fishing, hiking and hunting) with proper distancing
Stage Two: Medium-risk
The second stage, the medium-risk phase, will likely take longer to get to than the initial recovery phase. During this stage, the majority of the state's businesses could re-open, but with strict physical distancing and masking requirements. Potential changes may include:
– Capacity restrictions lifted and social gathering limits raised
– Access to indoor gyms, childcare centers, restaurants and bars with low-capacity limits
– Transit services return to normal schedules
– Churches re-open their doors
– Hospitals resume nonessential procedures
Stage Three: High-risk
The high-risk phase is the final stage of Hogan's plan and focuses on long-term goals. This third phase would only begin once a vaccine or medication is discovered that would protect individuals from the spread of the novel coronavirus. Marylanders would see:
– The resumption of large social gatherings at restaurants, bars, entertainment venues, and churches
– Fewer restrictions at nursing homes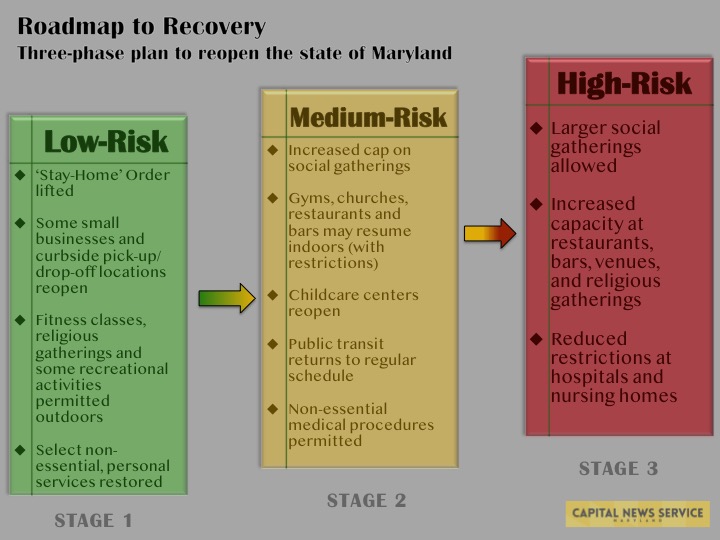 The terms of this roadmap are flexible and subject to change based on conditions of the state, Hogan said Friday.
[As the state prepares to reopen, Hogan's political future may be tied to Maryland's economic recovery]
Too soon to begin recovery
The three-phase plan to reopen will not go into effect right away because Maryland is still seeing increases in reported COVID-19 cases and deaths statewide. Hogan said the process will only begin when the daily number of new cases decreases for 14 consecutive days.
[CNS interactive map keeps track of COVID-19 cases in the United States]
"Even as we begin our recovery, we won't be able to just flip a switch," Hogan said. "Unfortunately life is not going to just immediately go back to normal."