WASHINGTON – Becki Bass and her daughter Sky came to the Supreme Court on Wednesday to bid farewell to Associate Justice Ruth Bader Ginsburg, who died last Friday at the age of 87.
"I've always been a humongous Ruth fan. Her death really struck a chord with me," Bass, a 31-year-old flight attendant, said. She brought her four-year-old daughter from Stevensville, Maryland, to the nation's capital to see the justice's flag-draped casket, surrounded by flowers, on the Supreme Court's top steps. Bass said it was important for her daughter to say goodbye.
"Raising a little girl in an area where she's one of the only little black girls, she's different. She sees it already at age four," Bass explained in an interview with Capital News Service. "I'm raising her with independence and strength and being brave, and everything Ruth was."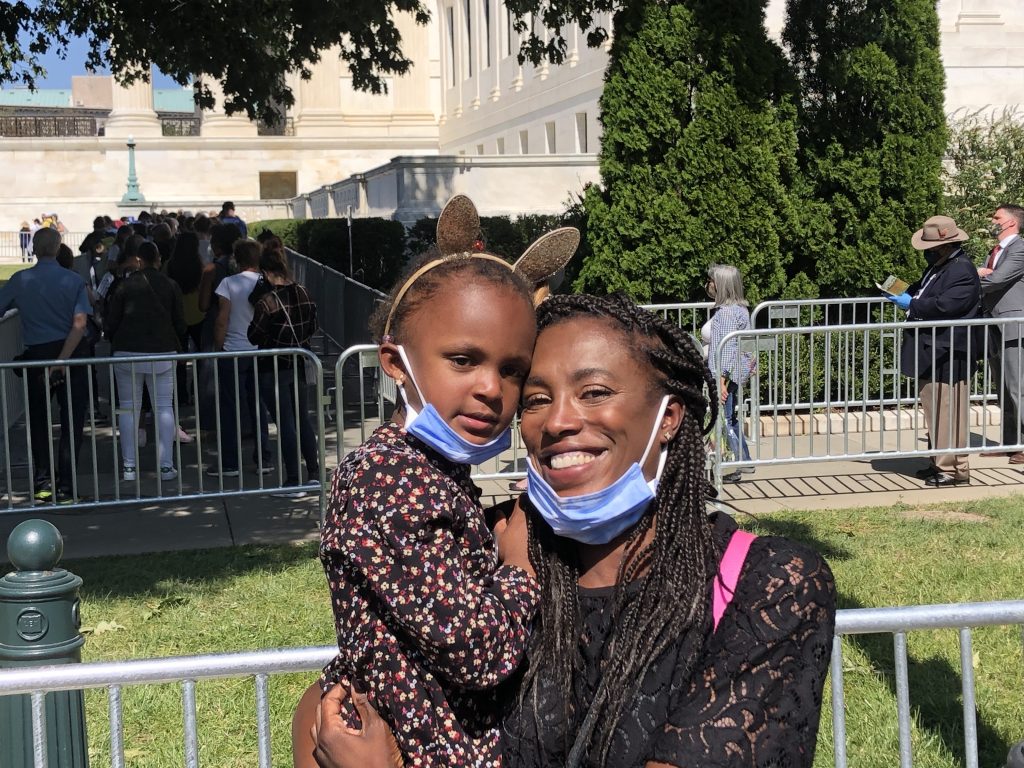 "What Ruth did for the country, not just for women, but for everyone, was amazing. I really want her to see that one person can make such an impact," Bass said. She waited in line with hundreds of others to see the casket.
Ginsburg lay in repose on the steps of the court after a private ceremony inside the columned building, at which her fellow justices, family and friends paid tribute. The public began paying respects after 11 a.m., winding in a long line in front of the court and down the street. Ginsburg's casket will remain on view to the public through Thursday, with viewing permitted between 9 a.m. and 10 p.m.
Bass said she disapproved of President Donald Trump's desire to nominate a new justice before the election on Nov. 3.
"It's showing people that he doesn't care what the American people want. He wants to do what he wants to do. Whatever is going to push his agenda is what he's going to do," Bass said.
Michael Overholser, a 32-year-old data director for a political organization, also expressed disapproval for the president's desire to replace Ginsburg quickly.
"I'm not surprised at all, I feel that most Republicans are lacking a moral compass. They do not have consistency on anything," Overholser said.
He said he was concerned that a court dominated by Republican-appointed justices might erode civil liberties, which he said he witnessed first hand earlier this summer in Washington, when he was pepper-sprayed, and shot with rubber bullets by police during the protests that followed the police killing of George Floyd.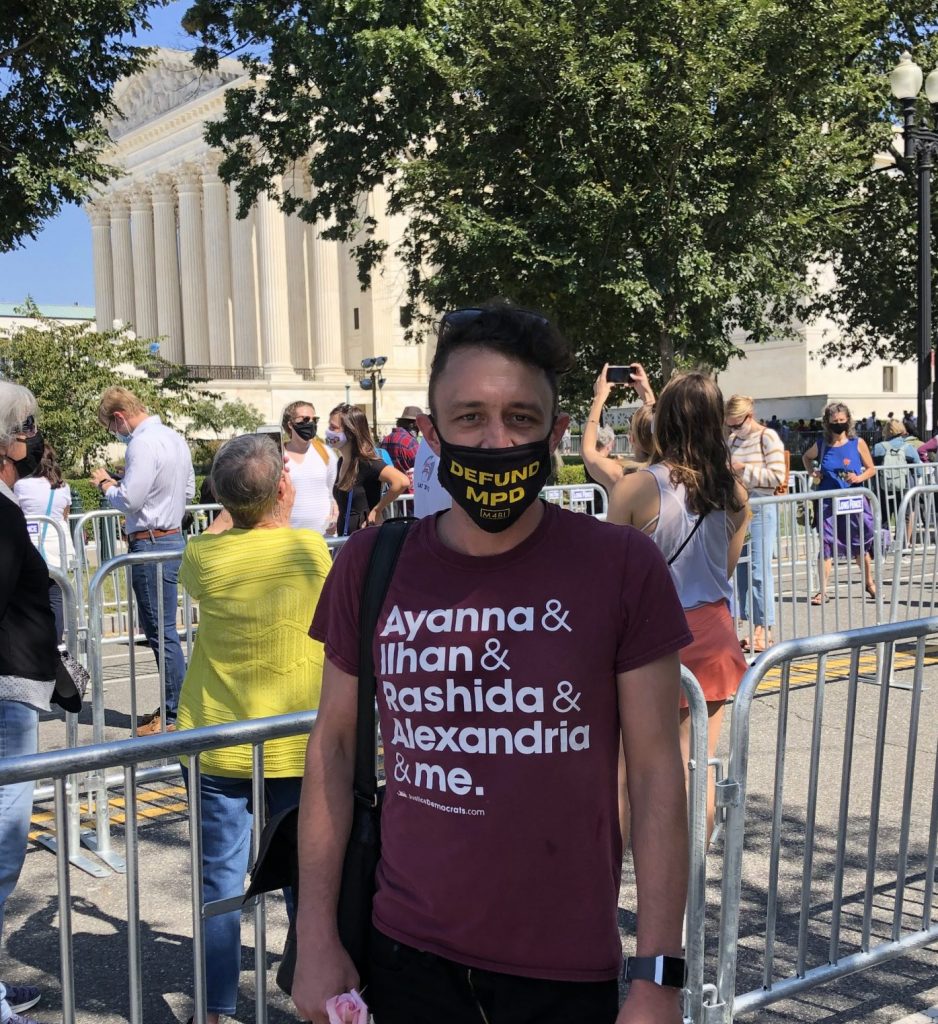 "They're going to have five justices that are young, which means they're going to control the court for so long. That's terrifying to me," Overholser said.
Some of the younger mourners expressed similar discomfort with a court full of Republican appointees. Evelyn Troy and Laila Kronemer, two high school students from Silver Spring, Maryland, said Senate Republicans who support a Trump nominee are hypocritical.
"The people should be able to choose," Troy said.
"If Trump's nominee does get in, it will be a 6-3 court," Kronemer said. "The Supreme Court should be as apolitical as it can, to be fair, and it won't be fair. LGBTQ rights will be taken away, women's rights will be taken away. It will be a setback."
Other mourners were less pessimistic about the future of the Supreme Court.
Amy Wall-Monte brought her two daughters, one 8 and one 10 years old, to Ginsburg's casket.
"I thought it was callous, before she was even cold," Wall-Monte said of Trump's rush to tap a new justice. "They don't have a mandate, they don't have the support of the majority of the population, and if we need to take drastic actions, like those that led to the New Deal."
Wall-Monte suggested the Democrats should threaten to add justices, but expressed a cautious optimism for the functioning of the Supreme Court.
"I have a lot of faith in the court. Even if these nominations are made politically, there is a lot of integrity on the court," Wall-Monte said.
Wall-Monte, who works for a law firm outside Philadelphia and went to Temple Law School, said Ginsburg's was an example for women seeking equality.
"She used the law to help get girls into institutions that wouldn't allow them in," Wall-Monte said.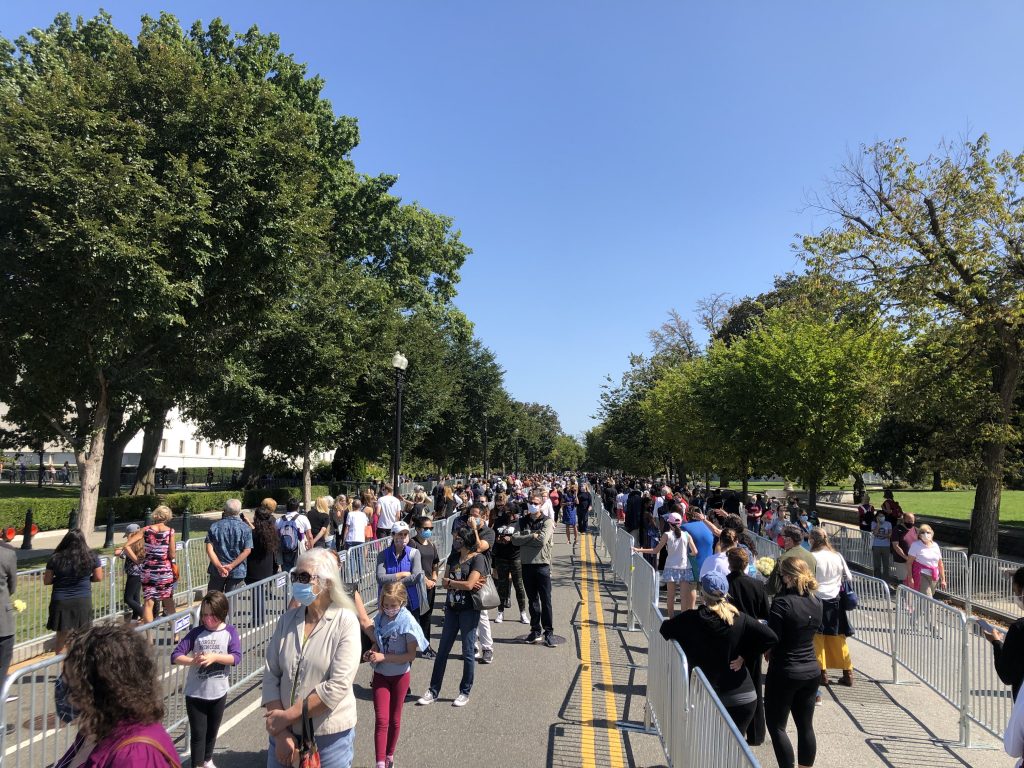 Other people in the waiting line expressed respect for the Ginsburg's long career and her tenure as a public figure.
"She's symbolic of a more just, equal society," Overholser said. He said Ginsburg's career made it possible for other people, even those much more progressive than Ginsburg, to see themselves in roles of political power.
"She was motivational to so many women and minority groups," Kronemer said. "She made sure to fight for everyone who wouldn't normally get rights."