Capital News Service journalists spread out across Maryland on Election Day to talk with voters who braved a global pandemic to cast their ballot in person. Here's what those voters told CNS.
Health care and systemic racism key concerns for young UMD voter
Kelsie Challenger, a senior studying public health at the University of Maryland, arrived at the Xfinity Center at 6 a.m. Tuesday. She waited an hour in 44-degree weather to vote for Democratic presidential nominee Joe Biden.
"Health care, health care, health care, my number one," the 21-year-old student said, when asked about the key issue affecting her vote.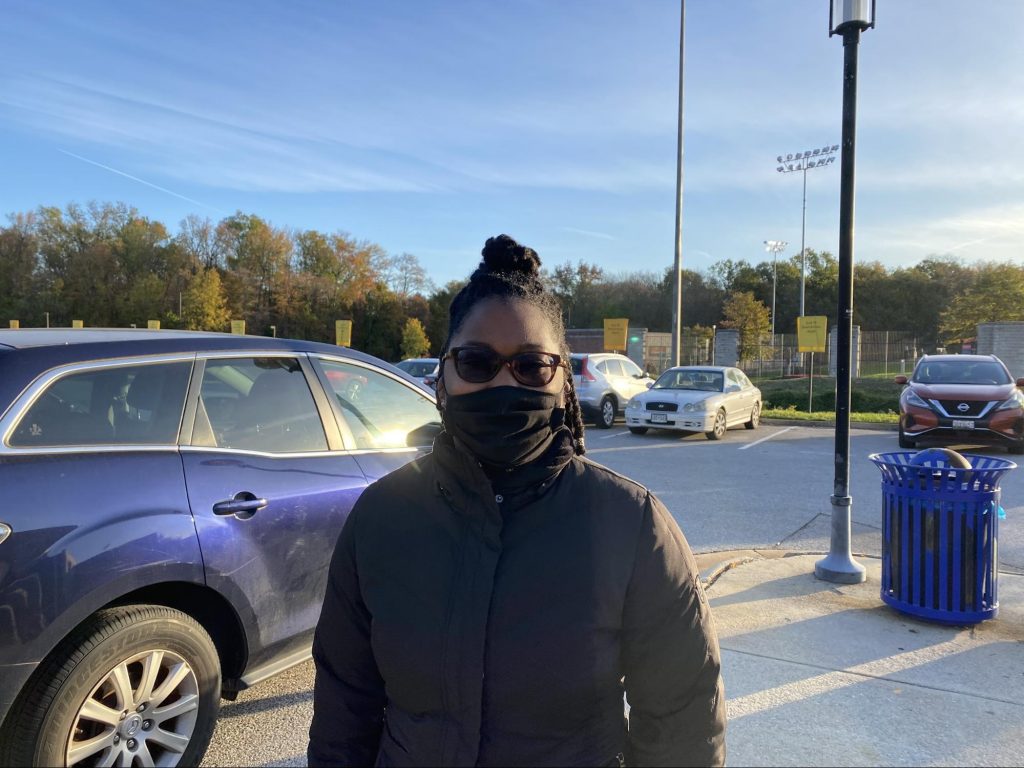 Challenger said she is not satisfied by the way the COVID-19 pandemic has been handled in the United States. According to the Centers for Disease Control and Prevention, on Tuesday there were 86,190 new cases and over 500 deaths in the U.S.
To be "so incompetent and delusional to not even … address it early on … or listen to the public health guidelines by Dr. (Anthony) Fauci and so many other prominent doctors and nurses and people who are actually on the battlefield, technically, it's just, it's actually insane," Challenger said.
Besides accessible and quality health care, Challenger said she wants to see policy changes when it comes to systemic racism.
"I did all that I can do to protest, but now that we've raised enough awareness, we actually need systemic change," Challenger said.
— Gea Ujcic
---
Independent voter hopes to send a message with Jorgensen vote
A College Park software engineer voted third party Tuesday in the presidential election, citing his frustrations with the bipartisan system and his hope that new voices are the answer.
Kris Sooklal, 29, has considered himself an independent voter for almost 10 years. Tuesday morning he voted for Libertarian presidential candidate Jo Jorgensen, a senior lecturer in psychology at Clemson University.
According to the Maryland State Board of Elections, Democrats and Republicans account for about 85% of the eligible active voters in the state, greatly reducing the chances for an independent candidate's win.
Recent polls from RealClearPolitics showed Jorgensen was polling at less than 2% of the presidential vote in matchups with former Vice President Joe Biden and President Donald Trump.
Sooklal, interviewed at the University of Maryland Xfinity Center, said he is frustrated with the restrictiveness of the bipartisan system and the political polarization between the parties. He said that voters become entrenched in their party's views and that there is an expectation that once you choose a side, you need to vote with that side on all issues.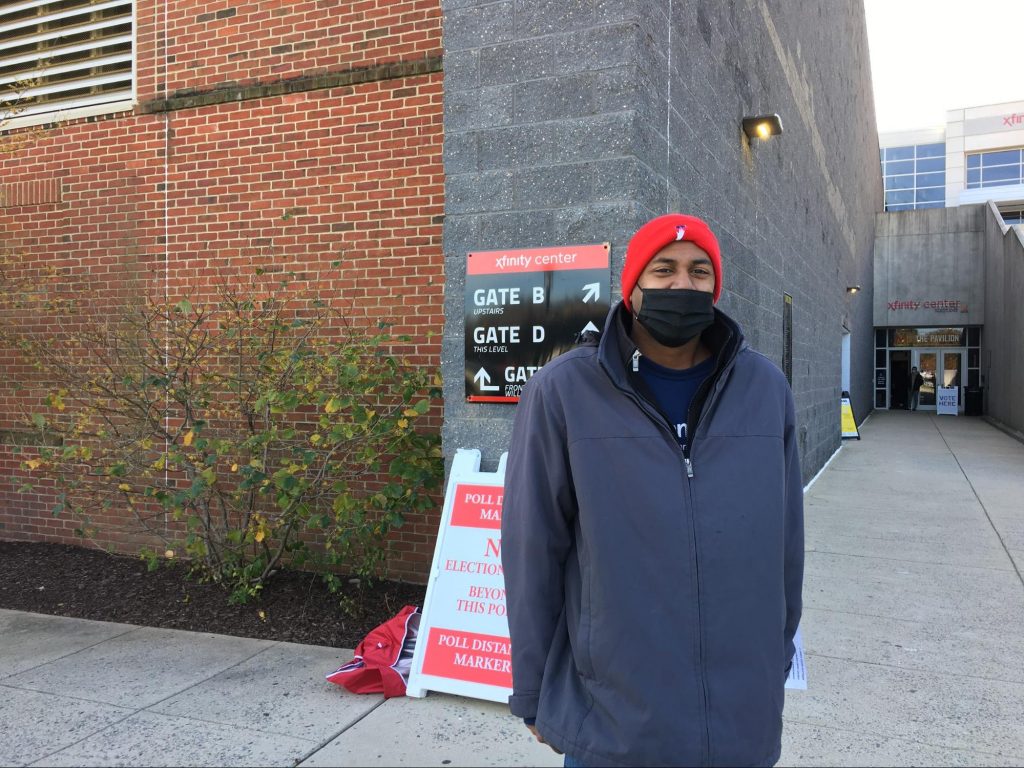 "If you're liberal, you're supposed to vote on 10 liberal things," Sooklal said. "You can't be like eight on liberal things and two on conservative things, or you'll be called out."
Sooklal voted third party under the assumption that Biden would win in Maryland, a majority Democratic state. According to Sooklal, a vote for Biden would enforce the incumbency of the party while a vote for Trump would be a losing cause. Instead, he preferred to take his chances in the hopes that his vote might bolster an up-and-coming third-party candidate.
"I don't want to see incumbents across the board," he said. "I want to see new blood and new ideas. … The way, at the national level, people have acted, I don't want to see that again."
While Sooklal was dissatisfied with the current administration's handling of the pandemic, job loss and racial inequities, he said he believes in limiting executive power and focusing on change within state and local races.
"If you are on the fence about voting, I would remind you that actual change happens at a local level," he said.
— Molly Work
---
'What our country needs'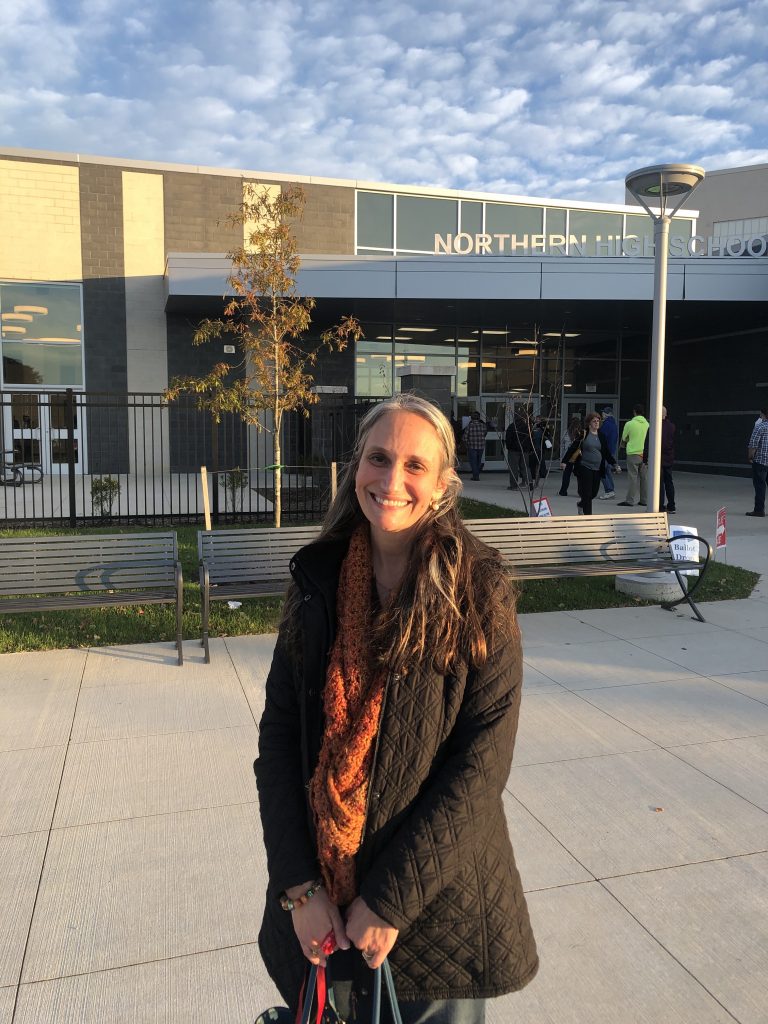 Deborah Porfiri, a 48-year-old homemaker and homeschooler from Huntingtown, voted for Donald Trump at Northern High School in Calvert County.
Porfiri said Trump has "the integrity and leadership to defend our nation, our religious freedom, authentic marriage, the military, the economy … and also to protect life."
"That's what our country needs," Porfiri said.
— Grace Todd, CNS
---
Not 'as bad as they say'
Pam Greulich, 62, of Crofton, wasn't hard to find at Crofton Elementary School in Anne Arundel County.
"I voted!" she exclaimed, exiting the center. Like in 2016, her vote was for Donald Trump.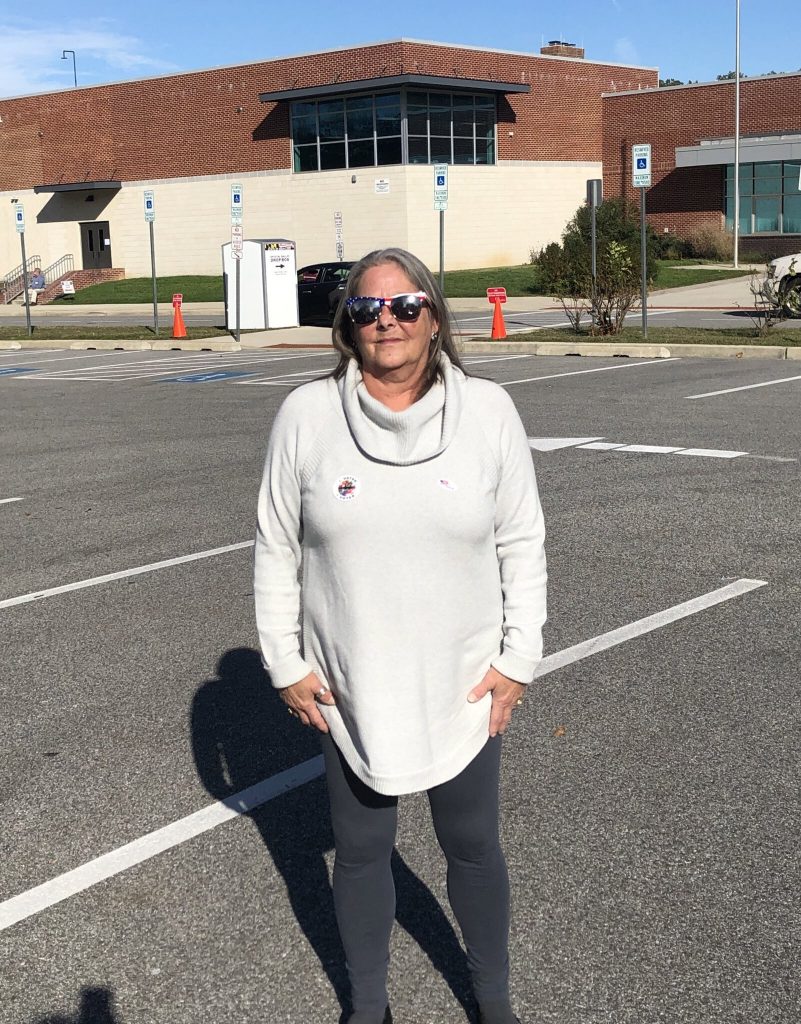 "People need to vote their conscience," Greulich said. "And I hope and pray with every part of me that they don't choose socialism."
She said the pandemic is a major issue at stake in this election.
"I don't feel that it is as bad as they say it is, and I am sick and tired of already looking like a third-world country where we're having to wear masks everyday," Greulich said. "They need to find a solution."
She is specifically concerned about education during the pandemic.
"They're missing the most important thing, they're missing being with other children and making friends for life," Greulich said. "It saddens my heart to the point I'm just literally crying my eyes out that these children are growing up without that."
—Grace Todd, CNS
---
After mistake, 'I just hope there's no lines'
Trinika Snowden, the 42-year-old owner The Antidote Beauty and Mindfulness Suite, a small business, recently moved from Crofton in Anne Arundel County to Charles County.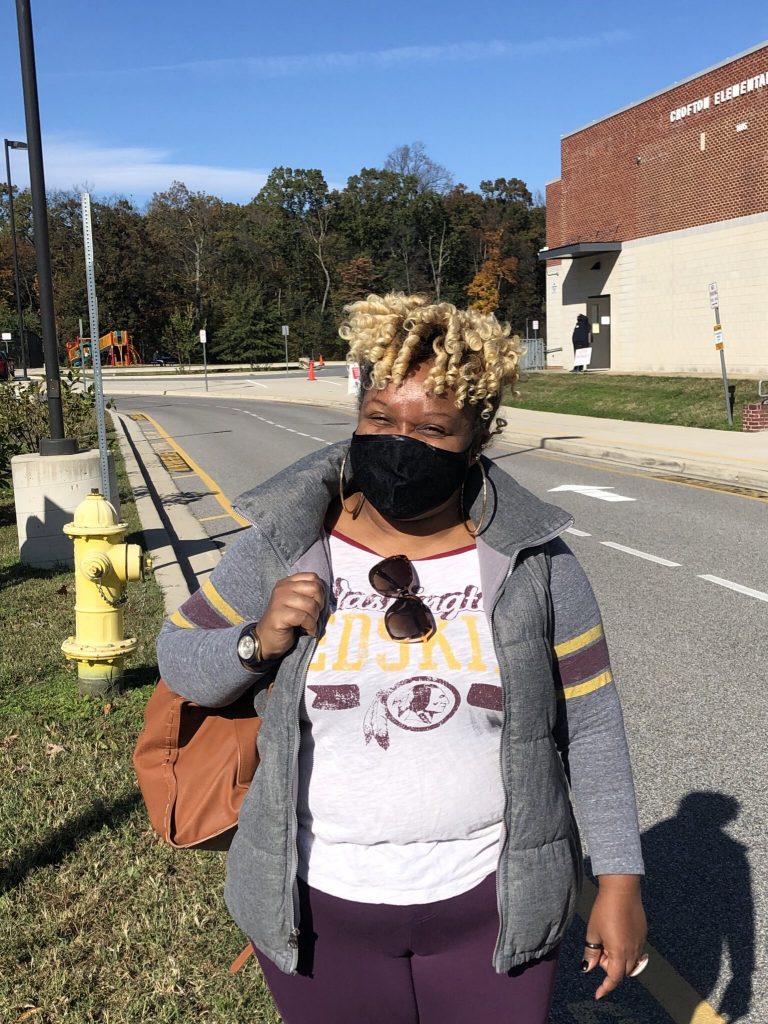 Having not changed her driver's license since the move, she figured she should return to Crofton to vote – but election officials told her that her registration transferred with her mailing address. She decided to head back to Charles County to cast her ballot.
"A lot of people don't know that" registration depends on an address rather than a drivers license, Snowden said. "That's some informative information, pass it on."
She remained in very high spirits despite the inconvenience, explaining that she set aside the day to vote, and that she'd now get to see people at two voting locations.
"I just hope there's no lines out there, because this was perfect," Snowden said.
—Grace Todd, CNS
---
A revealing few years, followed by a vote
There was no line at the Crofton Elementary School voting center between 1:30 and 3 p.m. today. Mark Hopkins, an Anne Arundel County election official said: "I think the early voting has really made a difference. Voting has been steady, but no waiting in line."
Deandre Barnes – who is from Frederick, age 34, and works in private security – arrived at Crofton Elementary School in Anne Arundel County to vote for Biden, who he says he's not entirely confident in, but more so "than our current situation."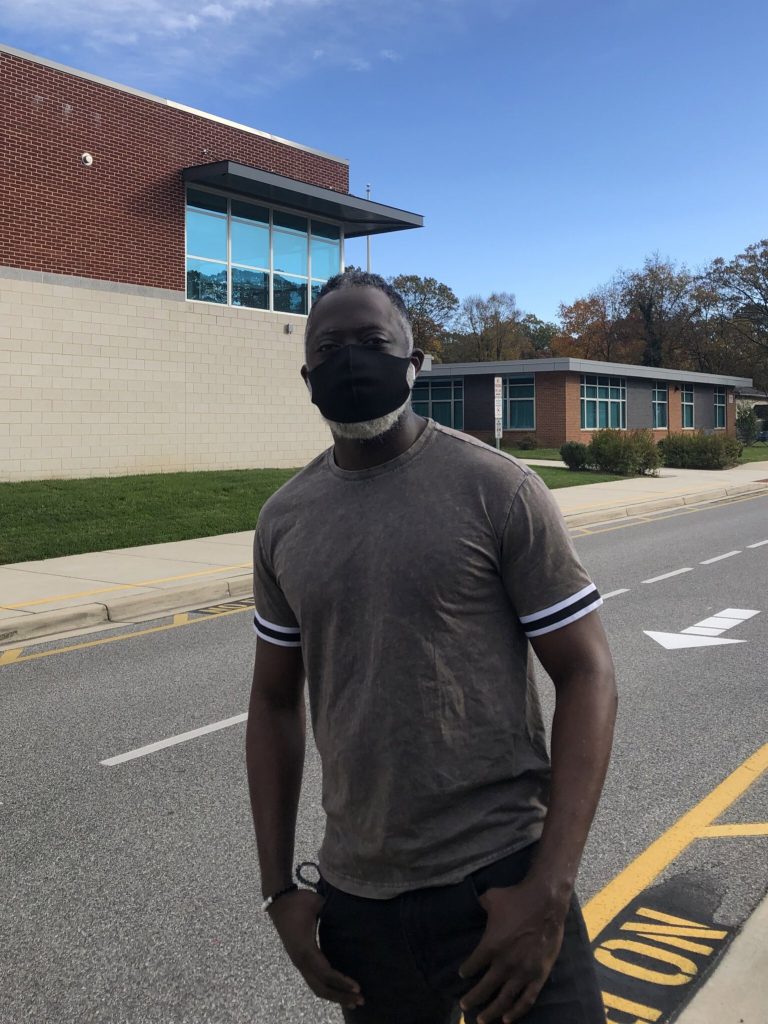 "These past few years have been very revealing of the nation and problems in the country," Barnes said. "The leadership has been used in the wrong way. There's a lot of fear-mongering, division, us versus them."
He says racial tension in the country "is like being in the 50s, the 50s, 60s, or 70s."
"We have to not – and I'll use this term very loosely – whitewash history. It was egregious, it was wrong," Barnes said. "Just because you acknowledge it doesn't mean you have to accept that as today's identity."
— Grace Todd, CNS
---
Watching the polls
David Morsberger already voted for President Donald Trump last Wednesday – he was there to watch the polls.
"It's been wonderful," Morsberger said. "People outside have been friendly … I've gone inside and looked around, and I watched them open up, and it was great."
While poll watching, Morsberger also distributed pamphlets in support of Trump, taking care to remain behind "no electioneering beyond this point" signs.
On COVID-19, he said: "I don't think anyone would have been able to handle this any better. This has been like no other virus that we've had. It's not perfect, nowhere in the world has it been perfect, but he was given a hard job."
"It's easy to say 'follow the science,' but that's one dimension of the larger problem," Morsberger said.
— Grace Todd, CNS
---
UMD voters encourage friends to join them at the polls
Election volunteers lined the sidewalk, entrance and exit of the University of Maryland Xfinity Center at 7 a.m. Tuesday, as people began trickling in to cast their votes for the presidential election.
About 15 to 20 people lined up before the center opened at 7 a.m., said Abigail Hommer, a sophomore studying Arabic and one of the volunteers.
She wasn't discouraged that the number of volunteers roughly equalled those lined up to vote. "If I can just make somebody's day a little bit brighter, and encourage them to share their opinion, that's what I am out here to do," Hommer said.
The Xfinity Center logged 1,036 early in-person voters before Election Day, the Maryland State Board of Elections reported — trailing all other locations in the county in early turnout.
In Prince George's County, 21% of the 606,439 eligible active voters turned out to vote early in person, slightly under the statewide average of 23.9% turnout, the Maryland State Board of Elections reported in unofficial tallies on Election Day. That total did not include provisional or mail-in voting.
Kenyatta Bellamy, a senior family science major, encouraged his roommates to vote, offering them a ride to the Xfinity Center.
"I know a lot of other people that expressed that their vote and opinion doesn't matter," Bellamy said. "I encourage anybody that thinks that way to please, take your right to go vote."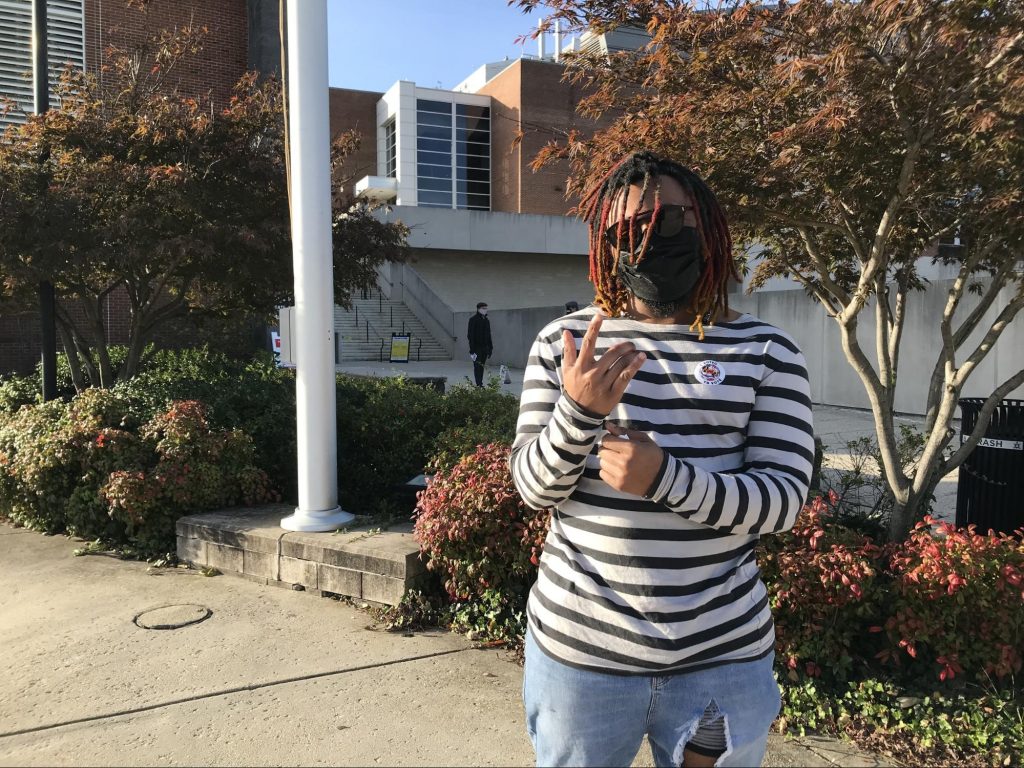 Bellamy said it is especially important for people of color and minorities to vote.
"We didn't have this privilege years ago, and I think we should take advantage of it, because our opinion does matter," he said. Voting is Bellamy's way of expressing support for social change, he said.
According to the Pew Research Center, the percentages of Hispanic, Black and Asian eligible voters in the U.S. have all increased since 2000, with Hispanic percentages rising the most, from 7% of the total in 2000 to 13% in 2018.
Matthew Pappas, a senior from Baltimore studying economics, said he woke up early to vote at the Xfinity Center. He said he felt it was his duty as an American.
But, not everyone Pappas is close with feels this way. "I actually had a lot of friends say that they are not going to come out and vote, because they don't know what the hell is going on," he said.
— Natalie Drum
---
Upper Marlboro voters come out for Biden, citing race issues and COVID-19
UPS workers Theo and Sonia Butler of Upper Marlboro arrived at The Show Place Arena in Upper Marlboro around 7 a.m. Tuesday to vote for former Vice President Joe Biden. The line was already stretching out the door.
"I come from a family of immigrants," said Sonia Butler, 32. "So the fact that I was born here, and I have the opportunity to do it while the rest of my family can't, I owe it to them" to vote, she said.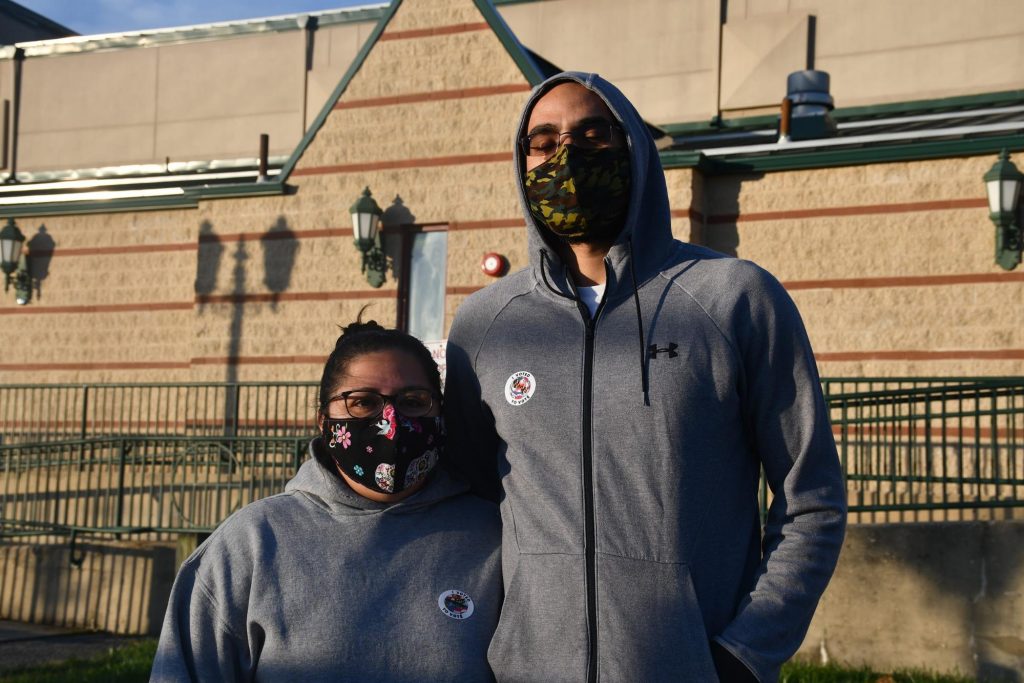 Her husband, Theo Butler, also 32, said President Donald Trump has increased race relation problems.
"It seems like he's just stoking the fire that has emboldened people who have twisted beliefs to, kind of, come out and show their faces now," Theo Butler said. "So, it felt like if we could get him out, possibly, things can … start to take a turn for the better."
Felicia Picott, 48, also of Upper Marlboro, said the Trump administration's handling of the COVID-19 pandemic brought her to the polls. She said it was mishandled and miscommunicated, so she voted for Biden.
"I don't like how Trump plays it off and makes it seem like it's nothing," Picott said of the pandemic. "It's something, and it's greater than what we thought it was."
Picott said she is studying to become an RN and has worked in a hospital that treats COVID-19 patients. She said families could not visit loved ones who were dying, and the staff would set up video conferences for them instead.
"Who wants to go through that?" Picott said. "Who wants to see their family member's demise, and you're not there to hold their hand or kiss their forehead?"
Picott said Trump lacks genuine concern for people. She said she hopes the election can bring healing.
"We all got to come back together as a nation, as a family," Picott said. "Like they said, one nation under God."
— Glory Ngwe
---
A vote for Biden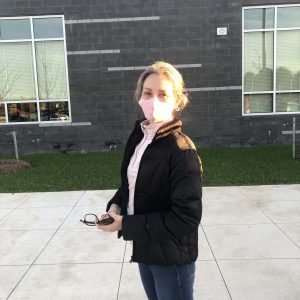 Rebecca Park waited in line at Northern High School in Owings, where she is from, to vote for former Vice President Joe Biden.
Park, 34, is a stay-at-home mom and says the pandemic is the most important issue for her.
"He says he's done everything he can," Park said. "But really there's so much more that could have been done."
Another motive? "Because everything that comes out of Trump's mouth is hard to hear and hard to explain to my kids."
She hopes tomorrow is peaceful more than anything, after cancelling a dental appointment in D.C. today because "I was afraid of what the streets would look like."
— Grace Todd, CNS
---
Voters in Upper Marlboro support Biden, citing COVID-19 concerns
Pharmacist Yaw Menyah said his vote Tuesday against President Donald Trump boiled down to one key point.
"People are really, really dying, and he doesn't care," said Menyah, 48, of Upper Marlboro, who cast his vote for former Vice President Joe Biden at The Show Place Arena at Prince George's Equestrian Center.
According to the Prince George's County Department of Health, 854 people in the county have died this year from the novel coronavirus.
Menyah said he couldn't take his children anywhere last summer because of the virus. When his wife goes to the grocery store, he stays in the car with his children.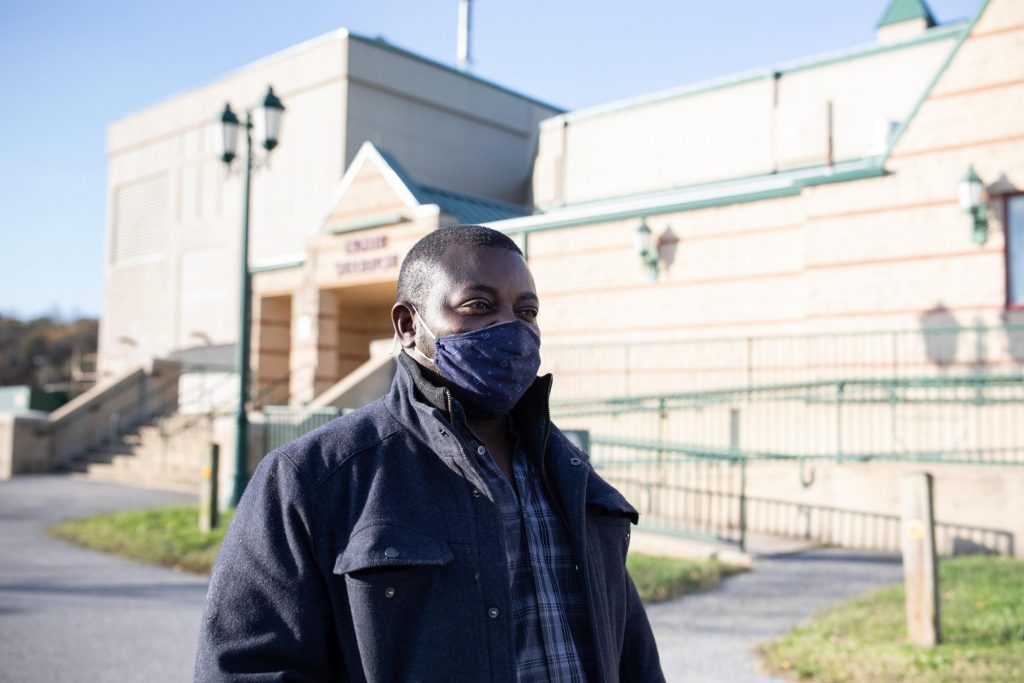 They ask, "Daddy, why can't we get out?" he said. "And this guy doesn't care."
Menyah's children attend school virtually. To help them, he said he has cut his working hours.
"We have to live a normal life," Menyah said. "And so it's time for me to vote him out — peacefully," Menya said of Trump.
Upper Marlboro resident LaRhonda Hill Usher, a 48-year-old executive assistant, said she is also a Biden voter. She disagreed with Trump's handling of the pandemic, too.
"I believe in the scientists and the doctors, she said. "And nothing Trump says I can believe."
According to Usher, the president is not focused on the economy, health care or the people who died.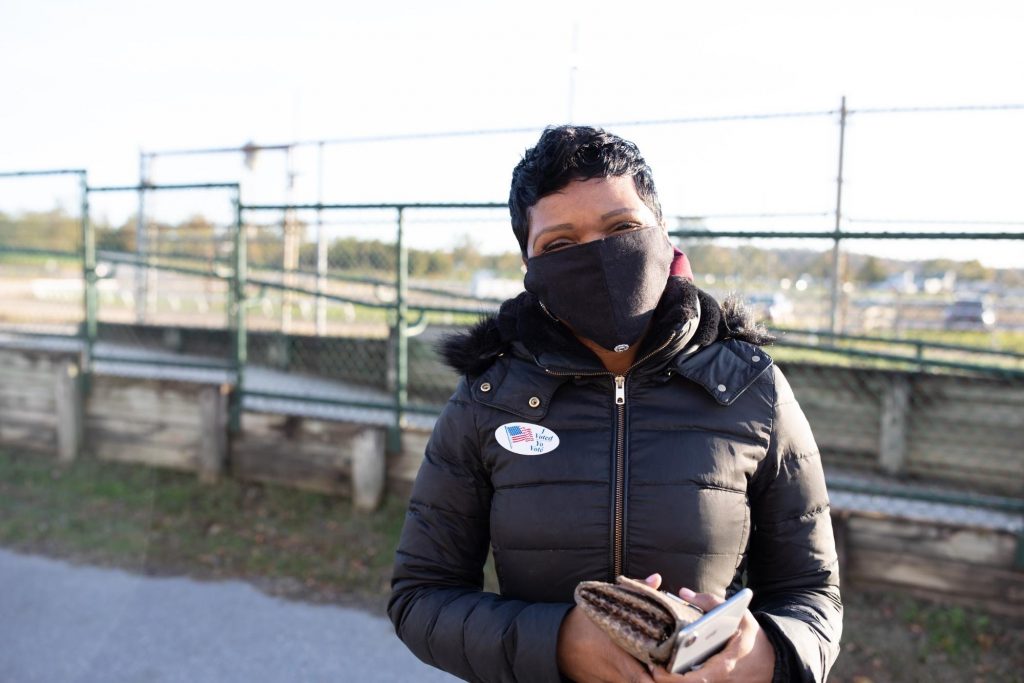 Figures from the Johns Hopkins Coronavirus Research Center reveal that over 232,000 people in the United States have died from the virus.
Usher voted for Biden in part because of his empathy, she said. A lot of leaders have lost sight of the importance of that, including Trump and his administration, she said.
"It's important for Biden and [Sen. Kamala] Harris to bring this country back together," she said. "We are definitely separated. There is a huge divide. And it's time for change."
— Brittany N. Gaddy
---
'I want my voice to be heard'
"We need stability" said Kim Fisher, a resident of the Lake Walker community in Baltimore.
Fisher is anxious about the election. She's not happy with the direction Baltimore City is heading and is worried about growing crime in her neighborhood.
"I usually vote in every election" Fisher said. "I want my voice to be heard."
The 40-year-old Baltimore native was surprised by the quick turn-around time. With almost no line, it took her less than twenty minutes to vote.
— Sara Chernikoff, CNS
---
The vote as 'liberating'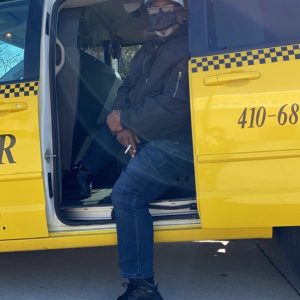 Archie Jones has worked at the polls since 2006.
Despite the pandemic, he says it is his civic duty and that elections are where in "the melting pot people are allowed to express their own opinion — because everyone is entitled to one, and we all have to agree to disagree."
The pandemic changed the voting process, but Jones thinks it has spurred more younger people to step up, and become involved, which is "wonderful."
Jones voted early, and in person, stating he is not one to "procrastinate."
He said he feels a voter receives a "certain satisfaction" and that for him, "it is liberating to do it through the process like you have in all years past."
To vote is to be "part of something bigger than yourself" and if someone chooses not to take part, "they can't complain."
— Rachel Clair, CNS
---
A challenge for Baltimore seniors
Volunteer Jayna Powell of Baltimore Votes is concerned concerns about older voters accessing the polls on Election Day.
Earlier Tuesday, a 94 year old woman walked across the street to her usual polling location. She's been voting there since the '40s, according to Powell.
But her location was closed. Only 24 of the usual 300 polling locations were open today in Baltimore.
So the 94 year old woman walked over a mile and a half to Violetville elementary and middle school to exercise her right to vote.
Powell says another 93-year-old Baltimorean who voted in Pigtown his whole life was surprised to see his polling place closed today.
Several voters had to trek around the city until they found an open polling station at Violetville Elementary, Powell said.
— Rachel Clair, CNS
---
Voting by mail in Maryland
Robert Darling, 65, a New Jersey native, voted by mail from Maryland.
He has voted many times before but said this election was very politically polarized and a "hard fought battle."
The most contentious issues for him are the response to the pandemic and social inequality in the country.
He is voting for Democratic presidential nominee Joe Biden and his running mate, Kamala Harris.
— Luciana Perez Uribe, CNS
---
A vote for the future
William Blackwell, 60, a home health care worker, is voting because he hopes for a better future for young people.
In addition, he believes taxes are too high and Medicare/Medicaid services are lacking.
— Luciana Perez Uribe, CNS
---
'Your vote does matter, it does count'
The historically black women's sorority — Delta Sigma Theta Sorority Incorporated — provided refreshments at the polls until around 2 p.m. Tuesday.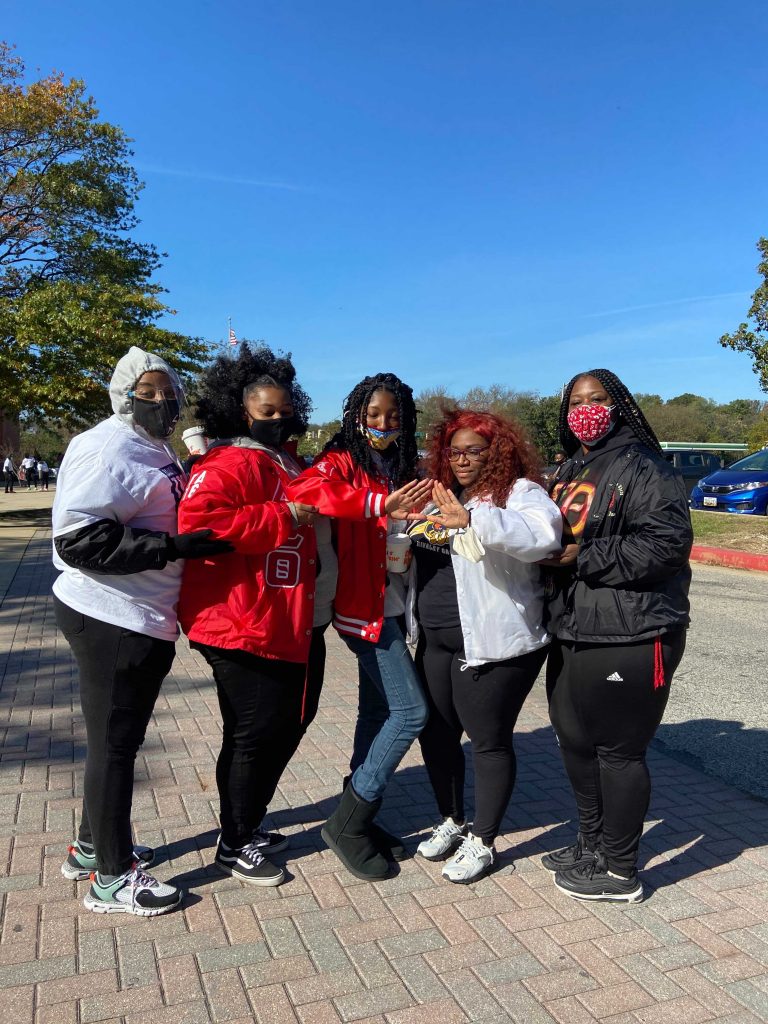 They've been voting since they were 18, and all voted early this year.
They didn't want to "run and scramble" to put in their ballots.
"So many people died trying to fight for the right to vote. Being black and women we had to fight twice as hard," one woman said.
— Rachel Clair, CNS
---
'I'm an activist today'
Lee Havis graduated from Northwestern Senior High School in 1961, and returned there to vote in 2020.
Earlier in the year, Havis ran to represent Maryland's 5th Congressional District, but lost in the Republican primary to Chris Palombi, who he now supports.
"I'm an activist today," Havis said, holding up Palombi brochures. "I'm here to support Chris Palombi."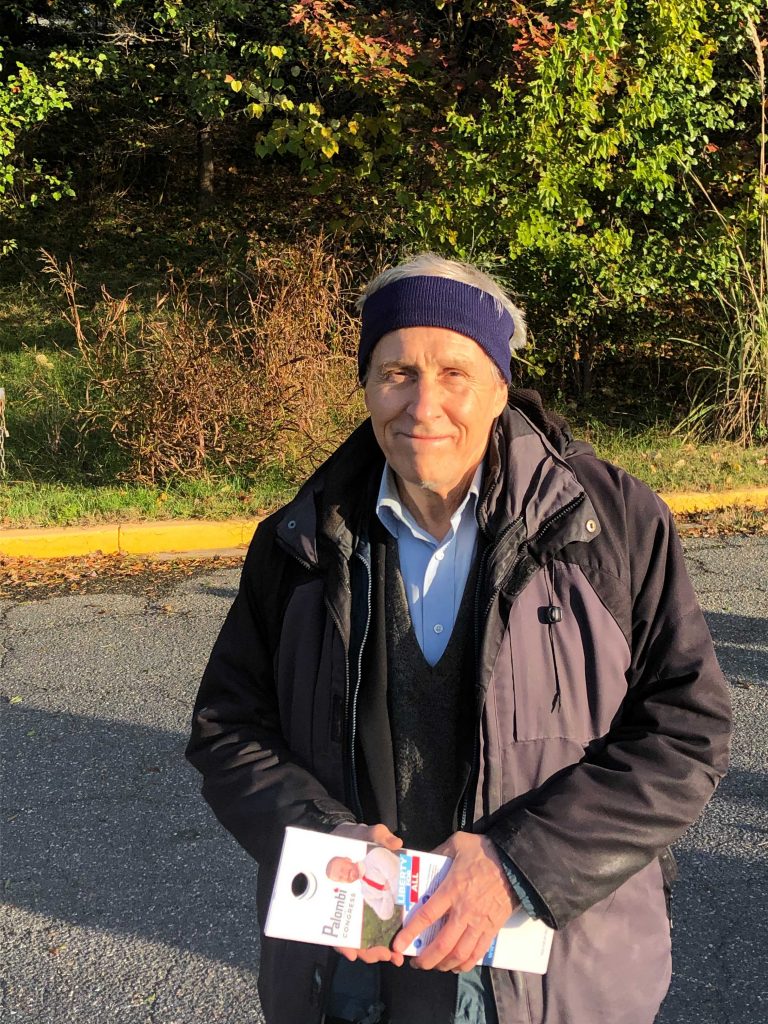 He also planned to vote for Donald Trump, because he believes both candidates will "represent the people, not the partisan, narrow interest of the career politicians," and his main concern is governmental overreach.
Havis' work as a private educator is "really why I got involved in politics, because the government interferes in the work that I'm doing," he said.
"It's an unconventional approach, and it's good for people," Havis said. "But the government doesn't allow it because the government is so involved in controlling, through monopoly and censorship, the education of children."
Havis worries for the future, too, if Trump does not win this election.
"If we don't get it right, the county is going to lurch in a very bad direction," Havis said. "Socialism and more governmental control over things that are personal to you … It's gone way too far in that direction."
— Grace Todd, CNS
---
A personally historic vote
Nacoties Fleming Jr. lives in Takoma Park, and is an actor and comedian. He waited in line at Northwestern Senior High School in Hyattsville to make a personally historic vote – Fleming is switching parties.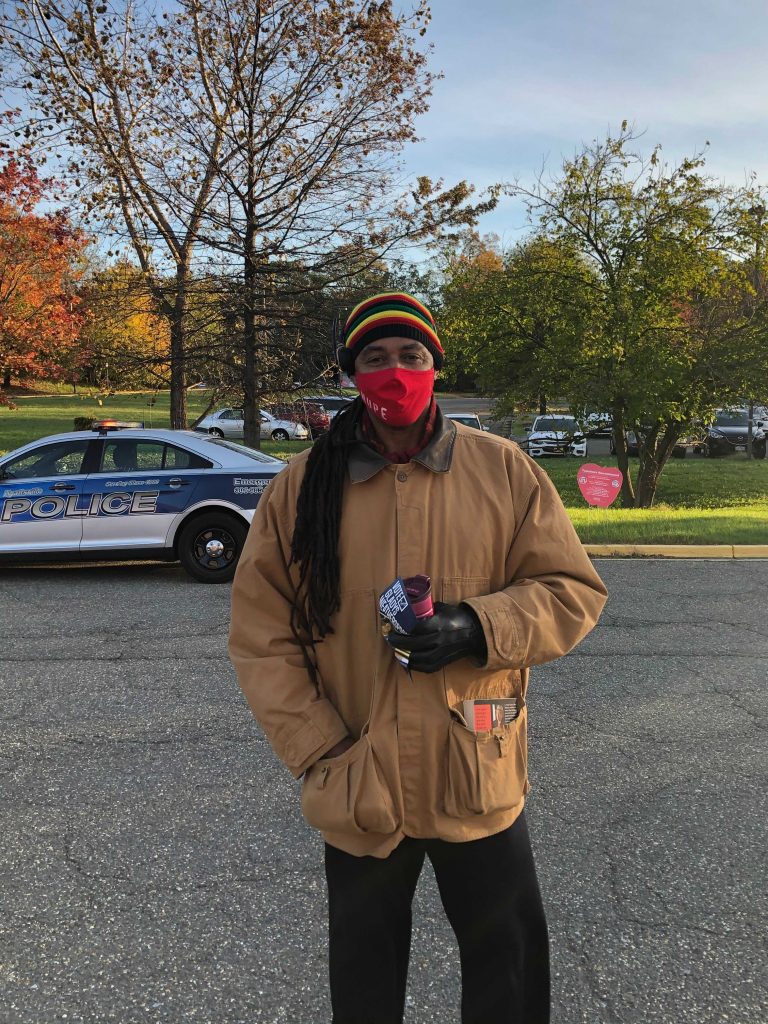 Fleming said after voting Republican for 41 years, then not at all in 2016, he'd be casting his ballot for Joe Biden.
"I just don't like cheaters," Fleming said. "So after 41 years, now that there's a cheater in office, I just don't want to be associated with Republicans ever. It's that bad."
Fleming said many factors influenced his decision to make the switch.
"It's more than the pandemic," Fleming said. "It's the healthcare act, for my children and grandchildren and my father, who are affected by that if it's thrown out. The fact that (Amy Coney) Barrett was rushed onto the Supreme Court."
— Grace Todd, CNS
---
'I was over Trump from day one'
Taj Richardson and Andraya Mays grew up together in Cincinnati, moved together to Hyattsville, and waited together to vote for Joe Biden at Northwestern Senior High School in Hyattsville.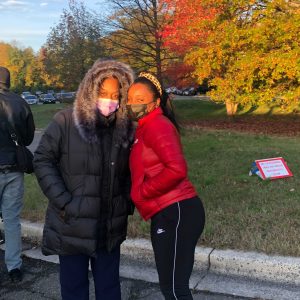 Richardson is a graduate student at Georgetown University and also works at Sibley Memorial Hospital. Mays is an eighth grade teacher at KIPP DC. Both say the pandemic is the biggest issue at stake in this election.
"Seeing the impact it's had on (my students), but knowing that it's not safe for us to go back to school yet, that's my major thing," Mays said. "Wanting things to get as close to normal as they can as soon as possible, and I don't feel that that's going to happen under the current administration."
Still, even before the pandemic, "I was over Trump from day one," Mays said.
The voters don't know what tomorrow will look like, but "I'm going to be hungover either way," Mays said.
— Grace Todd, CNS