In parks, near grocery stores and schools, lining streets and at intersections, police-owned surveillance cameras in the District of Columbia and Baltimore disproportionately monitor majority nonwhite areas, most of which are predominantly Black, a Capital News Service analysis has found.
There are over two-and-a-half times more cameras in majority nonwhite areas, on average, than in majority white neighborhoods of the nation's capital and Maryland's largest city, according to a CNS examination of camera locations plotted over demographic information.
In both cities, around half of majority white areas had no cameras, compared to around one-fifth of majority nonwhite neighborhoods.
The racial differences in police camera surveillance illustrated by this data analysis "is sadly not surprising," said Nassim Moshiree, policy director at the American Civil Liberties Union's Washington office.
"Most alarmingly, (the camera deployment) is contributing to the over-policing of Black and Brown communities," Moshiree said. She added that concerns about such technology "should be viewed through the greater context of privacy risks that are inherent in the government's use and expansion of mass surveillance."
The Metropolitan Police Department maintained 264 closed-circuit television cameras throughout Washington's neighborhoods as of Oct. 6.
Using demographic information from "clusters" of neighborhoods developed by the District's Office of Planning, CNS found that the average majority white area had fewer than three cameras, while the average majority nonwhite area had more than seven.
Each camera can pan 360 degrees and tilt 180 degrees, but cannot zoom, according to the Metropolitan Police's website. Footage generally is kept for 90 days per legislation passed last year, but can be kept longer if it contains evidence of criminal activity, will be used for training or captures footage that could subject police to civil liability, according to a department memo.
Whether the cameras are consistently monitored and whether they can be accessed or controlled outside of a centralized watch center remains unclear. Police officials did not answer questions from CNS about that issue. Likewise, the police did not respond to questions about image resolution of the cameras.
The area with the most cameras – 31 – includes Washington's Congress Heights, Bellevue and Washington Highland. These neighborhoods are 95% Black and are among DC's most impoverished regions, according to U.S. Census Bureau data.
The Baltimore Police Department maintains nearly 780 closed-circuit cameras throughout the city. CNS used areas designated by the City's Department of Planning to find that, on average, there were over 16 cameras per majority nonwhite area, and around six per majority white area.
These cameras are monitored 24 hours a day every day and can pan, zoom and rotate and follow moving objects.
Baltimore Police did not answer CNS questions about the cameras' image resolution, whether cameras can be controlled or accessed outside of a centralized watch center, and what guidelines govern keeping footage longer than the department's standard of 28 days.
Neither the Baltimore police nor the Washington police commented on CNS's findings. Both departments' websites say they allocate cameras to high-crime areas. The violent crime rates in both cities are far higher than the national rate, especially in Black communities.
Research suggests that surveillance cameras may increase detection of previously underreported crimes. But research is conflicting and inconclusive regarding whether these cameras deter crime, especially violent crime.
In the District, "cameras alone did not appear to have an impact on crime," and in Baltimore crime decreased in some areas but not in others following camera deployments, according to a 2011 Urban Institute study. In Baltimore's Cherry Hill, crime slightly increased following camera installations, according to a 2018 study from the University of Central Arkansas.
Cherry Hill has 61 cameras, more than any region in Baltimore after the downtown area. It is nearly 90% Black and is among Baltimore's poorest neighborhoods, according to census data.
Along with disproportionately surveilling people of color, the ACLU says there are additional ways in which cameras could be abused: for voyeuristic purposes, which has especially targeted women; for spying on or harassing political activists; and for criminal purposes (in 1997 a Washington police officer used surveillance databases in attempted blackmail of gay club patrons).
"What there is a significant body of evidence for is that the proliferation of surveillance like CCTV can infringe on fundamental rights," Moshiree said.
Both the District and Baltimore have spent millions of dollars on acquiring and maintaining the surveillance technology, according to media reports. Neither agency answered questions regarding the costs.
Differences in crime rates between racial groups can be largely accounted for by structural disadvantages, according to academic research.
Structural disadvantages persist within the criminal justice system, too. Black and other nonwhite people are more likely to be stopped by the police, arrested, charged, convicted and imprisoned for the same crimes, the American Sociological Association reported. They are also more likely to be killed by police, according to a 2019 study published by the National Academy of Sciences.
The cameras are part of over-policing that targets minority communities, according to the ACLU.
And over-policing actually leads to more crime by destabilizing communities, according to Lawrence Grandpre, director of research for Leaders of a Beautiful Struggle, a Baltimore-based think tank that advocates for improved living conditions for the city's Black residents.
Last year, an analysis of District arrest records from 2013-2017 "revealed a pattern of disproportionate arrests of Black people that persists across geographic areas and offense types," the ACLU said in a report.
A 2016 Department of Justice investigation of the Baltimore police found that its practices violated rights guaranteeing free expression and prohibiting unreasonable searches, along with federal anti-discrimination laws, and especially harmed Black communities. The police department later entered into a consent decree to address these issues.
"Our Black communities have been over-policed or under-policed, never the right amount of community-based, community-driven, public safety approach policing," Baltimore City Council President Brandon M. Scott said in an interview with CNS.
Scott said that he has heard some concerns about police cameras, but more often his constituents, particularly Black women, have asked for more cameras in their neighborhoods.
"It's more complicated than people think," he said. "We're talking about Black communities that have been stricken by gun violence for longer than I've been breathing… We have to be very careful that people don't just paint the Black community in one way or another, and that we're not this monolithic community."
Grandpre said many underserved communities, including Black communities, will choose more policing "because they have been conditioned through 50 years of austerity and racism that there is nothing, nothing that the people in power will invest in their communities except policing."
"So the important thing to do is… expose the insanity of that choice," Grandpre said. "There's an entire ecosystem of Indigenous and Black people… addressing the very issues that police are meant to solve, that inherently denaturalizes the assumption that the choice is more police or nothing."
Investment in social programs consistently reduces crime, according to researchers from Harvard and Yale Universities.
Grandpre said communities should also have control over their policing agencies to "establish legitimacy to police authority," which he said currently works for a larger system of oppression rather than for the public, by prioritizing the protection of property for those in power at the expense of communities experiencing racism and poverty.
"Crime is socially constructed in a way that it has now criminalized our lives," said Tiffany Reid-Collazo, an attorney and member of the Total Liberation Collective, a group advocating for racial equality and freedom through community-building.
Criminalizing certain experiences more likely to be had by impoverished people, like failure to pay fines, panhandling and certain drug use, often also targets people for race, according to an Institute for Policy Studies report.
"To consistently look outside your window and to understand that you're always being surveilled… there is not a safe space that lacks this access to Black bodies from policing," Reid-Collazo said, adding that this has broad, harmful psychological impacts, as it can internalize feelings of oppression.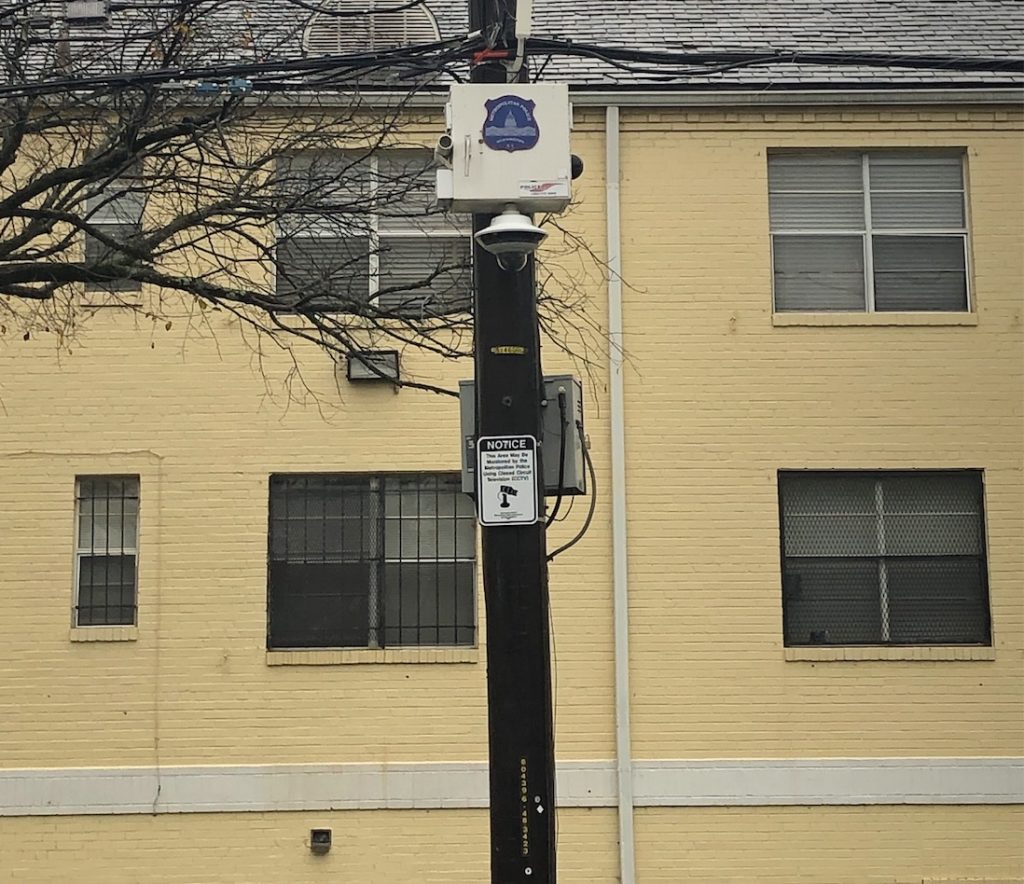 Laura Moy, the director of Georgetown Law's Communications and Technology Law Clinic, said: "The very presence of cameras in neighborhoods is going to change how people live their daily lives. It's going to change who they meet with, what kind of activities they do… maybe even how long they spend outside."
Baltimore and Washington police also have used various other surveillance tools, sometimes coordinated with federal agencies. Neither department answered questions regarding their possession or use of any surveillance technology.
"They don't tell us half of what they do," David Grosso, at-large D.C. Council member, said of the Metropolitan Police, before adding that it offers less information than that. "It's like pulling teeth."
Grosso said among surveillance technologies, "the thing that bothers me the most is these cell site simulators."
Cell site simulators collect cell phone serial number and location information by acting as cell phone towers that many devices can connect to at once.
Both Washington and Baltimore police departments signed nondisclosure agreements with the FBI nearly 10 years ago to purchase and coordinate use of cell site simulators.
Police deploy cell site simulators in nonwhite areas more often than in white areas of Baltimore, according to a 2016 analysis by Electronic Frontier Foundation, a nonprofit digital rights group.
Facial recognition technology, which has also been used by both agencies, disproportionately falsely identifies people of color, women, children and the elderly, according to findings last year by the National Institute of Standards and Technology.
In July, amidst massive protests against police violence and other racial injustices, Grosso introduced amendments to limit the Metropolitan Police Department's use of facial recognition technology and temporarily ban its use of cell site simulators. The amendments did not pass, but Grosso said he plans to reintroduce them before his January 2021 departure from Council.
Georgetown's Moy said when surveillance tools are used against activists "exercising their First Amendment rights to protest," concerns regarding civil rights are exacerbated.
In 2015, Baltimore police used facial recognition and social media analytics to identify the locations of protesters demonstrating in response to Freddie Gray's killing. That same year, the department requested the FBI's help in monitoring protests via aerial surveillance.
In June, both the FBI, according to Buzzfeed, and the National Guard, according to the Pentagon, conducted aerial surveillance over demonstrations in the District, although the Metropolitan Police told Buzzfeed that it did not request the FBI's help. FBI aircraft may be equipped with cell site simulators, according to the outlet.
Neither Baltimore nor Washington police answered questions regarding surveillance of recent protests.
"There's no way that they're not keeping tabs on all of us in some way, form or fashion," said Arianna Evans, who was active in organizing protests against policing abuses this summer. "It just goes to show that we are getting under their skin."
Moshiree said she doesn't know specifically how surveillance technologies "are likely being used" during protests, "but I think that's exactly the problem."
"The public should have access to that," Moshiree said. "If the government has access to a surveillance technology… that has the ability to infringe on your rights, then we should know the contexts in which they're being used, how they're being used, how the information is being kept secure."