ANNAPOLIS, Md. — Maryland's first shipment of COVID-19 vaccine doses is expected next week, and the state's health department plans a phased-in distribution beginning with healthcare workers, long-term care facilities and first responders, though building confidence among those hesitant to take the vaccine — including minority populations — may prove challenging.
"The 155,000 doses are the initial allocation," Hogan said, deriving the expected total from the 50,700 doses expected from Pfizer and 104,300 doses expected from Moderna.
Both companies developed a vaccine that requires individuals to receive two shots. Hogan said the federal government has allocated the first dose initially and the second batch will be received later, per the dosing schedule.
The initial allocation from Pfizer could be received as soon as next week.
Dr. Jinlene Chan, acting Deputy Secretary for Public Health, stated the Food and Drug Administration's advisory committee is expected to determine approval of Pfizer's COVID-19 vaccine on Thursday. If approved, the initial doses of Pfizer's vaccine should be available to Maryland the week of Dec. 14.
The FDA's meeting on the Moderna vaccine is scheduled for Dec. 17 and the state health department anticipates its vaccine to be available the week of Dec. 22.
Vaccinated individuals should be able to access their record via a secure, online consumer access portal.
Once the state receives its allocation, the health department plans a phased distribution recommended by the Centers for Disease Control and Prevention.
Phase 1A involves vaccinating critical and high-risk populations, including hospital healthcare workers, first responders and the residents and staff of long-term care facilities.
"We considered (as a priority the) highest-risk groups for COVID-19 and complications," Chan said, citing active outbreaks in long-term care facilities and nursing homes. As of Dec. 2, the most recent data available, nearly 2,500 people residing or working in nursing homes, group homes and assisted living facilities in Maryland had died this year due to the coronavirus, according to the state health department.
Phase 1B includes people at a significantly higher risk of contracting severe COVID-19 illness and other adults in congregate settings.
Phase 2 includes people in critical infrastructure roles, such as in education, transit, and utility workers, and those at a moderately higher risk for the illness, while phase 3 is the general population.
Each phase ends when most of those in the previous target groups have had an opportunity to be vaccinated, which Hogan stated is not mandatory.
Hospitals, long-term care facilities and pharmacy chains such as CVS and Walgreens were mentioned as future vaccine distribution sites with local health departments eventually participating in public vaccination efforts.
Once vaccinated, the state health department advises individuals to continue to wear a mask, wash their hands, socially distance and follow other pandemic protocols in order to limit transfer of the disease among the unvaccinated.
Hogan and health officials did mention a need to build community trust in the vaccine, particularly among minority populations who remain cautious for a variety of reasons, as an important step in ending the pandemic.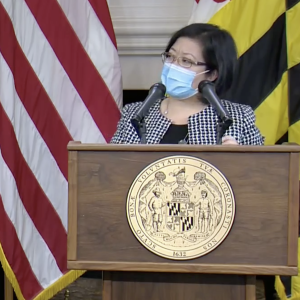 "We have to convince folks to do it," Hogan said. "Or we're not going to be able to stop the spread."
To aid in this effort, state officials will engage with community leaders at a local level, and both Hogan and Lt. Gov. Boyd K. Rutherford, R, plan to be publicly vaccinated, in order to build confidence in the vaccines.