Republican state legislators across the country are introducing increasingly restrictive anti-abortion bills in the hopes of sending a case through the conservative-majority Supreme Court and possibly overturning Roe v. Wade. 
Over 500 abortion restrictions have been introduced in state legislatures this year, according to a report by the Guttmacher Institute. Compared to the same time in 2019, 300 abortion restrictions had been introduced, of which 59 were enacted. In 2020, there was less of a focus on abortion among state legislatures. Of the 236 abortion restrictions introduced, 27 were enacted. 
The latest anti-abortion bills are also more restrictive, such as a measure that recently passed in Arkansas and signed into law by Gov. Asa Hutchinson, a Republican. The law is an almost complete abortion ban, allowing the procedure only to save the life of the mother. It does not allow any exceptions in situations of rape or incest.
"It is not constitutional under Supreme Court cases right now," Hutchinson said on CNN's State of the Union on March 21, referring to the law he signed. "I signed it because it is a direct challenge to Roe v. Wade."
If Roe v. Wade were to be overturned or weakened, abortion access would be at risk in 24 out of 50 states, according to Elisabeth Smith, chief counsel for state policy and advocacy at the Center for Reproductive Rights.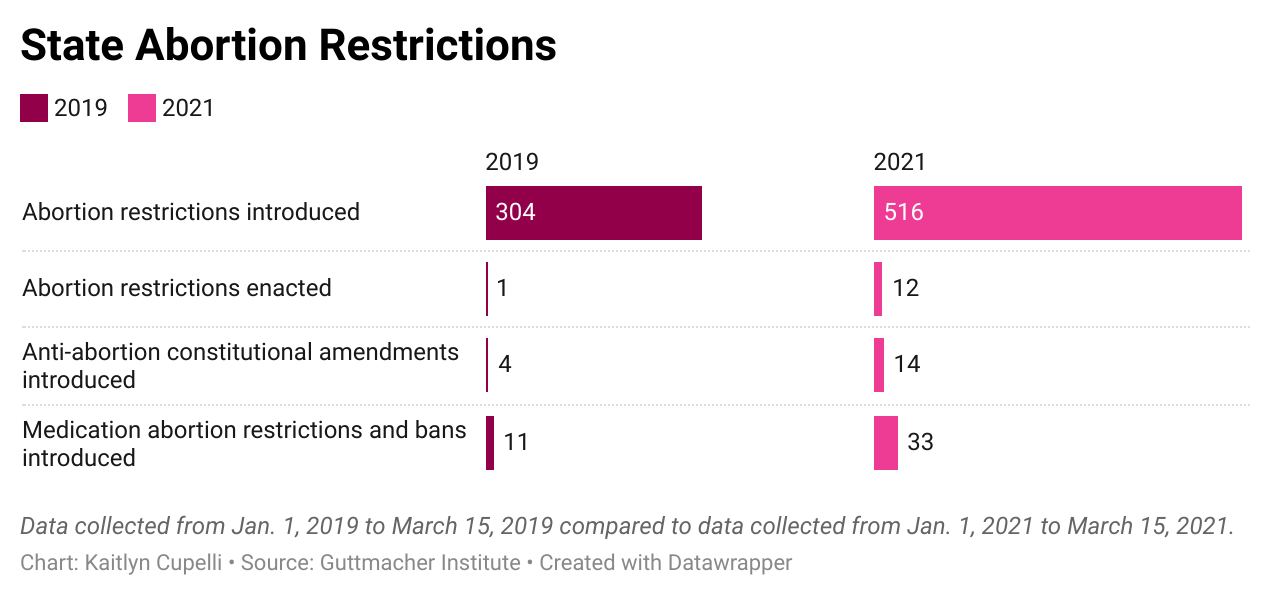 Arkansas, Idaho, Kentucky, Louisiana, Mississippi, North Dakota, Missouri, Tennessee, South Dakota, and Utah are all states with "trigger bans." Trigger bans are automatic abortion bans within the state should Roe v. Wade be overturned. 
"This lack of access would force those seeking an abortion to travel hundreds of miles, in some cases across multiple state lines, in order to receive care," Smith told Capital News Service.
These abortion restrictions would have particularly harsh consequences for those who already face systemic barriers to healthcare, including people of color, people living in rural areas, those struggling to make ends meet, young people, and those in abusive relationships, Smith said. 
"Wealthy women will always find a way. They will have the resources…but poor women will not," Dr. Laura Meyers, CEO of Planned Parenthood Metropolitan District of Columbia, told CNS. "So of course, these laws disproportionately affect poor women." 
Texas is also looking to pass a trigger ban. The bill, which was passed by the Texas Senate on March 30, would prohibit almost all abortions. 
"This is not about discriminating against women. This is about giving the unborn a chance to live," Texas State Sen. Eddie Lucio Jr., the only Democrat to co-sponsor the bill, said during a March 30 hearing.  
The bill would also make it a criminal offense for doctors to perform abortions. Those who perform abortions once the law goes into affect could be fined up to $100,000. In comparison, those who commit sexual assault are fined $10,000 under Texas law.
Another piece of anti-abortion legislation passed by the Texas Senate on March 30 would ban abortions once the fetus has a heartbeat, which is usually detected around six weeks into a pregnancy. Texas State Sen. Bryan Hughes, a Republican and lead author of the bill, said it is hard to argue with the fact that life begins with a heartbeat. 
"Texas is a pro-life state and this legislation reflects our continued commitment to protecting the most vulnerable," Texas Lt. Gov. Dan Patrick, a Republican, said in a statement. "I look forward to this lifesaving legislation being signed into law."
The bills were advanced by a Texas House committee on April 15 and now go to the full House for debate.
States are also pushing anti-abortion constitutional amendments, Smith said. 
At the start of this year, the Kansas legislature placed a constitutional amendment on the Aug. 2022 ballot that explicitly says the state constitution does not recognize a right to abortion. Iowa, Kentucky, and Oklahoma also moved to create ballot initiatives meant to restrict abortion rights.
According to Meyers, these laws would have devastating effects on people, especially from a health perspective. If abortion were to somehow be banned, people would still find a way to seek an abortion, including self-administered abortions.
"Rather than eliminating abortion, what you're doing is making abortion unsafe," Meyers said. 
A Pew Research Center poll in 2019 found that 70 percent of women do not support overturning Roe v. Wade, and 69 percent of men do not. A majority of Americans are more concerned that states are making it too difficult (59 percent) than too easy (39 percent) to get an abortion. 
"There are no other circumstances where state legislatures and politicians step in to restrict access to healthcare," Meyers said. "Can you imagine if a state started to step in to restrict access to appendectomies, or other life-saving care?" 
"Abortion is health care. Abortion care is health care," Meyers added.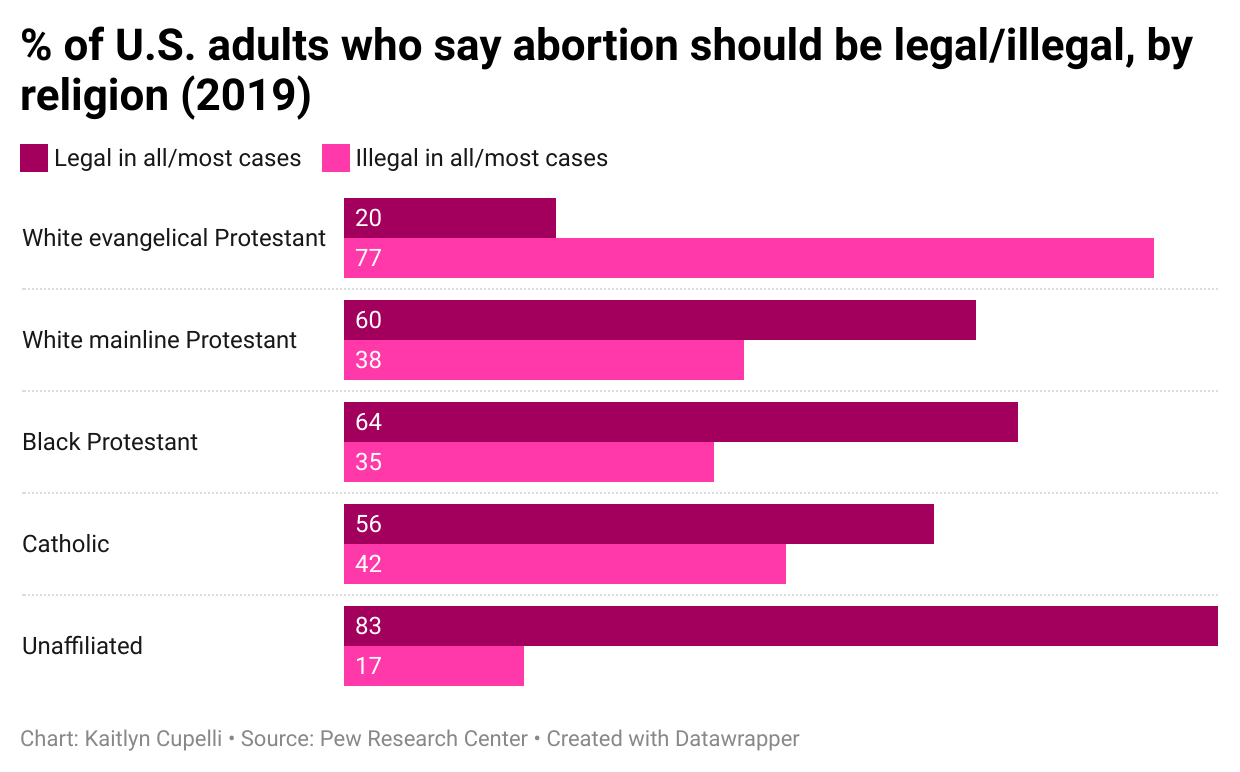 Despite the polls, many Republicans remain firm in their pro-life policies. Joshua Wilson, a University of Denver political science professor, credits this largely to the party's white, evangelical following.
The Christian right, Wilson said, consistently has turned out voters, volunteers, and leaders for the Republican Party.
Although white evangelicals are only 15 to 20 percent of the population, they have made up approximately one quarter of the electorate for every presidential and mid-term election since 2012, according to data from the Public Religion Institute.
White evangelicals are also deeply invested in fighting against abortion. A 2019 Pew Research Center public opinion poll on abortion found that 77 percent of white evangelicals believed abortion should be illegal in all cases, the most anti-abortion opinion by any Christian religious group by far. The second closest was Catholics, at 42 percent.
In the face of the vast amount of abortion restrictions being introduced in state legislatures, New Mexico is one of the only states to recently decriminalize abortion.
The Respect New Mexico Women and Families Act, signed into law by New Mexico Democratic Gov. Michelle Lujan Grisham, repealed New Mexico's 1969 statute that criminalized abortion with few exceptions. 
"A woman has the right to make decisions about her own body," Grisham said in a statement. "Anyone who seeks to violate bodily integrity, or to criminalize womanhood, is in the business of dehumanization."