Approximately 1,500 Inmates at the Department of Corrections Central Detention Facility in Washington, D.C. have been held in isolation for 23 hours a day, a lifestyle that is eerily similar to solitary confinement, in an effort to fight against the possible spread of Covid-19, according to The Washington Post.
Solitary confinement, also called restrictive housing, is used as punishment when an inmate breaks a rule or as a precautionary measure when an inmate may be a threat to the general population.
Inmates live in cells that are often about six feet by nine feet, slightly bigger than the size of an elevator that can carry 4,000 pounds. Generally, inmates are allowed to leave their cells for one hour a day for recreational time or a shower.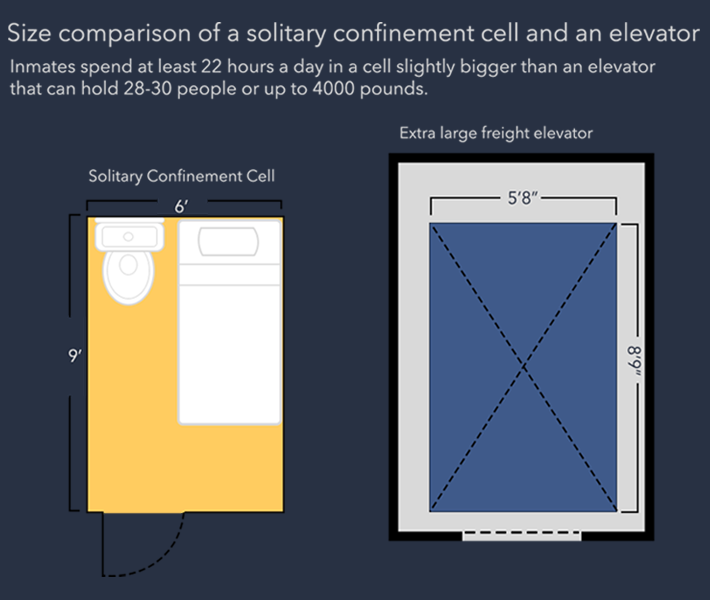 Source: Public Health and Solitary Confinement in the United States, by David H. Cloud, JD, MPHC
Correctional Leaders Association (formerly the Association of State Correctional Administrators) and the Arthur Liman Center for Public Interest Law at Yale Law School conduct research on solitary confinement in prisons across the country. Their latest report was written during the spring and summer of 2020, but uses data that predates COVID-19. The 39 jurisdictions included in the report account for 57.7% of the total prison population in the United States.
Overall, there has been a general decrease in the number of prisoners held in solitary confinement, according to the report. Maryland ranks in the top 10 jurisdictions with the highest percentages of prisoners in solitary confinement of the 39 jurisdictions in the study.
The United Nations considers isolation of more than 15 consecutive days to be a form of torture. According to Nils Melzer, United Nations Special Rapporteur on torture, severe anxiety, stress and depression, cognitive impairment and suicidal tendencies are all consequences of solitary confinement.
In February 2020, Melzer presented a report on psychological torture to the Human Rights Council in Geneva where he expressed concern over the "excessive use of solitary confinement" in the United States.
In Maryland, 12.1% of men in restrictive housing have a serious mental illness compared to 10.1% of the general population who have a serious mental illness.
"These practices trigger and exacerbate psychological suffering, in particular in inmates who may have experienced previous trauma or have mental health conditions or psychosocial disabilities," said Meltzer.