WASHINGTON – Thousands rallied here Saturday in support of reproductive rights. Speakers warned that after almost five decades, abortions once again could become illegal at the whim of Republican state legislatures or the conservative majority on the Supreme Court. 
"It is our job to turn pain into purpose, to turn pain into promise, and to turn pain into power," Alexis McGill Johnson, president and CEO of Planned Parenthood, told the rally. "Our humanity and our dignity is not up for debate."
The Washington gathering, called "Rally for Abortion Justice," was one of more than 650 around the country on Saturday. The rallies were organized by the Women's March and a coalition of nearly 200 groups supporting women's reproductive rights in response to restrictive abortion legislation recently passed in Texas, and another law out of Mississippi that will be heard by the U.S. Supreme Court on December 1.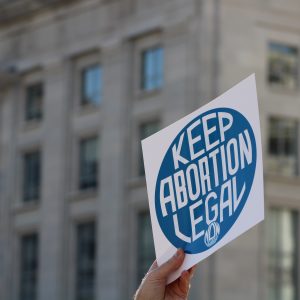 The Washington protests were surrounded by what appeared to be a heightened police presence including officers from the Metropolitan Police, U.S. Park Police and United States Capitol Police, as well as security measures around the Supreme Court and the United States Capitol. Nearly nine months ago, the Capitol was the target of a deadly assault by supporters of then-President Donald Trump. 
A small contingent of anti-abortion counter-protesters stood across Pennsylvania Avenue from the pro-choice rally and held their own demonstration, including large posters depicting aborted fetuses. The two groups continually yelled chants at each other.
Rally host Cristela Alonzo, a Texas comedian, denounced her home state's controversial new law outlawing abortions after six weeks of pregnancy.
"I love my home state of Texas so much that I am willing to fight for what is best for the people in it." Referring to the state's famous slogan "Don't mess with Texas," Alonzo said: "But guess what Texas, we're here because we have to mess with you."
A majority of the public supports legalized abortion, according to polls. A Pew Research Center survey conducted in April found 59% of U.S. adults think abortion should be legal in all or most cases; 39% said the procedure should be against the law in all or most cases.
Rally attendees traveled from across the country to participate in the Washington demonstration. Two sisters from Raleigh, North Carolina, Katherine Johnson and Lauren Biggs, came dressed as the late Supreme Court Justice Ruth Bader Ginsburg and Lady Justice, respectively.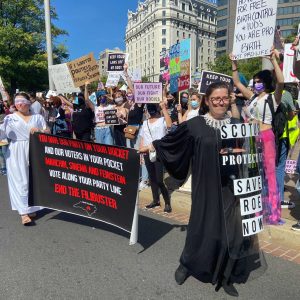 "We really like performative protest because we feel like whatever can boost the message is important," Johnson told Capital News Service. "Because we've been screaming this since 1973, and apparently, certain Supreme Court justices didn't get that memo."
Many attendees aired concern over the fate of the landmark Supreme Court case, Roe v. Wade, which in 1973 established a constitutional protection for abortion. 
"I mean, this is systemic, keeping women down, keeping minorities down, it's a power grab," said Elizabeth Leek, a 75-year-old grandmother. "And I won't be surprised if Roe was reversed, unfortunately."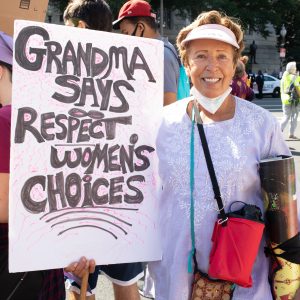 "People need to come out and let our Congress and our Supreme Court know that we have the right to safe and legal abortions," rally volunteer Kristen Wesloh said. "And more importantly to make the choices for ourselves as women."
Allied groups advocated for and against laws in their own states. A group pressing for statehood for the District of Columbia was there to discuss how the issue affects abortion rights for people in the nation's capital. 
Heather Booth, a civil rights activist, feminist, and Washington resident, told CNS the capital would have "supported its own abortion justice," but can't due to the fact it is not a state.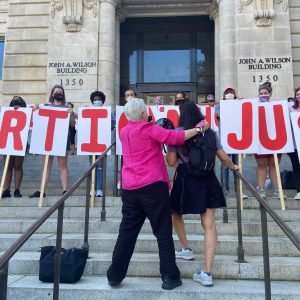 "I am here to support both the freedom for people to make the decision about when and whether to have a child and the freedom for the people of D.C. to have a full right to vote and participate in the democracy," Booth said. 
Many signs held at the rally noted the additional complications of restrictive laws for trans and gender nonconforming people. 
"I think a lot of times when we talk about abortion and we talk about reproductive rights, trans people and queer and gender nonconforming people typically get left out of the conversation," demonstrator Bailey Nickoloff said. "My sign is to just kind of remind people: make sure that your activism is inclusive, and that it's more than just cis-women who get abortions, more than just cis-women who need reproductive health."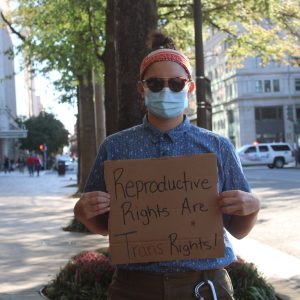 A group called Progressive Anti-Abortion Uprising was one of the counter-protesting groups on the street. 
"We are here to stand up for the fact that all humans and women deserve the right to life and health," Sonja Morin, one of those with that group, told CNS. "Abortion is false empowerment because it uses violence to achieve that aim."
Groups of older women at the pro-choice rally talked about how they remembered the passage of Roe v. Wade and the original battle over reproductive rights. 
"Our generation is really ready to hand the mantle over; we want to help them engage and become active," said Joanne Collins, an activist with the Indivisible group from Reston, Virginia. "We want to help them with a better future for their position of power. We are helping them usher that in. We are really looking to the younger generation to sort of take over and carry the mantle to keep it going." 
"We support abortions rights and women's rights and we feel those rights are under assault," said Sharon Walters, chairwoman of the Lake Frederick Democrats and Independents in Virginia. "We are not going back. We know what going back looks like, we are not going back." 
"I just hope young men and women realize what is at stake here and don't take it for granted."
[Like what you're reading? Subscribe to our newsletter for more!]