ANNAPOLIS, Md. — Fresh breads steam on metal racks at tiny Mexican bakeries. Shocks of orange and yellow marigolds peep out of flower shops. A solitary park bench holds tears and laughter as a U.S. flag flutters nearby in the breeze.
People across Maryland plan to celebrate Day of the Dead — Día de Muertos in Spanish — and remember loved ones who died during the pandemic.
They said the movie "Coco," an animated film from 2017, beautifully and accurately portrayed Day of the Dead, which originated centuries ago in Mexico as a fusion of Catholic and indigenous traditions.
Now, Day of the Dead is widely celebrated in countries with Hispanic or Latino people, including the U.S. The festivities mainly take place on Nov. 1 and 2, coinciding with the Catholic observance of All Souls' Day, though regional celebrations may start earlier or end days later.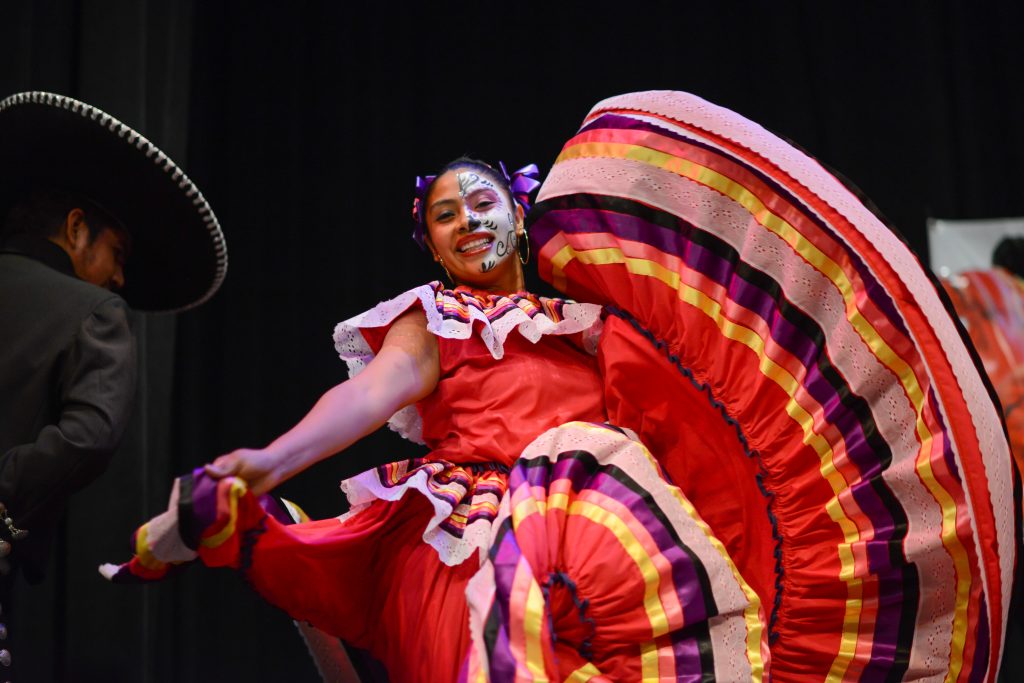 "Halloween is nothing similar to Day of the Dead," said Cecilia Castelan, a 65-year-old Baltimore County resident who works as a nanny and has celebrated Day of the Dead for years with traditions from Hidalgo and Tlaxcala — the regions of Mexico where her grandparents lived.
"On Day of the Dead, people go to the cemetery (to loved ones' graves) with flowers, food, dancing — and have a party with those who are gone. That has nothing to do with Halloween costumes, horrible masks or the devil," Castelan said to Capital News Service through an interpreter, her 42-year-old son.
For some, Day of the Dead will be the first time they gather together in person to remember the people they've lost in nearly 20 months, since COVID-19 was declared a global pandemic.
"COVID, for anyone experiencing a loss, has been difficult because churches were closed … The number of visitors that could come into funeral homes was limited. … And at hospitals, you couldn't even be with someone in that end stage of life," said Andrew Dowell, a funeral director in Baltimore.
After nearly two years of cancelled plans and virtual events, some in-person festivities for Day of the Dead are scheduled to resume in Maryland.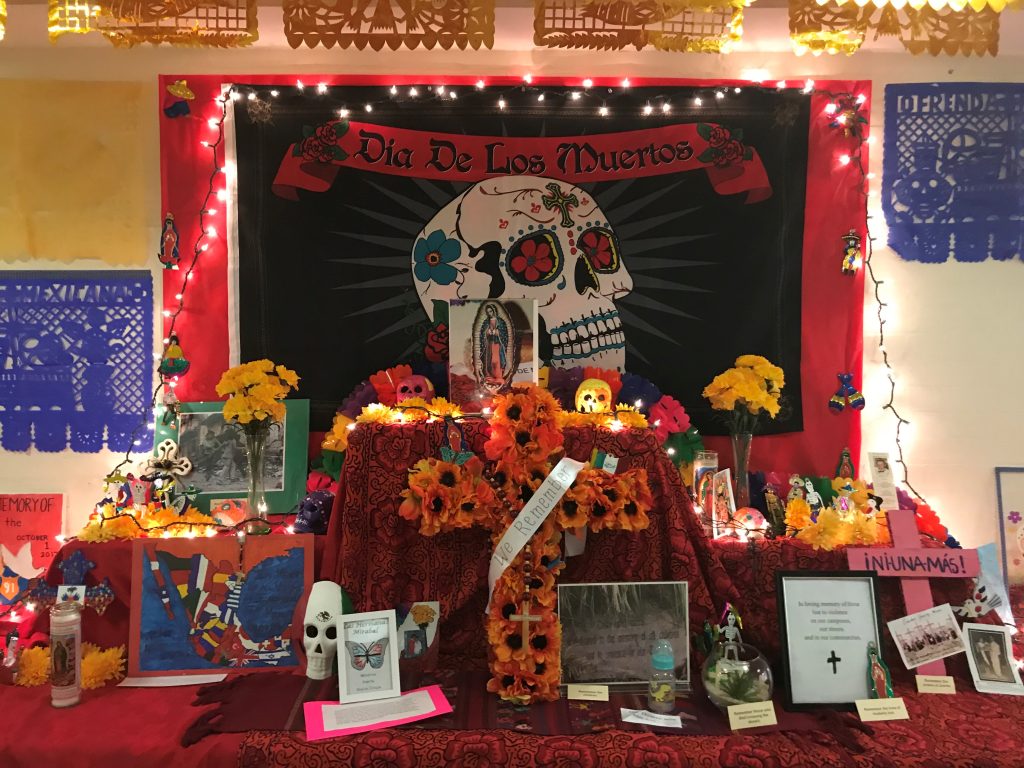 The cities of Annapolis and Gaithersburg, along with community centers like Creative Alliance and the Walters Art Museum in Baltimore, are scheduled to hold free Day of the Dead community celebrations, festivals or parades on Saturday.
Some churches and universities also plan to hold in-person events.
"In COVID, when we're all so conscious of the many deaths, this will be a way of including people and widening the circle," said Sister Linda Stilling, a volunteer at the Catholic Notre Dame of Maryland University in Baltimore.
Stilling said she introduced Day of the Dead to the university more than 10 years ago.
"It is a way of remembering and praying for those who have gone ahead of us, but there's a focus on celebrating their lives," said Stilling, who identifies as white and has worked with Latino communities for over 40 years in the U.S. and Mexico.
Stilling invited all students and faculty, regardless of race or ethnicity, to place photos of loved ones they want to remember on the university's Day of the Dead altar.
In efforts to reach more people, Stilling said students in the Hispanic Culture Club are constructing a larger altar than in previous years, and that the university will move the altar to the main chapel for the first time.
"In my community, we have lost so many people to COVID," Stilling said. "It just seems like a good year to do something a little bigger."
REMEMBRANCE ACROSS BORDERS
More than 10,500 people have died from COVID-19 in Maryland. Across the United States, more than 733,000 people have died from the disease.
And in Latin America and the Caribbean — where 40% of Maryland's immigrants were born, according to 2019 data from the Migration Policy Institute — more than 1.5 million people have died from COVID-19, according to the Reuters COVID-19 tracker.
Maya Ledezma Dominguez, a Prince George's County resident, is one of many Marylanders who have lost family members outside the U.S. during the pandemic.
Her sister and father died from COVID-19 in August, just one day apart, Ledezma Dominguez said through an interpreter.
"In the past, I would make a little altar (for Day of the Dead) but I didn't put up photos because I didn't have anyone close to me that had passed," Ledezma Dominguez said.
This year, she will have two.
"What made things harder is that I was here, and they were back home in Mexico," Ledezma Dominguez said.
She has spent the pandemic cutting, embroidering and selling hundreds of custom face masks to protect others from COVID-19, in addition to cleaning apartments and selling homemade Mexican desserts with her daughter.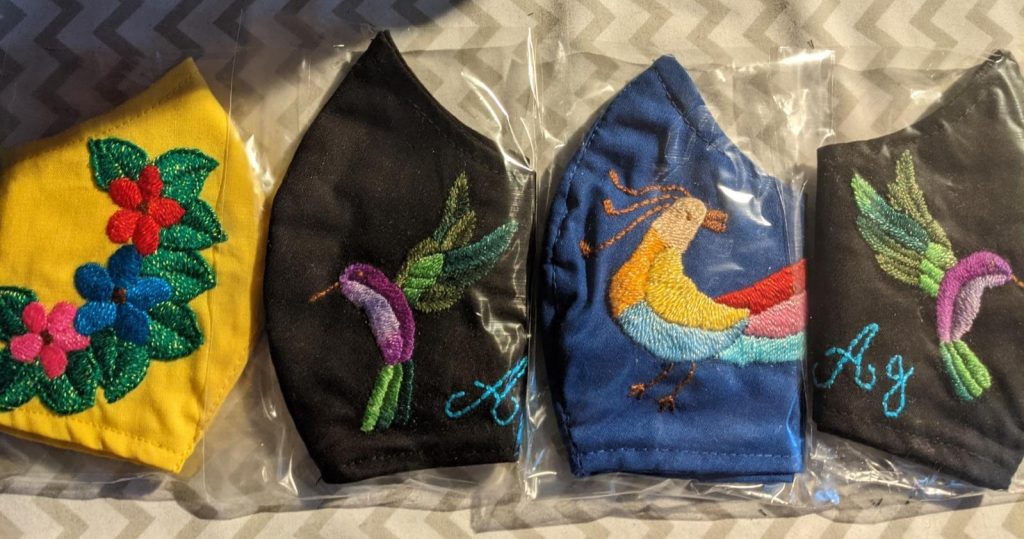 Ledezma Dominguez said she does not have legal immigration status in the U.S. As a result, she did not travel to Mexico after her sister and father died, in fear that she would not be able to reenter the U.S.
UNDOCUMENTED GRIEF AND CELEBRATION
This is a familiar situation for many undocumented immigrants — an estimated 225,000 people in Maryland, who are most commonly born in El Salvador (30%), Guatemala (14%), Mexico (9%), Honduras (9%) and India (5%), according to 2019 data from the Migration Policy Institute.
For Castelan, the 65-year-old nanny who also lacks legal immigration status, losing her brother to COVID-19 was the continuation of a years-long struggle.
"What's really hurting me is that my mother, father and brother passed (in Mexico), and I couldn't be there," Castelan said, wiping tears from her face.
Castelan said her mother and father died three and 11 years ago, respectively, and that her brother died from COVID-19 in March.
"The only thing that makes me happy is that I can light a candle to help them" return to our family each year for Day of the Dead, Castelan said.
As president of the Mexican Committee at the Sacred Heart of Jesus Catholic church in Baltimore, Castelan helps organize the church's Day of the Dead altar, honoring those who died with photos, crosses, candles, flowers and prayers.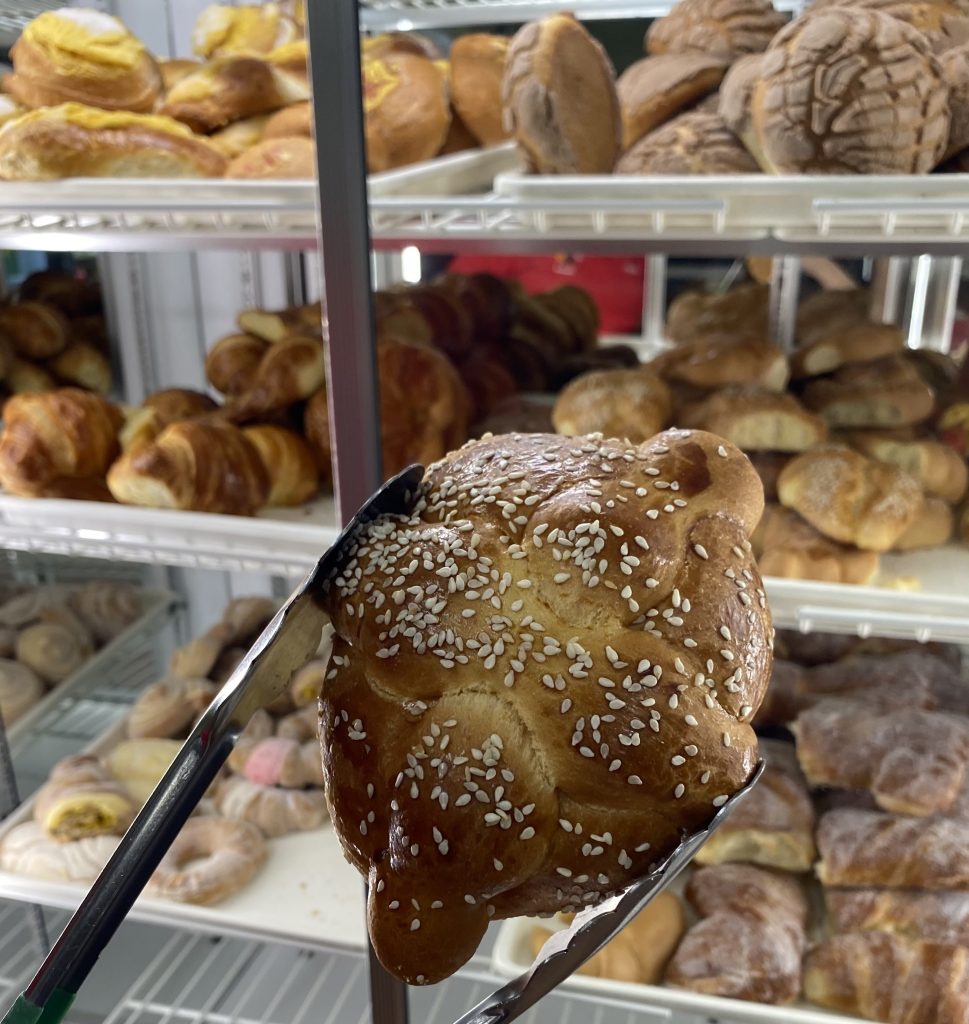 "We guide their souls with specific symbols and items," Castelan said. Symbols include candles to shine a path to the living, an arch to form an entrance, water to quench the souls' thirst from traveling and skulls to respectfully symbolize death -- "because we can't ignore that death is with us all the time," Castelan said.
Like many who celebrate Day of the Dead, Castelan also keeps an altar at home to remember loved ones more privately with family.
"We cook special meals and put out drinks, candy, music, cigarettes, desserts — anything that the person liked," Castelan said.
Capital News Service asked Castelan if she believes her loved ones really come back during Day of the Dead.
She answered with a warm and meaningful smile, "Yes — I know they come back."
DEATHS CONTINUE
COVID-19 health disparities persist for racial and ethnic minorities in the U.S.
Hispanic or Latino people are more than twice as likely to die from COVID-19 and nearly twice as likely to contract the disease, compared to their white counterparts, according to age-adjusted data from the Centers for Disease Control and Prevention in September.
Hispanic people comprised 18% of COVID-19 deaths in the U.S. and 8% of COVID-19 deaths in Maryland, as of Tuesday.
"We're very much aware that this is still going on," said Ix-Nic Iruegas, executive director of the Mexican Cultural Institute of the Embassy of Mexico in Washington, D.C., which serves Mexicans in Maryland.
"In many cases, they are frontline workers," Iruegas said. "Some of them have not received their vaccinations yet. Many aren't able to choose to stay home to take care of themselves and their families."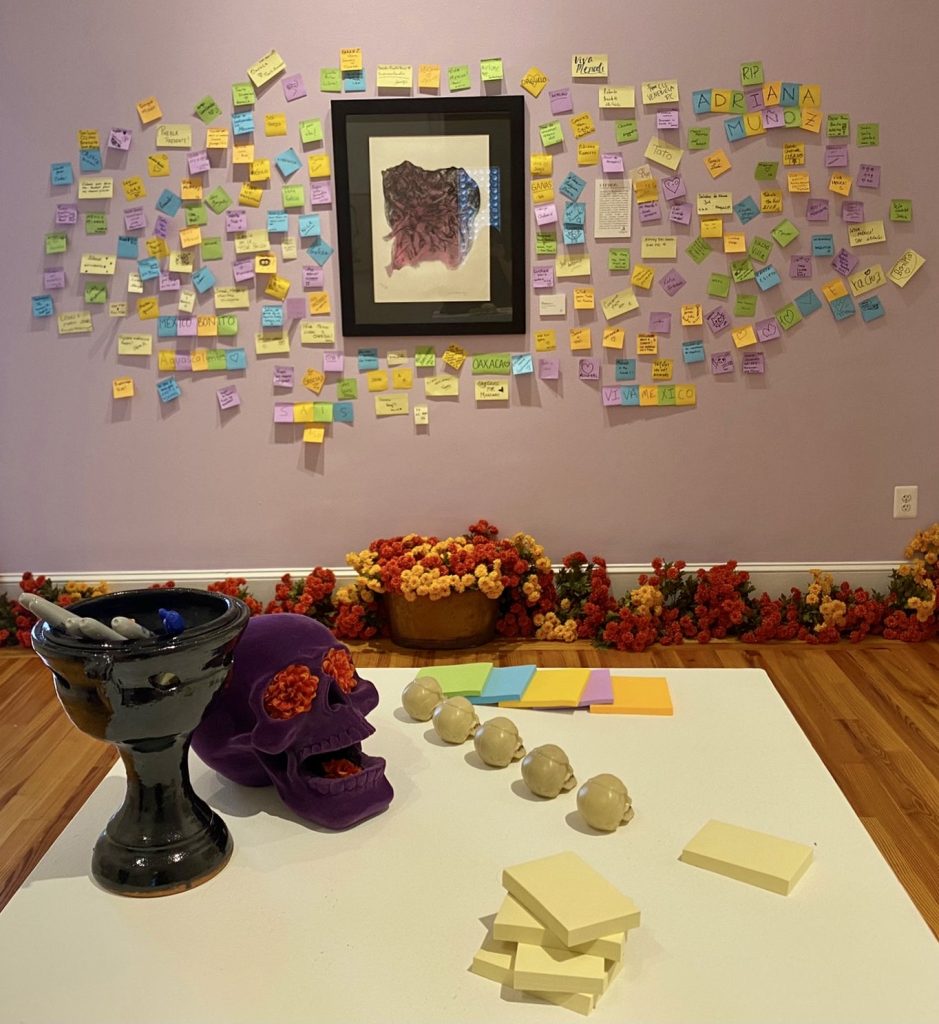 In Maryland, 65% of Hispanic people have received at least one COVID-19 vaccine dose, according to a Kaiser Family Foundation analysis of state data in October.
Across the country, 51% of Hispanic people have received at least one dose, according to the same report.
Meanwhile, global vaccine inequities continue to affect immigrants in the U.S., as their loved ones die in countries with less access to life-saving vaccines.
Although 66% of the total U.S. population has received at least one vaccine dose, only 55% of Mexico's population has received the equivalent, according to the New York Times COVID-19 world vaccination tracker on Tuesday.
At least 14 Latin American and Caribbean countries are faring worse than Mexico.
The countries are Haiti (0.7% of people have received at least one vaccine dose), Nicaragua (14%), Jamaica (20%), Guatemala (31%), Bahamas (35%), Venezuela (35%), Bolivia (38%), Dominica (38%), Honduras (39%), Paraguay (42%), Suriname (42%), Trinidad and Tobago (44%), Guyana (48%) and Belize (51%), according to the same vaccination tracker on Tuesday.
These numbers have real consequences for Marylanders like Castelan, who said her 65-year-old brother died from COVID-19 before he had the chance to get vaccinated in Mexico City. Castelan said she is fully vaccinated and ready for her booster shot.
"A lot of people are still dying of COVID," Castelan said. "That's why we're going to continue remembering them, and all the others who have died, on Day of the Dead" — one bread, flower, photo and prayer at a time.