WASHINGTON – This year's winner of the triennial Outwin Boochever Portrait Competition at the Smithsonian Institution's National Portrait Gallery is artist Alison Elizabeth Taylor with her marquetry hybrid work titled "Anthony Cuts Under the Williamsburg Bridge, Morning." 
As first-prize winner, Taylor will receive $25,000 cash and a commission to create a portrait of a living individual for the museum's permanent collection. 
"I was shocked and I'm still kind of shocked. But I'm very thankful and yeah, just humbled by this whole experience," Taylor, who is based in Brooklyn, New York, said in an interview with Capital News Service. 
Artists in various media who are living and working in the United States each were invited to submit a portrait to a panel of experts chosen by the National Portrait Gallery. 
Under the guidelines of the Outwin Boochever Portrait Competition, artists submit pieces that challenge "traditional definitions of portraiture," including works of paintings, photography, sculptures and performances and other media, according to the gallery. 
Taylor's piece in the Outwin exhibit took about a year to complete, she said.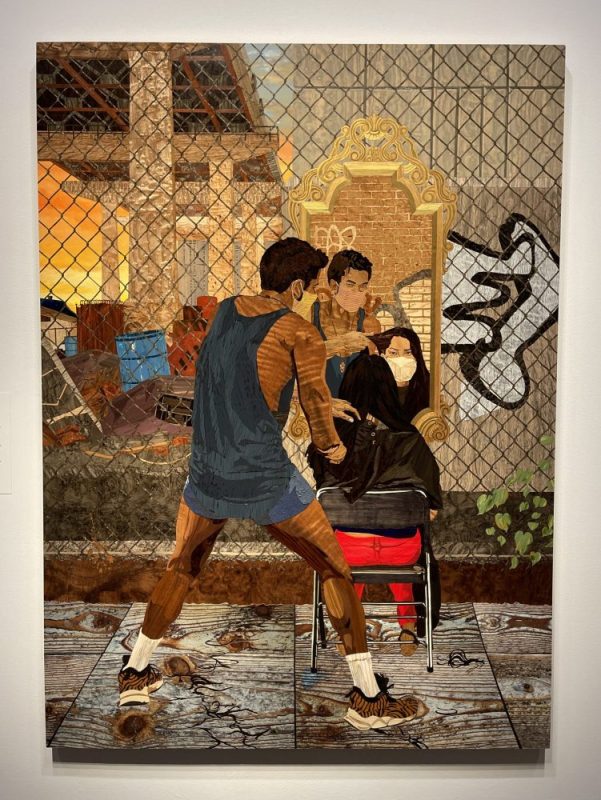 Trained as a painter, she said she wanted to create her piece with mixed media including oil painting, photographs and wood dust from sanding. She began her work in May 2020 and completed it in a year. 
When describing her subject, roller skater and barber Anthony Payne, Taylor said he had a "beautiful energy."
Payne had been doing haircuts on the sidewalk outside his apartment after his salon was shuttered, Taylor said.
One day, it started to rain right after he set up and he moved his sidewalk salon under the Williamsburg Bridge.
Many people in Taylor's Brooklyn community admired Payne's resilience and resourcefulness, she said. 
"It's funny when I was photographing and drawing him, sometimes the hair would wrap around my ankles because it's really windy under the bridge," Taylor recalled. "And I was like, wow, that actually feels good. Like you think that if you were in a salon that would be weird, but it felt really comforting and good." 
After telling Payne this, she said he responded, "Yeah, it's like the energy of other people. You need that energy right now," which she found beautiful. 
"The Outwin 2022: American Portraiture Today" is premiering at the National Portrait Gallery on Saturday and will run through Feb. 26, 2023. The exhibit will then travel around the country. 
This year's 42 artworks by 43 artists were selected from a pool of more than 2,700 entries, according to the gallery. 
"The other artists in the show are so great, and they're so talented, and their perspectives and their subjects are so interesting. And it's really kind of been amazing and collegial to be together and get to know everybody," Taylor said. 
Virginia Outwin Boochever, the late benefactor of the portrait competition endowment, worked as a docent at the National Portrait Gallery for nearly two decades.
"She saw the endowment as a unique opportunity to fill a void in the American art world," the gallery said on its website.