For Maple Lawn Turkey Farm, Thanksgiving means long hours
In Baltimore, some local residents are learning to cope with the cuts.
Congress and the President have come to a compromise, at least for now, ending the 16-day shutdown stalemate and leaving the millions affected to start picking up the pieces.
Art is subjective, and anyone can do it, including one Frederick County retired racehorse named Metro.
From the chicken farm to the Chesapeake Bay, Perdue Farms is offering a helping hand to oyster restoration.
Halloween wouldn't be the same without a hand picked pumpkin, ready to be carved or painted, and perfect for adding a festive, fall feel to anywhere in the house.
In an effort to end homelessness one person at a time, the city of Gaithersburg hosted Homeless Resource Day.
Though the veteran unemployment rate has fallen this year, veterans still struggle to find a job after leaving the military.
Veterans from every branch of the military came together to fight for both an end to the shutdown and for their benefits.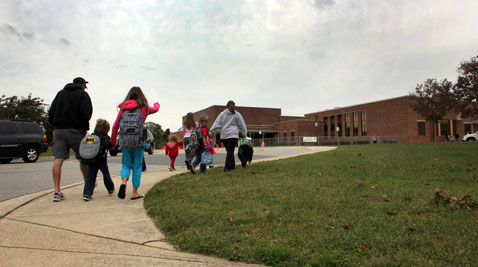 Walk this way… no not the Aerosmith song, but the reason why thousands of students walked to school one chilly October morning, rather than having mom or dad drive or taking the bus.