BALTIMORE — When Dwayne Weaver walked up to his West Baltimore pharmacy on April 28, he saw the aftermath of the Baltimore riots firsthand. The pharmacy door was wide open, the window pane shattered. Invoices and prescriptions were scattered across the floor. Surveillance cameras had been ripped from the walls. The pharmacy had been looted.
For a man who has run a drugstore at two locations along West North Avenue for 30 years, the sight was surreal, heartbreaking.
"We were looking at just a total wreck," says Weaver, who likened the sight of North Avenue during the riots to images from a foreign country. Weaver and his wife, Jane, wondered: After three decades spent on North Avenue, was it time to leave?
The decision involved more than the future of Keystone, a pharmacy that dates back to the early 1900s and has served the community for nearly 100 years, Weaver says.
Corporate pharmacies owned by CVS Health Corp. and Rite Aid Corp. also operate in West Baltimore, but many don't provide the same services as locally owned Keystone.
Keystone offers patients delivery service and a free soft drink with prescriptions. Customers can make in-store charges, which work much like layaway, allowing patients on hard times to pay their copays later.
"There's always issues with people not having enough money," Weaver says. "We help."
A few other independent pharmacies do business in the area, but Weaver says they don't see themselves being in competition with one another. The real competition is the larger corporate pharmacies, such as the new Rite Aid on Martin Luther King Boulevard, or the CVS on North Avenue, which was destroyed the night of the riots and is being rebuilt.
Weaver recognizes that the volume of business corporate pharmacies do makes them more competitive. "As an independent, we kind of survive on servicing patients in a way that chains generally don't," he says.
"They know what they're doing, but we kind of feel like we provide a higher level of service to the community."
Insurance restrictions
Now, in addition to the lower prices the big chains offer, Keystone faces a challenge created by changes in insurance rules.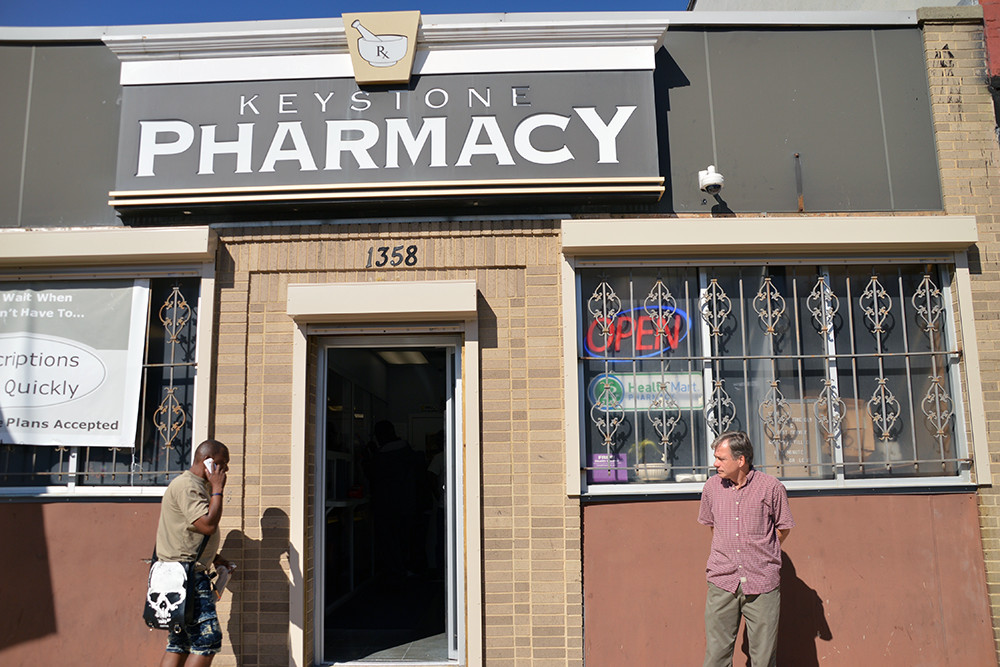 Weaver says Keystone is not included by all the managed care organizations, which means he can no longer fill some prescriptions.
"I get patients in here everyday who want to use my pharmacy, who use my pharmacy for years, but they're now told that they have to go somewhere else" because of the restrictions, Weaver says.
Three to four people are denied care at his pharmacy every day because they are out of network, Weaver says. During a week, 20 to 25.
"It just adds salt to the wound," Weaver says.
U.S. Sen. Ben Cardin, D-Md., heard about Keystone's difficulties during a visit in June after the riots. His office wrote a letter to the Maryland Department of Health and Mental Hygiene about the potential adverse effects that the regulations could have on patients, independent pharmacies and the surrounding communities.
Cardin's press secretary, Tim Zink, says the health department acknowledged their concerns, but so far, Weaver says, there has been no resolution.
Most customers insured
Though his store was wrecked in the aftermath of Freddie Gray's funeral, Weaver doesn't call the violent events "riots." They were "uprisings," he says, describing them as the end result of long-brewing discontent in a neighborhood riddled with poverty and health issues.
A majority of the Keystone Pharmacy patrons are insured -- roughly half of them through Medicare, for the elderly and disabled, the other half through Medicaid, which provides for the poor. Still, Weaver says, many leave the pharmacy without being able to afford their copayments. It's the reason the pharmacy has offered credit to customers for years.
" We feel like we provide a higher level of service to the community."
—Dwayne Weaver, owner, Keystone Pharmacy
"I have a tendency to kind of favor more to the side of the patients even when I'm not apt to get paid," Weaver says. "You walk into a CVS and say,'I don't have $15 for my antibiotic.' You know you're not going to get it."
Eugenia Dyson, 60, of West Baltimore, has been going to Keystone on and off for six years to fill prescriptions for her high blood pressure and asthma.
At one point, Dyson switched from Keystone to CVS after seeing that the chain pharmacy had cheaper prescriptions and that it was a short walk from her home. But the polite and quick service at Keystone won her back, Dyson says.
"The service at CVS was too slow ... and they had no class or respect," Dyson says. Since the riots and the shutdown of the nearby CVS, Keystone has seen only a few more customers, Weaver says.
Caring for West Baltimore
Weaver says he fills a lot of prescriptions for hypertension and diabetes along with antibiotics for less serious illnesses or infections.
Heart disease is the greatest cause of death in Maryland with more than 230 deaths per 100,000 residents, according to a 2013 Baltimore City Health Department report.
In Baltimore, the rate of heart disease is even greater, with 300 deaths per 100,000 residents. Diabetes is the fifth leading cause of death.
In recent years, Weaver says he has also seen a surge in prescriptions for Suboxone, a drug prescribed for opiate addiction treatment. The number of deaths related to heroin use in Baltimore rose about 153 percent from 2011 to 2014, with 192 deaths in 2014, according to a May 2015 report by Maryland Department of Health and Mental Hygiene. It's the highest rate of any local jurisdiction in Maryland.
Weaver also spends time educating people on the importance of taking their medication. He says it is not uncommon for some high blood pressure prescriptions to go unfilled, while others are never picked up by patients.
"Getting people basically to get their prescriptions filled, then to have them actually get to the pharmacy and pick them up and take them seems to be a difficult task," Weaver says.
New Medicaid regulations in the state have led to a reduced role for independent pharmacies.
"Making recommendations to people in terms of lifestyle changes or medications that you ultimately [see can] help improve the quality of their life or extend their life is probably the greatest reward," Weaver says.
Beginnings in Baltimore
Weaver graduated from Ohio Northern University and settled in the early 1980s in Baltimore, when the Inner Harbor was being developed and the city had a reputation as up-and-coming. After a stint with a large corporate pharmacy, he joined a partnership with two other men to buy Keystone. They asked Weaver to run it.
"It was very exciting to watch it grow," Weaver says. "And that lasted from '85 to '97."
In 1997, faulty wiring caused a fire that burned the pharmacy to the ground.
It was the first time Weaver had to ask himself if he should leave. He decided to rebuild the pharmacy on North Avenue, just blocks away from its old location.
After the riots, Weaver and his wife returned to the pharmacy to find it nearly emptied out, Weaver says. But as the hours passed, residents began showing up and volunteered to help clean up.
Weaver and his wife decided to reopen.
"The neighborhood's full of a lot of good people. They were here to help ... It was kind of a gratifying experience to know that many people were somewhat glad to hear [we] reopened," Weaver says.
The pharmacy was up and running within a week.
Since then, Weaver has made what he calls "dramatic security improvements," including roll-down metal doors, an enhanced security system with better cameras and recording equipment -- steps Weaver says he felt were essential after being let down by the police in April.
Weaver says he believes they could have done more to prevent some of the damages local businesses endured.
"We thought we were secure before, but evidently, when there's absolutely no police action, I don't think anything is secure really," Weaver says.
Still, Weaver says he doesn't feel unsafe or fearful for his business.
"The neighborhood presents itself as being kind of rough. But really, my 30 years have been very good here," Weaver says. "Minus a couple bad days."
CNS Reporters Lauren Burns, Matt Present and Jamie Rapp contributed to this report.