Ruddy Duck: Supporting the Local Beer Community, and Their Kids
by Sydney Carter
SOLOMONS ISLAND - At the Ruddy Duck Brewery & Grill there are eight craft beers offered behind the bar, and a jovial duck mascot occasionally roams the dining room. This brewpub combines entertainment and affordable eats for kids with high-quality craft beer for moms and dads.
In the beginning, co-owner Carlos Yanez said he was nervous about combining a brewery and family-friendly restaurant. Families and their children are a significant part of the local community, and Yanez wanted the Duck to be a comfortable and accepting place for children and their parents.
"The idea of a brewery meant alcohol only and a bar, and that was not the point," Yanez said. "The point was to create a place where children can enjoy the ambiance and the food without being in an alcohol production facility. I love to have kids around. From the business point of view, kids draw business too."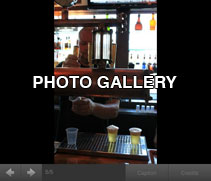 "We don't have a young clientele so being able to cater to families and beer enthusiasts is really easy," said Michael Kelley, co-owner and veteran restaurateur. "Both Carlos and I are fathers, I'm a grandfather, so we're both really in tune with families and we're catering to more of a baby boomer and 30-to-40-something crowd."
This out of the ordinary combination is evident from the entrance to the private dining room. On the walls of the Duck, there is a growing collection of artwork -- coloring pages of the Duck's mascot, Rudy, and several of his feathered friends smeared with bright Crayola hues. Next to the children's art, a window provides a bird's-eye view of the brewery where the Duck's award-winning craft beers are made.
That includes the Helles Lager that won "Best in Show" at the 2010 Brewer's Association of Maryland Governor's Cup.
"We manage to get everybody-- even different ages-- involved in this idea and they just love it," Yanez said. "Everybody's been taught here to make people feel comfortable no matter what age."
While Yanez cares for the families in his local community, he also cares about craft beer. Brewing is a passion and priority for Yanez and brewer Matt Glass. It's the marriage of good quality food and beer that bring the people in, Yanez said.
The Duck is involved in serious beer business. Brewery production is maxed out at 700 barrels produced per year, Glass said.
"If there's a tank made out of stainless steel it's filled or about to be filled. Nothing is empty," Glass said. "Tomorrow I'm going to transfer a couple of beers and then bam, bam, bam, brew right back-to-back and fill them up again."
The sky's the limit for Yanez and Glass when they face the challenge of creating a new craft beer. The duo work together to experiment with brewing. Every year Glass fills the restaurant with the signature fall scent of pumpkin pie as he brews a seasonal pumpkin beer. Recently, Glass created a gluten-free beer from sorghum, quinoa and honey that is, although not legally a true beer, surprisingly tasty.
"It's basically Matt's recipes and I let him free," Yanez said. "He came to me with the idea to make a gluten-free beer a few months ago and I was not really convinced but I said, 'Ok, go for it.' And it's been a hit, absolutely amazing."
"Carlos is really in tune with the little niche beers, the beer geeks we like to call them, who want something unique or extreme," Glass said. "I'm kind of in tune with the people who want consistent, year-round styles, the people who drink one beer."
Above all else, engaging with the local community is a top priority for the Duck. The business depends on connecting with customers when they stop in for a bite and a beer. Everyone caters to the local and vocal clientele.
"You're talking directly with these people and they'll tell you exactly what they think: if you're beer sucks or if they like it," Glass said.
The Duck frequently strives to mix and mingle craft beer with the local community. On Sept. 26, The Duck hosted its first one-hour class for local homebrewers, to educate them on the art of craft beer and the impact of flavors.
"It's about training your palette to identify off flavors and aromas: what caused it, what you can do to prevent it," said Glass, who led the class. He's hopeful these classes will convince homebrewers in the area -- and the members of a brand new local homebrewers club -- to increase their involvement in the Duck's annual homebrewing contest.
Every year the Duck initiates a challenge: craft a crave-worthy brew of a certain beer style. The contest is planned by Yanez and Glass, who select the specific beer style, to encourage homebrewers' brewing, and bring more business to the Duck. After professional judges select the winning beer, it is brewed in the Duck's brewery and then put on tap."
"You have to reach out to all in the community," Glass said. "Often people want to be a critique, so you have to educate them as well as listen to them."
Creativity on Tap: Franklin's Brewmaster Pushes Boundaries with Extreme Beers
by Matthieu Drotar
HYATTSVILLE - With beers such as "Petite Fleur," a Belgian inspired ale made with a blend of flowers, on his resume, brewmaster Mike Roy has used his unique approach to brewing to breathe new life into Franklin's Restaurant, Brewery and General Store.
Since being hired in January 2010, Roy has experimented with beers such as "Pumpkin Pie Stout," "Ludicrous," an anaerobic sour ale and "Fin Del Mundo," a South American dark lager brewed with ingredients like maize, chocolate, spices and hot peppers, in honor of the Mayan Apocalypse.
"[My most creative beer is] the one that I have yet to brew," Roy said. "I think that's the important thing, to always be pushing yourself and never settle on that there is no way for something to be improved."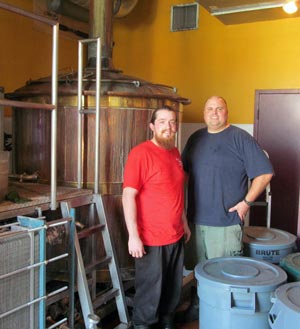 "I'm a student of brewing," Roy said. "I'm comfortable knowing that I will never know everything and saying I've perfected the craft would mean that I'm settling. I'm my own worst critic and I'm constantly trying to push myself to be better. Personal pride in my craft recognizes that good isn't good enough."
Roy said he sometimes engineers a beer based on a desired flavor outcome, while other times he simply brews a beer using ingredients he likes and hopes for the best. Roy's inspiration leads to truly unique beers.
"It comes from everywhere," Roy said. "It comes from trying other commercial beers, trying homebrewed beers, trying various food dishes. Raw materials. Sometimes I'll be turned on to a certain spice or ingredient and try to figure out how to incorporate that into a beer. Sometimes its just curiosity as what certain combinations of malts, hops or yeast will actually take effect."
Sometime, inspiration strikes Roy while listening to music or watching movies.
"I was inspired a couple weeks watching a documentary called 'Jiro Dreams of Sushi,' a film about an 85 year old Japanese sushi chef," Roy said. "What did it have to do with brewing? Nothing. What did it have to do with passion and pride in your craft? Everything. If at 85 year of age a sushi chef can still find passion in slicing and serving fish, how can I as a brewer ever lose my passion for making fermented grain beverages?"
Since he first broke into the business, Roy has always tried to be on the cutting edge of beer making.
"The things that I may have considered to have been unique five or ten years ago are kind of run of the mill now," Roy said. "In the early 2000s I started brewing some aggressively hopped IPAs. We didn't really have a name for them yet; it wasn't really a double or imperial IPA. They were just big IPAs. That within itself has become it's own category."
For Roy, blazing the IPA trail was a simply a matter of following his taste buds.
"My reason for brewing bigger IPAs at the time was no different than a spicy food lover adding more hot sauce to their chili," Roy said. "I loved hop bitterness, flavor and aroma, so I just started increasing the amounts we used. Once double IPA began to be recognized amongst the community, then there was almost a free license to start experimenting and the 'arms race' was on."
Roy's propensity for extreme and unique beers was honed over his decade-long career, which includes a stint at the esteemed Boston Beer Works, which produces Samuel Adams.
"I consider myself a 21st century American brewer. By saying that, I don't really consider myself to have any boundaries at all," Roy said. "What I try to do is operate to the best of my ability, trying to keep producing what I believe is quality beer, keeping the varieties evolving and changing. I think in this day and age American craft beer drinkers are really looking for what's new, what's next."
Aiding in his quest to push the limits of modern brewing, Franklin's owner Mike Franklin gives Roy as much creative freedom as possible by taking a hands-off approach to the brewery.
"The reason Mike [Roy] likes it here is that we have to have four or five basic beers on at all times," Franklin said. "After that he's free to knock himself out and do whatever creative seasonals he wants to do."
This freedom has proved beneficial not only to Roy, but to Franklins as a whole.
"One aspect is about kind of challenging myself to learn and be consistent and produce quality beer, but on the other side we're still a business and part of that is that we have to brew what will sell," Roy said. "The American palate has changed a lot in the last 15 or 20 years. Things have changed now and there are so many options out there that we need to diversify the lineup if we really want to compete."
Franklin's began brewing beer in 2002 and has since become a staple of the Hyattsville community and beyond. By the turn of the decade, however, it had become apparent that it was time for a change at the brewmaster position.
After placing an advertisement in the trade publication The New Brewer Magazine, Franklin received numerous responses from various locations across the country.
Out of the pool of applicants, Roy's experience caught Franklin's eye.
"I had checked out his reputation in New Hampshire and he had a good reputation as a brewer so when he came down to interview, we hit it off," Franklin said. "He thought this was a better opportunity than what he had up there."
Beginning his career on the other side of the industry, Roy worked as a bartender on Bourbon St. in New Orleans and for a marketing company doing liquor commercials in New Hampshire.
Roy did not start brewing until 2000 when he learned the craft at IncrediBREW, a Nashua, N.H., establishment where the public can make their own beer, wine and soda. Four years later, Roy had become the head brewer at Milly's Tavern in Manchester, N.H., before taking a position at Boston Beer Works in 2007.
"At Beer Works we had four brewpubs in the production facility and there was just a lot of corporate involvement and it just was not really my style," Roy said. "I wanted to get back to a single-entity place where I can have a lot more control over every aspect of the brewery."
When Franklin was planning on adding his restaurant to the already established general store, he knew he had to make his business unique to the area.
"When we were going to open in what was then considered a very, very unlikely spot to open a big restaurant, I wanted the additional draw that I knew having the brewery would be," Franklin said.
Since then, Franklin and his establishment have become the cornerstone of the Hyattsville community.
"We really more consider ourselves the local brewpub," Franklin said. "We support all of the local little charities, we're very family driven, we're very family friendly so it's kind of more like a traditional British pub from that point of view, where all ages show up."
Though he considers his market anybody living in a 15-minute radius, Franklin has been taking measures, such as attending the Brewer's Association of Maryland's Octoberfest and making Franklin's beer available at other bars, to increase awareness of his restaurant throughout the region.
"We are, actually, starting to sell our beer in D.C.," Franklin said. "We're probably going to have 10 or 12 bars in D.C. selling our beer, but that's really done more to market our place here, to bring them here, more than anything else."
Roy's passion is evident in the quality and variety of his beers, something that Franklin believes sets his establishment apart from other brewpubs in the region.
"Our product is our product and I think we do a really good job," Franklin said. "In terms of the beer itself, I think if you look at the variety, variety is the key. The span of stuff that we produce compared to most brewpubs, it's quite impressive."
National Premium: Baltimore Beer Back From The Brink
by Matthieu Drotar
DOVER, Del. - National Premium, an old Baltimore staple beer and competitor to National Bohemian returned to shelves earlier this year, thanks to an unlikely entrepreneur.
Tim Miller, a real estate agent from Easton purchased the National Premium trademark in an attempt to resurrect an old brand, despite having zero brewing experience.
"I've never brewed beer. The only time I've ever brewed beer was here watching these guys," Miller said, gesturing towards the brewers busy at work at the Fordham & Old Dominion Brewery in Dover, Del., where his National Premium beer is currently being brewed on contract.
Instead, with trademark in hand, Miller turned to an old friend, Jim Lutz, CEO of Fordham & Old Dominion Brewery, for help.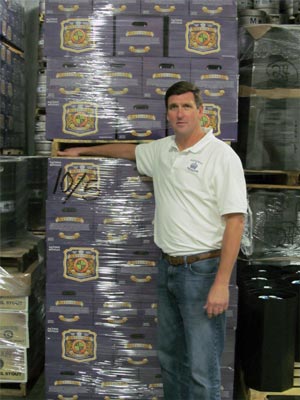 "He contacted me a couple of years ago and I told him he was nuts, that the craft beer business and the beer business in general was a tough competitive market and to stay in the real estate business," Lutz said. "He kept badgering me and, about a year and a half ago, I said 'all right, you obviously have the drive, let's make this thing happen.' So we started talking then and here we are now."
Despite his initial apprehension, Lutz not only agreed to contract brew National Premium at his Dover plant, but also provided Miller with some business advice.
"[Lutz] was like 'Well, I don't know why you would want to get into the beer business, but if you do it, just do one beer, do it well,'" Miller said. "His recommendation was to do it in cans and just jam it out there."
With the exception of choosing bottles instead of cans, Miller heeded Lutz' words of wisdom and the pair began brewing National Premium at the Fordham & Old Dominion plant late last year.
Currently, National Premium uses about five to seven percent of the Dover plant's capacity, according to Lutz. As the contract brewer, his company makes a few cents per case of National Premium sold.
"A lot of these contract brews come and go," Lutz said. "This one had some history, had some legs, it's going to work. People remember that brand from back in the 50s and 60s and we had extra capacity at the brewery."
Founded in 1872, National Premium reached the pinnacle of its success during the decades following World War II. During this time, the beer was marketed by the National Brewing Company as the upscale alternative to the company's flagship beer, National Bohemian.
"It was like the Maryland high-end beer before there was such as thing as craft beers and high-end beers," Miller said.
Following several changes of ownership over the previous few decades, National Premium had been absent from liquor store shelves across Baltimore since being discontinued in 1996.
Until recently, that is, when Miller obtained the National Premium trademark at an auction in New York City.
In November 2010, Miller stumbled across an advertisement in the Wall Street Journal for a trademark auction headlined by Meister Brau, a popular regional beer from Chicago dating back to the 1800s.
"I saw that, and I thought, 'OK, cool, that's it,' not knowing anything about the trademark business or what was for sale or how to do it," Miller said. "I took down the website, went to my desk and logged in and there were 150 different trademarks this guy was selling. I go under beverages, beer, there were three of them and I saw National Premium and I was like 'holy s**t, I can't believe this!'"
Miller immediately put down a deposit on the auction, booked a hotel room and bought a train ticket ticket to New York City.
"I told my wife what was going on and she thought I was crazy," Miller said. "It was the depths of the real estate recession and she was like, 'We have no money and you're doing what?'"
Miller went on to win the auction and obtained the rights to the National Premium name.
After he obtained the trademark, however, Miller was still faced with the issue of putting together a recipe. Almost immediately after he created his website, Miller received inspiration from a National Premium superfan.
"The very first day the site went live, I got a call from a guy," Miller said. "He was like 'I can't believe it, you're making my dreams come true! You're bringing back National Premium, it's my favorite beer of all time. I'm a collector of their stuff, it was the best beer!'"
According to Miller, this was just the first of a hundred of similar emails and phone calls that he received. Given the reaction, Miller knew he had to stay true to the original recipe.
He eventually got in touch with Ray Kilmovitz, a former brewmaster at the now closed Carling brewing plant in Baltimore, where the beer was once made. Kilmovitz provided him with the old recipe, re-written from memory.
With Miller's dream realized, National Premium returned to shelves statewide in June. Additionally, Miller hosted a launch party at the Owl Bar during Baltimore Beer Week in October.
While National Premium may have made it's triumphant return to the Maryland beer scene, its long-term success is not guaranteed. Was Miller, an inexperienced realtor, the correct person to bring back the classic beer? Lutz sure thinks so.
"He's born and raised in Maryland, he's a beer drinker, and I think he has the passion for what it takes to relaunch, if you will, a nostalgic brand," Lutz said.
The relaunch of this particular brand, according to Lutz, is important to the Maryland beer scene.
"I think it speaks to the brewing heritage of Maryland and the great brands that used to be in Baltimore or in the state of Maryland back in the day," Lutz said. "I think it shows that we've got some old nostalgia brands too. It's not just PBR, it's not just those old brands, but we've got some good brands in Baltimore and here's one of them so I think it's a good thing for the craft brew industry."
Master's Degree in Beer Launches Brewer's Alley Brewmaster
by Anna Weaver
FREDERICK - When it came to picking a major in college, Tom Flores took a different approach to one many college advisers might suggest.
"I figured I'd pick a degree in what I struggled with the most in high school so that I could tackle it and not feel defeated by it," he said.
That meant biochemistry, which had challenged him in high school. The degree in turn led to Flores' decision to make his homebrewing hobby into a full-fledged career as a brewer. Today, Flores is the brewmaster at Brewer's Alley in Frederick and he still loves a challenge.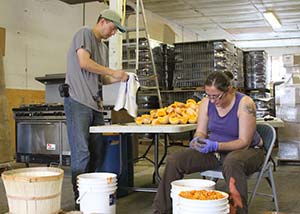 On an early fall afternoon in the brewery's new Monocacy Brewing Company facility, he and head brewer Maggie Lenz slowly but surely made their way through barrel after barrel of local squash as they prepped the ingredient for the brewery's seasonal Oh My Gourd! Pumpkin Ale.
As Lenz cleaned pulp and seeds out of halved pieces, Flores carefully watched squash roasting in an industrial-sized oven.
"What we're trying to be consistent at is delivering the fullest, most complex, most intriguing flavor that we can for any given beer," Flores said.
He has been at Brewer's Alley for 15 years, and his boss, Phil Bowers, said Flores has helped streamline the brewery and helped it grow through its recent expansion.
"He's very meticulous, very quality conscious," said Bowers, adding that Flores also loves to talk beer with anyone. "You can pretty much get cornered by him for hours at a time because he's very passionate about it."
Flores knew he was interested in beer long before he was legally allowed to drink it. His childhood friend Ashton Lewis' parents would bring back beer from trips to places like the Caribbean and Israel and let the two then high school-aged boys try them.
Together the high schoolers commandeered brewing equipment owned by another friend's dad and started experimenting. Lewis remembers the first beer they made from an Irish stout beer kit had way too much roasted barley in it and was "god awful."
But they eventually turned out some good batches. Flores pointed out that the beer he made as a high schooler was legally his parents. "I just happened to be the one making it," he chuckled.
While studying biochemistry at the University of Maryland, College Park, Flores interned one summer with Wild Goose Brewery in Cambridge. That internship firmed up his decision to be a brewer. In 1992, he went to UC Davis for a master's degree in food science and technology with an emphasis in brewing. It was the only accredited university brewing program at the time.
While he was at UC Davis, Flores met Hugh Sisson, a Baltimore restaurateur who was starting up Clipper City Brewing Company and had come out to California for a short brewing course. Flores introduced himself to Sisson, "letting him know he wasn't the only Marylander in L.A."
Sisson was impressed enough with Flores to offer him a job with Clipper City even though Flores was not yet done with his masters.
"He took a really big risk on me because at that point I only had about three months of practical brewing experience," Flores said.
Flores found himself finishing his master's thesis back in Baltimore while assisting with site scouting, digging trenches and designing Clipper City's brewing facilities. He helped launch the company, which now is better known for its Heavy Seas Beer brand.
"This was like jumping into the deep end," Sisson said. But Flores was a quick learner.
"Tom is a scientist," Sisson said. "He's going to approach things from a very analytical, very detail-oriented, very documents-focused approach."
That led to a high-quality product at Clipper City. But Sisson thinks production brewing, with its emphasis on getting beer out in large quantities on a certain time schedule, didn't exactly hit Flores' brewing sweet spot.
In 1997, the brewmaster opportunity at Brewer's Alley, which is a brew pub that also distributes beer, presented itself. Flores said he was looking for a new challenge, so he took it. He's created most of the seasonals and a few year round beers at the brewery while perfecting the quality of others.
Sisson regularly runs into Flores at brewery events and said that Brewer's Alley seems like a great fit for him.
"Doing the flat out production side like we do, that's not for everybody. But that's not a reflection of talent or ability," Sisson said. "I think he can be successful on my side of the business but I think he's happier on the side he's in."
Flores, who almost double-majored in history in college, is also on a historical brewing kick thanks to two outside commissions. St. Mary's City asked Brewer's Alley to brew a beer for its 375th anniversary. He used a recipe and ingredients that would have been used by colonists. Thus was born "1634 Ale," which is now on regular rotation at the brewery.
The brewery is currently in the midst of a two-year brewing project where it will make nine Civil War era beers for the National Museum of Civil War Medicine in commemoration of the war's 150th anniversary. Flores said the experience has been like "alternative history." He's tried to create a beer that would've been recognizable to someone alive during the Civil War or colonial America.
"It's a little bit of a stretch of fantasy to imagine this person tasting your beer who would have been alive back then," he said. "The neatest part of that is when you actually have someone who is alive today go and taste it and love it."
The historic recipes match with Flores' brewing philosophy -- melding time-tested recipes and techniques with new tools and technology.
Childhood friend Lewis said you might call Flores a beer geek. "Tom's very analytical. He really likes to dig into the details," Lewis said. "And that's the cool thing about beer, there's a lot of opportunity to dig into details."
Sisson also classified Flores as a beer geek. "But you have to understand that this industry was built on the backs of beer geeks," he said. "God bless the beer geeks. The industry wouldn't be the same without them."
Flores admits that he's a methodical and detail-oriented brewer. But he said that while beer is often described as "an art and a science," he sees it as an art first and foremost.
"[Science] really is subordinate to the most powerful tools of brewing which are the palate and the mind," he said.
Phil Bowers said that Flores does not do anything fast. "He takes the time to investigate what we need to do," he said. "He's very focused on putting out best product that we can."
But Flores says that just because he is deliberative in his brewing doesn't mean he avoids experimentation.
"Some of the greatest adventurers in the world spent years planning their adventure," he said. "The entire brewing experience is one great adventure."
Union Craft Brewer Stands out in Largely White Industry
by Anna Weaver
BALTIMORE - Kevin Blodger has loved craft beer ever since he picked up a homebrew kit as a college student. He's been a professional brewer for over a decade and co-founded Union Craft Brewing in Baltimore with Jon Zerivitz in fall 2011.
Blodger is one of the few African American brewers in the U.S. And that's something he'd like to see changed.
"The craft beer community is not that diverse, no matter how much they say it is," Blodger said. "It's far and few between where you see blacks either in the business or as consumers."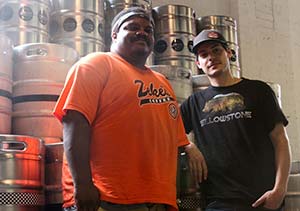 There are prominent black brewers on the scene like Brooklyn Brewery brewmaster and author Garrett Oliver, whom Blodger credits as a big influence, and BJ's Michael Ferguson.
But as Blodger's business partner Zerivitz, who is white, said, "Craft beer tends to lean towards white males between the ages of 22 and 35."
The two hope that Union can attract a wider audience with its beer and appeal to Baltimoreans of all kinds.
"I want us to be a part of the people that make up the city," Blodger said. "I think if we reached out and showed them these great beers that are made locally by people in their neighborhoods, that we could triple or quadruple our market share."
Zerivitz agreed. "We both felt like we could look for ways to reach out to minority groups and women and try and just be as inclusive as possible."
Blodger said that he thinks blacks and Hispanics in particular aren't the target of craft beer marketing as much as whites because, "the majority of craft brewers are white so they're more comfortable marketing to their own demographic."
He also said that minorities are statistically less likely to have enough capital to start a brewery.
"I think each company consistently needs to look at what is right for their brands," said Paul Gatza of the national Brewers Association. "I think many already market to a wider range of beer drinkers than the typical white male in his 20s or 30s."
Gatza pointed out that there is a rising number of women craft brewers in particular.
The beer that Blodger and Zerivitz create at Union is pretty diverse in and of itself. They like experimenting with unusual one-time beers like a coriander and salt gose German-style beer, a hoppy red ale, and a lightly smoked saison (pale ale) flavored with malt that Baltimore food truck Blacksauce Kitchen smoked for them and Stillwater Artisanal Ales.
Union has two year-round beers: Duckpin Pale Ale for the hops lovers and a German-style Balt Altbier that won a Gold Medal at the 2012 Great American Beer Festival in Denver. There are plans to make their semi-regular marzen, Blackwing Lager, a year-round beer when they get more tank space. And Zerivitz said they'd love to do a beer inspired by the band Talking Heads.
Blodger didn't always want to be a brewer. The stout 36-year-old was born in Baltimore and raised in Herndon, Va. He went to the University of Maryland, College Park, to study journalism before switching to English.
Blodger got an initial taste for brewing while working at Maryland Farms Super Liquors in Beltsville. He saw some brew kits collecting dust on a shelf and asked his boss if he could have one. Blodger also took home a copy of "The New Complete Joy of Home Brewing."
The result was "Greenbelt Porter," which he brewed up at his house in Greenbelt. "It wasn't great, but it was good," he said. "It was drinkable. My friends liked it. I was hooked from like right then."
But after a post-college job as District ChopHouse's assistant brewer didn't pay the bills, Blodger switched to working as a special education school crisis specialist.
It was his girlfriend (and now wife) Monica who kept encouraging him to go back to brewing full-time. Eventually Blodger found a job at Frederick Brewing Company, followed by one as head brewer at Capitol City Brewing Company's Inner Harbor location. In 2007, he got a job as head brewer at Gordon Biersch in Chicago.
Volker Stewart from The Brewer's Art in Baltimore said he can see Gordon Biersch's influence on Blodger in the less common, German-style beers that Union produces. "I think they're wonderfully drinkable styles of beer," he said.
Blodger credits his time at Gordon Biersch for helping him focus on consistency in his brewing. "It was almost like working a production brewery because we were doing the same five beers year in and year out, week in and week out," he said. But it also left him wanting to have more creativity in the brew process.
After he and Monica had their son Benjamin, Blodger accepted a job swap to be head brewer at Gordon Biersch's Rockville location so they could be closer to family. It was around that time that a college friend introduced him to Baltimore County-native Zerivitz, who was looking to start his own brewery.
"I immediately recognized that he was a really creative as well as technically proficient brewer so I knew he would be perfect for my project here," Zerivitz said. "Everyone in the industry sort of knows him and speak incredibly highly of him."
Union came together over the last two years. Part of its name origin goes back to the co-owners feelings that beer brings people together.
"Beer unites," Blodger said. "When there's a problem, you go, you sit down, you discuss it over a beer."
He hopes that the uniting power will eventually expose more people to craft beer.
"I think everybody likes flavorful beer," Blodger said.
At Pratt Street Ale House, a Personal Story Behind Every Beer
by Sydney Carter
BALTIMORE - Oliver Breweries' Pratt Street Ale House brewer Steven Jones crafts his brews with a story in mind. Whether it's about a personal experience or based on a bit of popular culture, each brew has a tale to tell.
Jones welcomed his first son into the world with a craft beer, Little William's Winter Warmer, released for the first time in 2001. After a blunt declaration from William, now 11-years-old, that he "was not little" anymore at age 7, the beer's name became William's Winter Warmer. Jones changes the beer as his son ages.
The alcohol content of the beer rises by one percent each year, making this year's William's Winter Warmer stronger with 11 percent alcohol by volume.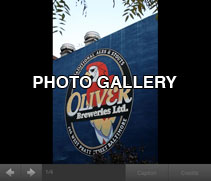 "When I was gonna have my first child, what else does a brewer do? I wanted to celebrate the birth of my son with the one thing I can do pretty well, which is make beer," Jones said.
Jones' second son received the same first birthday present from his father: Jacob's Summer Celebration, released for the first time in 2010. The craft brew is a definite tribute to Jacob, now 2-years-old. The recipe is based on his birth weight of 8.8 pounds.
"It is an amber ale of 8.8 abv that uses 8.8 pounds of bittering hops and 8.8 pounds of finishing hops. Because I am English and his mother is American I divided the hops equally between English and American varieties," Jones said. "Ironically, Jacob was born on July 4 so I chose an American variety of hops called Liberty as the main finishing hop. The beer is released on Jacob's birthday every year."
His beers' unique stories help Pratt Street compete in the Baltimore craft beer industry.
"There's a lot of competition on tap, even in our own pub there's a lot of competition between our own beers," Jones said. "So every once in awhile with the seasonals we do a brew with character of its own. Not just from the actual quality of the beer, but also from the name and the myth that surrounds the making of it. You've got to do anything you can to stand out in the marketplace."
Oliver Breweries, which began brewing beer at the Pratt Street location in 1993, is Baltimore's oldest still-running brewpub. It sits within walking distance of Camden Yards and M&T Bank Stadium. It's also in a city that supports craft beer and boasts multiple local brewpubs.
"There's a decent amount of people that come to the city to do the brewpub tour," owner Justin Dvorkin said. "They come to an Orioles game and see us and have a few beers. They go to the Brewer's Art, they go down to Max's. They make their way through."
"We get a lot of transient business, as opposed to a regular crowd," Jones said.
But because of Jones' eccentric brewing style, with inspiration coming at any moment from anything, there is a constantly changing selection of craft beer to savor at Pratt Street. "People know that when they come here they're going to get something new and unique," Jones said.
Production increases year after year for Oliver Breweries, according to Dvorkin. Last year, production totaled approximately 2,000 barrels. And roughly 36 new beers made their debut in 2011 alone. Oliver Breweries distributes a selection of its beers to Maryland, Northern Virginia and Washington, D.C., with the last two markets being relatively new and successful, according to Dvorkin. Currently, there are about 18 beers on tap at Pratt Street's bar.
And those brews can entertain more than taste buds when people discover the stories behind them.
There's Winter's Wolves, a dark ale dedicated to Jones' favorite band: The Sword. "Creating the recipe was pretty straightforward, I simply interpreted what I see in their music into an ale...big, bold, complex and uncompromising," Jones wrote in a blog entry detailing the story behind the brew.
And there's Shot Down In Flames, a golden ale inspired by the album cover art of "Jesus Use Me" by the Faith Tones. "Performing the miraculous transformation of water into beer (admittedly with a little help from malt, hops and yeast), we became quietly obsessed with the cover art of a record titled "Jesus Use Me" by The Faith Tones (stumbled upon on an internet site posting of the 50 worst LP covers of all time!)," Jones wrote on the blog.
Then there are the brews with family ties. Several recurring seasonal brews are tributes to members of his family. These are the brews near and dear to Jones, the brews he truly enjoys discussing while sipping a pint.
Currently, the British brewer is crafting a beer dedicated to his German mother. The idea for the dark smoked ale brewed exclusively with German malts came after a conversation Jones had with his mother during a recent trip to his parents' home in Tamworth, England.
"My mom said to me, 'How come you haven't ever brewed a beer for me and your dad then?' So I was like, 'Ok, that's it then!'," Jones said. The brew is a way to "make fun of my mother, mostly, because she's German. I've blamed her for WWII since I was a teenager. It all comes down to that really."
Visit Pratt Street next year and there could be a brew in honor of the newest addition to Jones' growing family. He and his wife are expecting their third child in June 2013. It's a natural reaction for Jones, because brewing based on what happens in everyday life is his style.
"I think stylistically the way I brew has just evolved over time," Jones said. "Obviously any brewer, I think, would be lying if he or she says they are not influenced by whatever else is going on around them."
Heavy Seas Beer Expands to Stay Afloat
by Sydney Carter
HALETHORPE - Looney's Pub located off Route 1 in College Park and a pub in the heart of Savannah, Ga. have something in common. Both offer their patrons Heavy Seas Beer to imbibe and enjoy.
Heavy Seas, a Maryland-based beer company founded by Hugh Sisson under the Clipper City Brewing Company name, did not stay within state limits for long after it began beer production in its Halethorpe brewery in 1995. Over the past 17 years, the company has expanded distribution to 16 states along the East Coast and into the Midwest because, quite simply, it had to.
"We could not have stayed afloat if we were only going to do business in the state of Maryland," Sisson said. "When we first started this company 17 years ago, the real focus was to try to stay relatively local and to get fairly deep in the market. And at that point in time Maryland wasn't really quite ready to embrace, at least in the beer business, its local guys."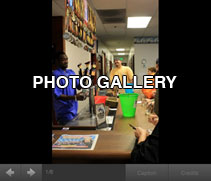 Fortunately, Maryland warmed up to craft beers and local brewers in the last decade. But the early expansion was the key to success for Sisson and Heavy Seas. "The cumulative effect of having 10 states buying your beer as opposed to being dependent on two or three made the economics begin to work for us," Sisson said. But as the expansion spurred growth, it also brought challenges.
"Sometimes the demand was greater than our ability to fulfill," Sisson said. "Once you get shelf space in a store or a draft line in an establishment, if you can't fulfill the orders and you lose them it's much more difficult to get them back."
With 40,000 barrels of beer produced this year and 55,000 barrels of beer expected next year, Heavy Seas keeps growing. It even outgrew its original 15,000-square-foot space and, over the past year, purchased adjacent space to bring the total square feet to 40,000, according to Heavy Seas marketing director Kelly Zimmerman. A two-year plan began July 1 to convert the new space into an area for packaging operations, freeing the old space for increased production with the addition of new equipment, such as a brand new bottling line.
"In about two to two and a half years we will be in a position where we have almost basically tripled the amount of product that we can produce within this local footprint," Sisson said.
More space and more beer does not add up to equal more distribution. According to Sisson, Heavy Seas does not intend to distribute to new markets in the near future.
"It's much more cost-effective to continue to sell, and hopefully sell more, products through an existing customer base than it is to get a new customer base," Sisson said. "I would rather be a big fish in a limited pond than a microscopic fish in a gimongous pond."
Expanding distribution is expensive. It takes time and money to find distributors in new markets. As the distance to the new markets increases, so do shipping costs. And the company must spend more time and money promoting itself.
"If the distances and the times involved in supporting the brand are more locally focused than you can spend more time doing what you're supposed to be doing with less time driving to get from point A to point B," Sisson said. "It's more efficient."
Heavy Seas learned the power of branding first hand. The distribution area is not the only aspect of Heavy Seas that evolved with time, so did the brand. The brewing company was not always known as Heavy Seas.
In the beginning, it was Clipper City Brewing Company. Heavy Seas was, at first, a brand of beer produced by Clipper City, along with the Oxford brand acquired by the company in 1997. After its 2003 debut, Heavy Seas quickly became very popular, according to Zimmerman.
In 2010, Heavy Seas became the dominant brand and all the existing beers were divided into three distinct product lines: the Pyrate Fleet of signature, robust brews like the company's flagship beer, Loose Cannon IPA; the Clipper Fleet of classic brews such as the Marzen; and the Mutiny Fleet of big and bold brews like the Siren Noire Imperial Chocolate Stout.
"The question before was, 'Are you Oxford, are you Clipper City, who are you?' And now we can answer that question with one answer, which is significantly more powerful than trying to answer that question with three answers," Sisson said.
The transition to Heavy Seas as the sole brand happened at the height of the recession in 2010. Despite the nation's rocky economics, the Heavy Seas team remained optimistic about profit growth, according to Sisson. In 2010 Heavy Seas' profits grew 35 percent, and in 2011 profits grew 55 percent, he said.
In 2005, Georgia-based Savannah Distributing Co. began distributing Heavy Seas in Savannah. Sales of the Maryland beer have grown by 25 to 30 percent each year, said John Schorn, Savannah Distributing's general sales manager.
Schorn attributes Heavy Seas success to its "great people, great beers."
Now, with an expansion underway, maintaining current distribution markets and decreasing the amount of beers produced from the current total of 18 are Heavy Seas plans for the future, according to Sisson. Heavy Seas is content with their Maryland roots and existing distribution. It's the right formula for growth.
"We've had pretty robust growth in the state of Maryland," said Sisson. "The local market is much more interested in supporting the local beers than they ever used to be. What was once frustrating is actually quite nice."