Juvenile lifers face another major issue upon release, however — adjusting to life outside prison.
Everything about reentry — housing, employment, social relationships and even how to pay a bill — was new to someone like Caesar Grant, a former juvenile lifer convicted of second-degree murder and incarcerated for 31 years.
"I did a lot of odd jobs," Grant said. "But it kept me in a right state of mind."
Grant finally settled at the Defender Association of Philadelphia. He started as an administrative assistant working for the prison services unit, which led him back into prisons.
"In my mind it felt like an achievement to just be able to go back inside of a prison as an official visitor," Grant said. "The experience was overwhelming to be able to walk into the prison and walk out."
Grant became an investigator. He now assists several units, including those working on felony waivers, municipal court and major crimes.
Joseph Baynes also found a home at the Defender Association of Philadelphia, where he's worked as a records room clerk since July 2018.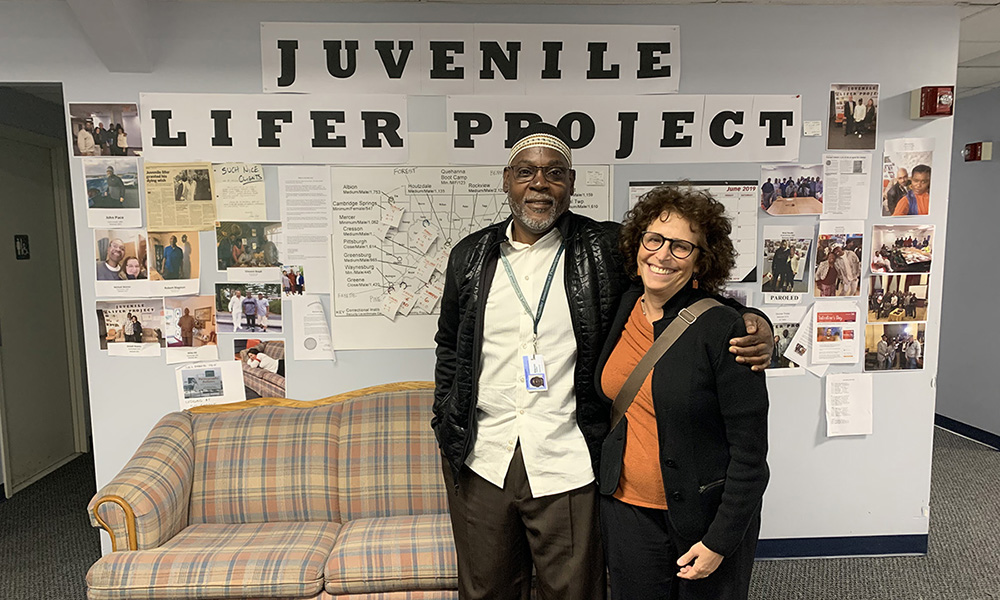 "It's an incredibly important moment in justice reform in this country because the successful reintegration of these individuals should force us to rethink our whole justice paradigm," Levick said.
She pointed to the shrinking footprint of juvenile incarceration as a sign of progress. The Marshall Project reported an 82 percent drop in juveniles held in adult prisons since 1997.
But Levick also spoke cautiously: "The culture of retribution and revenge in this country is deep and powerful. We are not going to turn it around overnight and we may not turn it around in something that is measured in less than decades. But I think we're making progress."
Without resentencing standards, Pennsylvania now faces the ancillary issue of de facto life sentences.
Of the former juvenile lifers resentenced to non-life terms, many received new sentences of 40-plus years. In Levick's view that can amount to life in prison.
Pennsylvania's Supreme Court is deliberating what constitutes a life sentence in Commonwealth v. Felder. The Defender Association of Philadelphia and Juvenile Law Center jointly appealed on behalf of Michael Felder, urging a reevaluation of his 50-year resentence.
Despite Pennsylvania's significant progress in juvenile justice, other states such as Florida and Michigan lag behind in resentencing, much to Bridge's surprise. "It's an incredible abuse," Bridge said. "It's incumbent upon all participants in the criminal justice system to try to rectify that."
This story has been updated.
READ MORE: Parole in the hands of governors
READ MORE: Michigan and Florida go different routes
READ MORE: Five Supreme Court decisions that changed sentencing for juveniles
---
About This Project
This work is a collaboration among the University of Maryland's Howard Center for Investigative Journalism and Capital News Service and the PBS NewsHour.
Credits
Web design and development: Camila Velloso

Reporting and writing: Athiyah Azeem, Victoria Daniels, Hannah Gaskill, Dominique Janifer, Lynsey Jeffery, Jamie Kerner, Lauren Perry, Sara Salimi, Delon Thornton, Emily Top and Camila Velloso

Data analysis: Riin Aljas, Hannah Gaskill and Camila Velloso

Video: Athiyah Azeem, Hannah Gaskill, Dominique Janifer, Lynsey Jeffery, Jamie Kerner, Lauren Perry, Sara Salimi, Delon Thornton, Emily Top and Camila Velloso

Graphics: Hannah Gaskill, Ally Tobler and Camila Velloso

Project editors: Kathy Best, Tom Bettag, Karen Denny, Marty Kaiser, Adam Marton and Sean Mussenden

Audience engagement: Alex Pyles

Top photo: Camila Velloso, Capital News Service


Funders
Support for this project comes from generous grants from the Scripps Howard Foundation, the Annie E. Casey Foundation and the University of Maryland's Philip Merrill College of Journalism.