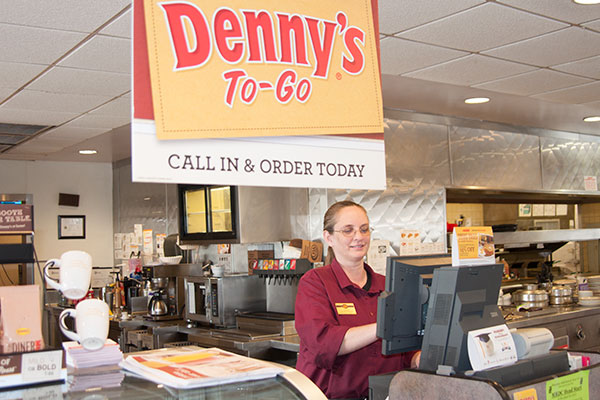 Diana Davis, manager at Denny's in Perrysville , still can't afford health insurance even under Obamacare. Photo by Tazeen Asiya Ahmad.
Maryland Working Women Still Lag Behind Men
By TAZEEN ASIYA AHMAD
Capital News Service
WASHINGTON - Across the nation, women earn less than their male counterparts, make up a majority of minimum wage workers and carry the greatest burden when it comes to balancing family life with work.
In Maryland, women have it a little better -- earning 85 cents on every dollar white men earn, 8 cents above the national average. Overall, women are doing better economically than their counterparts in any other state, according to a report by the Center for American Progress.
But a closer look at the data shows that not all women in Maryland, particularly women of color, are doing as well.
African-American women are paid 70 cents for every dollar paid to white men, and Hispanic women rank close to the bottom nationwide making only 46 cents on the white male dollar.
Only three other states have a wage gap higher than Maryland when it comes to Hispanic women -- California, Texas and New Jersey.
"White men and Latinas are each concentrated in occupations at opposite ends of the wage distribution – white men at the top and Latinas at the bottom," said Valerie Wilson, the director of the Program on Race, Ethnicity and the Economy at the Economic Policy Institute in Washington.
Wilson refers to it as occupational segregation.
Maryland Latinas are 30 percent more likely to be employed in low wage occupations -- housekeepers, fast food workers, etc., than Latinas nationally.
Wilson said this can be explained by the fact that in Maryland a higher percentage of the Latino population is foreign-born (52 percent) than the national average (36 percent). Additionally, a large number of the foreign-born Latinos are newer immigrants, entering the United States after 2000.
Of all employed white men in Maryland, 47.5 percent are in higher paying jobs in management, business, science and arts. Nationally, that figure is 37 percent.
Wilson credits this to the higher percentage of white men in Maryland (43 percent) with a bachelor's degree, compared to the national average (33 percent).
Advocates for working women hope the recent passage of the minimum wage bill by the Maryland General Assembly, calling for incremental increases to the state's minimum wage to $10.10 by 2018, will help decrease this wage gap and improve the overall situation for women in the state.
"Raising the minimum wage in Maryland is an excellent step for women, which will increase their economic security, reduce poverty levels and help close the gender wage gap," said Katherine Gallagher Robbins, a senior policy analyst at the National Women's Law Center in Washington.
Rep. Andy Harris, R-Cockeysville, the state's only Republican member of Congress, doesn't agree.
"Maryland, by doing this, is now in a competitive disadvantage with surrounding states," Harris said.
He also points to the Congressional Budget Office report that showed that raising the federal minimum wage would result in the loss of half a million jobs.
"Since minimum wage jobs disproportionately affect the young and minorities, we are going to increase the unemployment rate among these groups, who are already at historically high levels," Harris said.
But for Sara Hernandez, a single Hispanic mom living in Elkridge who works for $8 an hour at a fast food restaurant, the raise doesn't come soon enough.
"I am happy, but I wish it was raised to $10.10 sooner. It is supposed to go up to $8 an hour on January 1st, but I already make that," Hernandez said.
Hernandez said at her present salary it is hard to make ends meet.
"I spend on the most basic things - car insurance, rent, babysitter, food - but we have to cram in and live with many families because I can't afford to pay rent by myself," Hernandez said.
Hernandez lives well below the poverty line, and she is not alone. The U.S. Census Bureau estimates that about 330,000 women in Maryland live in poverty.
Single-parent households headed by a female had a poverty rate of 29.1 percent in the state compared to 7.9 percent for all Maryland families, according to a new report coauthored by Progressive Maryland Education Fund and the Maryland Center on Economic Policy.
The report also shows that income varies greatly along racial lines, and that both African-Americans and Hispanics are more than twice as likely to be living in poverty than non-Hispanic whites.
Additionally, the report finds the poverty rate in the state varies greatly by county. Howard County has the lowest poverty rate at 6.3 percent, while Somerset County has the highest at 29.6 percent.
Educational attainment and family living arrangements are also significant factors that affect economic status, according to the report.
The state's high cost of living also comes into play.
"It is worth noting that the median annual earnings for Hispanic women in Maryland rank 12th highest in the nation and the median earnings for white, non-Hispanic men in Maryland are 4th - so both are relatively well-paid compared to their counterparts in other states," said Gallagher Robbins, of the National Women's Law Center.
She said it is important to remember that even if a woman makes more in an expensive state like Maryland, her earnings might cover a smaller share of her expenses than if she made less in a state with a lower cost of living.
And in Maryland, the differences in the cost of living can vary dramatically from county to county.
In Montgomery County, a family of three - one adult, one preschooler and a school-age-child - needs $78,000 just to make ends meet. A comparable family living in Garrett County needs $30,000, according to the 2012 Self-Sufficiency Standard, prepared for the Maryland Community Action Partnership.
The report calculates the cost of living for Maryland families based on the price of basic necessities such as housing, food, transportation and child care. It finds that while these costs increased statewide by 54 percent since 2001, median earnings did not keep up, increasing only 25 percent.
In another effort to make the workplace more equal for women workers, Maryland Sen. Barbara Mikulski has introduced the Paycheck Fairness Act, which would make it easier for women to sue for sex discrimination in wages and prevent employers from retaliating against workers who discuss their pay.
Mikulski's bill has wide support from congressional Democrats and the White House.
President Barack Obama recently signed two directives, making it easier for workers of federal contractors to get information about workplace compensation, and requiring federal contractors to provide compensation data by race and gender.
Anna Chu, a policy director for the Center for American Action Fund, welcomes the changes Obama is implementing, especially with regard to the collection of compensation data.
"This will allow much more information to be gathered by sex and race and help increase transparency in pay practices," Chu said.
Critics see this push by Obama and the Democrats as an election-year ploy for political traction at the polls.
"If the Democrats thought it was such a good thing for women, they should have passed it in 2010 when they controlled both chambers of the legislature. They couldn't pass it then and at this point it is clearly political," Harris said.
The Paycheck Fairness Act is not expected to pass due to Republican opposition, but it has drawn a lot of attention to women's wages that advocates say is essential to bringing about fairness in pay to the workplace.
In addition to the gender wage gap and minimum wage, another issue that disproportionately affects women, and one that has gotten significant attention this year, is access to paid sick and family leave.
In Maryland, more than 700,000 workers have no access to paid sick or family leave. The issue resonates with women, who are often the primary caregivers and therefore have to make the choice between staying home with a sick child and a paycheck.
Here again, Hispanic workers disproportionately lack earned sick days. The Institute for Women's Policy Research in Washington estimates that more than half of Hispanic women (57 percent) lack paid sick days, and are 44 percent less likely than white women to have earned sick days.
The organization also found that 40 percent of black workers have no earned sick days.
"People wonder why our families are falling apart. It is because we can't act as caregivers to our own children. We also can't take care of ourselves when we are sick," said Rebecca Feibel, a mother of two boys who has worked in child care facilities and schools for more than 17 years.
Feibel said it is not unusual for parents to send sick kids to school because they cannot afford to take a day off from work.
"A common practice is to dope up the kid on Tylenol, so they don't have a fever. Of course, three hours later the fever is back, but by then we can't reach the parents," Feibel said.
Melissa Broome, a senior policy advocate at Job Opportunities Task Force/Working Matters, has been leading the effort to pass legislation in Annapolis that would require businesses and government entities to provide paid sick leave to all part-time and temporary employees.
Broome was disappointed the bill died in committee this legislative session, and said she plans to continue fighting for it.
"I think for every year the legislature doesn't take action, women are going to be put in a situation where they have to make impossible choices," Broome said.
Another challenge for Maryland women, as it is for women around the nation, is finding affordable health care. Obama and supporters of the Affordable Care Act, commonly referred to as Obamacare, say the law gives many women health care options that previously eluded them.
Under the new law many women have become eligible for tax credits and cost-sharing subsidies which will help them afford health care coverage.
The Affordable Care Act also prevents insurance companies from discriminating against women, according to the Center for American Progress. Women cannot be denied coverage or be charged more for preexisting conditions such as pregnancy, or for being victims of domestic violence.
Critics argue, however, that the Affordable Care Act adversely affects women, because it encourages some employers to drop family coverage.
"The mandates of Obamacare have actually encouraged some employers to drop family coverage, so that the employee will be covered but not their family. This is going to result in a lot of women not being covered, even those who were covered before Obamacare went into effect, " Harris said.
One specific mandate that critics point to is the stipulation that all businesses with more than 50 full-time employees pay a portion of health coverage for employees who work 30 hours a week or more.
There is concern that businesses might try to work around the mandate by cutting employee hours and keeping their business from exceeding 50 employees.
For Diana Davis, a manager at Denny's in Perrysville, Obamacare has has had its pros and cons.
Davis was able to get health insurance for her 14-year-old daughter, which she couldn't afford previously. But she still can't afford to have health insurance for herself.
"I would have had to pay $375 per month. If I didn't have so many bills to pay, I probably would have signed myself up for it, as well," Davis said.
Davis said she relies on the West Cecil Health Center for her health care needs.
"They are a godsend. I have high blood pressure and it wasn't until some girls here said go here, they charge you based on your income, that I found out about them," Davis said.