---
Extreme temperatures pose a serious, long-term health threat for people with chronic medical conditions like asthma, respiratory diseases, obesity, diabetes, heart disease, cancer, mental illness and multiple sclerosis. We all know that people die of heat stroke in the summer or of heart attacks after shoveling snow. We know a lot less about the long-term effects on large populations of living in extreme heat and cold. Reporters at the Philip Merrill College of Journalism at the University of Maryland are working with National Public Radio and students at Wide Angle Youth Media in Baltimore on a project to look at how heat and cold in Baltimore homes affect residents' health – particularly as climate change becomes more and more significant. Learn more and get involved.
---
Baltimore groups and residents use Twitter to discuss extreme weather
---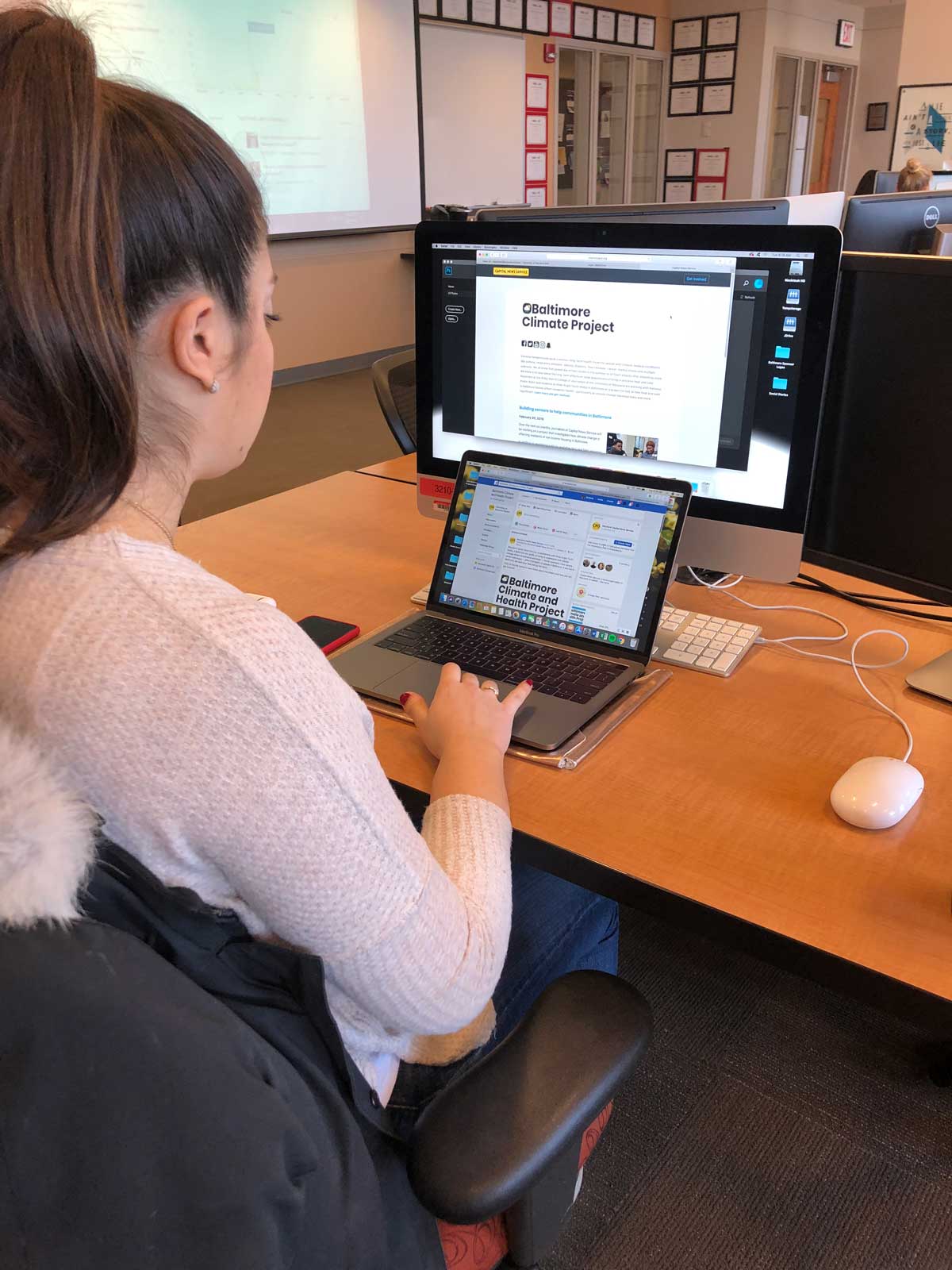 By Brittany Goodman
Capital News Service
April 16, 2019
For the past several months, teams dedicated to the Baltimore Health and Climate Project have investigated how extreme temperatures can affect the health of Baltimore residents.
These bursts of extreme weather can affect even the most routine activities, like going to school or caring for pets.
Many community activists and groups in Baltimore have used Twitter to help spread information about the adverse effects of extreme temperatures.
The first week of 2018 was Baltimore's coldest start to any year in at least 146 years, according to
The Baltimore Sun.
The cold weather caught the attention of several news outlets.
And sometimes, these cold snaps are a matter of life or death. A 2019 report from the Maryland Department of Health states that there were 7 cold-related deaths in the state from February 5 to 11.
Former NFL player turned Baltimore City art teacher Aaron Maybin talks about how the extreme cold affects his students.
Even with warmer weather approaching, Baltimore residents are not in the clear. Our research suggests that extreme heat is just as harmful as extreme cold.
A Baltimore Sun article reveals that in 2018, extreme heat forced 10 Baltimore County schools to close and more than 60 to be released early.
And temperature affects different parts of the city more extremely than others. For example, the CNS data team found that in 2018 the median temperature of the warmest ZIP code (21202 in downtown Baltimore), was 91 degrees Fahrenheit and the coolest ZIP code 21208 a leafy neighborhood in northwest Baltimore), averaged a temperature of 86 degrees Fahrenheit during the same time frame.
Hospital records in Maryland have also been studied to identify the prevalence of specific health conditions by ZIP code in Baltimore. For example, CNS found that there is a strong relationship between a neighborhood's temperature and the rate of hospital visits for asthma.
The extreme heat has been a threat to the health of Baltimoreans in the past few summers.
Advocates and groups aren't the only ones using the platform to speak out. Baltimore residents have also taken to the platform to share their thoughts and concerns during extreme weather events.
CNS will continue to work on this project through the hot days of summer. Follow this blog or sign up for our e-newsletter for updates or to get involved.