Conversations about the safety of air travel have largely left airport workers out. The choice of whether or not to fly in a pandemic is a question of community safety and how the decision affects people with the least protection. Meet some of them in the Howard Center podcast In The Air.

Migrant seafood-processing workers, who are legally hired and transported to the U.S. each season through the federal H-2B visa program, face heightened risks of catching COVID-19.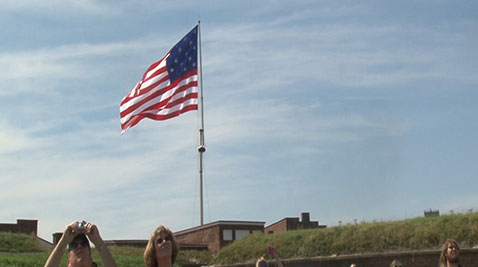 The Shirley Povich Center for Sports Journalism in the Philip Merrill College of Journalism at the University of Maryland, in collaboration with the university's Center for Democracy and Civic Engagement and The Washington Post, conducted a national poll of 1,500 U.S. adults. The online poll released recently found that 84 percent of Americans support the national anthem being played or sung before professional sporting events in the United States.
Annapolis, MD- The Annapolis Latinos League was formed in 2018 by a single man, Kleber Llivichuzca. Llivichuzca created it with the intention of giving the Latino community a safe space to gather, free of drugs, alcohol and bad language.

Baltimore – Covid-19 has increased the amount of animals being adopted nationwide. Rescue shelters are committed to finding perfect matches for their animals, including one formerly abused cat named Byron who has found his forever home.

Washington DC – After a year of watching the Caps on the T.V., fans are finally back in the stands of Capital One Arena. Attendance is limited to 10% of venue capacity, which totals 2,100 fans, and season ticket holders…