ANNAPOLIS — The Maryland Healthy Working Families Act would mandate Maryland employers provide employees earned sick and safe leave, which advocates say would improve the workplace, the economy and public health, but opponents criticize as "one size does not fit all."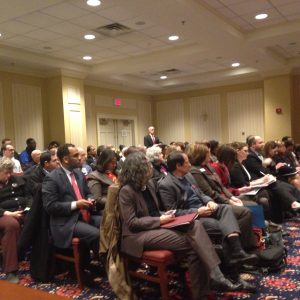 More than 100 people from across the state joined the state's Senate Finance Committee — many overflowing beyond the packed hearing room — to weigh in on the potential impact of mandating paid sick leave Tuesday afternoon.
"There are over 700,000 Marylanders every day who get up and go to work and don't have earned sick leave," the bill's sponsor, state Senator Catherine Pugh, D-Baltimore, said. She hopes to change those numbers because, she said, the opportunity for sick leave is necessary for working families.
The bill calls on employers to grant one hour of sick leave for every 30 hours worked, but it exempts those with fewer than 10 employees. Pugh said this bill helps people with families suffering from any illness, or even domestic violence or sexual assault, while it also provides a protection process for abuse of the policy.
"At the end of the day it's going to be up to this body to decide whether our workplaces should reflect the reality of today's working families," testified Melissa Broome, who works for Maryland workers' advocacy group Job Opportunities Task Force. "We all get sick, our kids get sick."
Similar bills came to the committee in 2013 and 2014, but, Broome said, with the new exclusion of small businesses with nine employees or fewer, this year's bill will only apply to 25 percent of businesses in the state.
But for many opposing the bill, this mandate will just add more business costs, which are becoming overwhelming in conjunction with the state's minimum wage law and the Affordable Care Act, said Lisa Benson, staffing director for Mary Kraft Staffing and HR Solutions in Hunt Valley.
State Senator Stephen Hershey, R-Caroline, Cecil, Queen Anne's and Kent, said he was concerned it would give companies another reason to leave Maryland. He also questioned how the legislation might offer too many openings for employees to take off under the qualification of sick leave, he said.
Pugh emphasized, however, that this bill is not anti-business. With earned sick leave, businesses should save money because workers are more productive and aren't infecting their co-workers, she said.
But for many opponents, it wasn't the idea of employers providing paid sick days — it was the fact that the government will be taking away their control over paid time off.
"Regardless it's a business decision that a company chooses to make," said Leonardo McClarty, president of the Howard County Chamber of Commerce. "One size does not fit all."
For state senator Joanne Benson, D-Prince George's, the bill seemed like common sense, because with her background in education, she said, she has seen how one sick child can affect a whole school.
"What about the children? What about the parents?" Benson said. "Think about that for a moment."
Xaviour Walker, a doctor at Johns Hopkins Bloomberg School of Public Health, characterized it as a public health issue. When patients don't catch a sickness early because they continue to work, the illness only gets worse, he said.
"We need to support these people, because paid sick leave is preventative medicine," Walker said.
Doreen Hicks of Baltimore County works as a janitor, and she came to testify because this legislation could change her life, she said. She works hard and enjoys her job, she said, but she needs earned sick time.
"As it is now, when you get sick, you just have to work," Hicks said. "It impacts your work, there's no time to rest and recover. This is will have a direct and positive impact on my family's well-being."
Paid, earned sick leave is among President Barack Obama's latest initiatives. His plan would allow Americans to earn up to seven days of sick leave each year, according to a White House fact sheet.
"This is not just an issue here in Maryland, this is an issue around the country," Pugh said.