ANNAPOLIS — Hundreds of Marylanders with developmental disabilities, their families and advocates flocked to Annapolis Wednesday and Thursday asking legislators to provide adequate funds for direct support staff wages, services for thousands on the state's waiting list and youth transitional support services.
Despite funding gains for disability services in the past few years — including a 3.5 percent increase mandated last year to The Developmental Disabilities Administration's funding for community-based developmental disability services — Executive Director of the Arc of Maryland Cristy Marchand said this year's budget has taken a backward step.
The 3.5 percent increase would have ensured wages for individuals with developmental disabilities' support staff would receive above minimum wage beginning this June, but Gov. Larry Hogan's budget cut that increase in half, Marchand said on behalf of the Arc, a statewide advocacy group for people with intellectual and developmental disabilities. Restoring $9 million for those wages is a top priority, she said.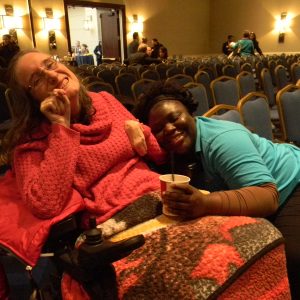 Marchand also said providing services for the more than 8,000 people waiting to receive state services from the Developmental Disabilities Administration — and most importantly for the 125 people on the group's Crisis Resolution waitlist — is another top priority. Marchand and other advocates are proposing a needed $3 million to support those in crisis, who are defined as homeless, a danger to themselves or others, or living with someone unable to provide care.
"I want them to do something about the waitlist because 8,300 people on the waiting list is just shameful," Laura Carr, board member for Arc of Central Chesapeake Region. "I want them to really take a close look at the wages."
Without money to fairly compensate providers, Carr said, it's impossible to support people with disabilities in the ways they deserve.
Mat Rice, of Towson, specializes in public policy for People on the Go Maryland, a group of advocates with intellectual and developmental challenges. He testified before the state Senate Finance subcommittee on Health and Human Services to show how important his direct support staff is — and therefore their wages.
"We know that Maryland is in a fiscal crisis, but we also know that if the revenue is not restored…we will be in a major community crisis," said Rice, who has cerebral palsy and is legally blind.
Direct support staff should be paid more than minimum wage, Rice said, because it is a valuable job that requires lots of training and skills. Last year's mandated increase would have raised the wages for direct support staff about 30 percent above the minimum wage — but that boost has since been cut in half.
Damon Briggs, who also has cerebral palsy, explained the importance of his direct support staff, helping him shower, eat, brush teeth, and even acting friend and mentor.
"If you cut their pay, we can't do the things in society and community that we need to do," said Briggs, of Silver Spring. "Such as work, such as going to our friend's house, such as just living a normal life."
But for Fort Washington mother Stephanie Peterson, getting her son off the waitlist to receive services will enhance both their lives. Peterson's 32-year-old son has intellectual and learning disabilities, and has been increasingly difficult to care for.
He originally missed the chance to receive services after high school because he had plans to live with his dad in another state, but when plans changed, Peterson said, he went straight to the waitlist. Each time she asks for services, she said she is told there is no money.
"Families like mine have been champions most of our lives," Peterson said. "Now we need champions to help us."
The department's program for transitioning youth services, which serves about 600 students each year once they leave the public school system at age 21, could also see cuts.
Mary Ann Kane Breschi, of Baltimore County, has a daughter with cerebral palsy and other disabilities. With transitional services, 23-year-old Maggie is now living and working with support staff, and finding purpose and happiness in her life.
"We recognize that none of this could be possible if not for the transitional youth funding," Breschi said. "While Maggie is fortunate, students graduating in June this year might not be if the budget is reduced."
Advocates said they also worry about funding for public schools, which provide special programs and specific staff for students with disabilities, as well as the discrimination against people with disabilities when it comes to organ donations.
Chair of the subcommittee, state Senator Richard Madaleno Jr., D-Montgomery, said he appreciated everyone advocating for those with developmental disabilities, but, unfortunately, no one can create money.
"I think there's a strong desire to keep the promise that we made in last year's minimum wage bill," he said. "The governor is seeking to get out of the mandate, (but) we can reject that and keep it in place. We have to find money elsewhere to fund it, but it gives us some options."