LONDON — Brodie Hunter moved from Scotland to London 40 years ago, but has always loved America.
He's never been to the United States, yet finds the country fascinating, he said. But the division exposed during this election cycle has disillusioned the Bromley resident.
"America, it's disappointing because it was sort of a beacon to the world," he said. "People looked up to America. They don't in the same way, because you've got so divided. It's worse even than in Britain, and it's bad in Britain, too."
The United States and the United Kingdom are both enduring politically tumultuous times that in some ways have followed parallel tracks.
Divisions in both nations have sprung from anti-establishment sentiments in rural and economically distressed areas that felt neglected and economically overlooked by the political elite, exacerbated by worries about globalization and immigration.
As American voters on Tuesday chose between two of the most historically disliked presidential candidates, England still is reeling from its voters' June decision to leave the European Union, a decision known as Brexit.
Political campaigns in both nations even featured similarly vague slogans, said Robyn Munro, a senior researcher with the Institute for Government, an independent charity in London that analyzes government effectiveness. The U.K. Independent Party promised to "take back control," while Republican presidential candidate Donald Trump claimed he alone could "make America great again."
The U.K. Independent Party fueled the rise of Brexit as a single-issue party centered around leaving the European Union, Munro said, adding that the party has succeeded in including different grievances that fall under the "umbrella of Brexit." Immigration's strain on social services was one of them.
Trump made immigration a central issue in his campaign, promising to build a wall along the Mexico-U.S. border to keep out immigrants who he said were bringing drugs, crime and "rapists" into the United States. He also proposed a ban on all Muslim immigration.
"I think it's this anti-establishment movement…which he's been going for and that's what the Brexit campaign represented," said Caroline Tranter, a London resident who works at a defense research organization. She was watching election returns at the United States Embassy's election night watch party in central London.
Munro said a key distinction between the two countries' immigration debates is that U.K. citizens are primarily concerned with the influx of immigrants in a short period of time, such as Polish citizens who gained the right to go to the United Kingdom when Poland joined the European Union. The areas where Independent Party support is strongest is where the rate of immigration increase has jumped, she said.
"It's not that immigration per se is bad, it's more that the U.K is not dealing with it in an appropriate way," she said. "Whereas, my impression of the U.S. is there seems to be a lot more rhetoric around immigrants being bad people."
Munro said before the Brexit referendum there wasn't a racial element to the anti-immigration sentiment in the United Kingdom. Since the vote, however, there have been reported rises in hate crime, she said.
"There is a perception that the act of voting for Brexit almost made it OK to be more overtly anti-those immigrant groups," she said.
Similar signs have appeared across the Atlantic.
In December 2015, six months after Trump began his campaign, anti-Muslim attacks in the United States surged, according to a report published by Georgetown University's Center for Muslim-Christian Understanding. Of the 53 total attacks, 17 targeted mosques and five targeted Muslim homes.
President Barack Obama has said that political rhetoric against Muslim Americans "has no place in our country," and because of that rhetoric it's "no surprise then that threats and harassment of Muslim Americans have surged."
London resident Abul Hasanath, a Muslim, is shocked Americans let Trump get this far.
"Being a Muslim…I think he creates hatred and fear factor, which I don't like," he said. "… I just can't believe America would elect him or even think of electing him."
Hasanath voted to remain in the European Union, and recognizes both countries are facing questions about regulating immigration.
"There is people out there who come in and waste a lot of money coming in and putting a burden to the country," he said, "but there are people coming in bringing resources and values."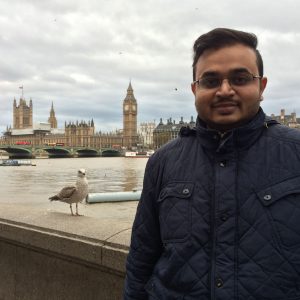 Adel Mabham, who is from Cairo, Egypt, was visiting London. He thinks Brexit was a "bad decision." He said we are living in a global world, and votes like Brexit and deciding the next U.S. president affect the rest of the world.
"Election in the states will affect us (in Egypt), the whole world," he said. "So getting someone like Trump will not destroy the (United) States only, (it) will destroy … the whole international policy."
Trump's rise and polls showing distrust of Clinton are largely attributed to exhaustion with the Washington elite, and the anti-establishment sentiments in the two countries have been almost identical, Munro said.
Both Trump and U.K. Independent Party leader Nigel Farage, perhaps Brexit's strongest advocate, are "quite privileged individuals," and have connected with groups who feel neglected by party leaders, Munro said.
"(Farage and Trump) have been, I think, very successful presenting themselves as bashing Washington, bashing Westminster — they want to fight for the little guy, and elites don't understand the pressures that normal families face, these guys do and 'we should vote for them because they're going to tell it how it really is,'" she said.
Farage has been a vocal supporter of Trump, even going so far as to attend the Republican National Convention in Cleveland.
Tranter said she did not know whether all of those supporting the U.K. Independent Party would agree with Farage's alliance with Trump, "and I certainly don't think all 'leave' people would agree with Donald Trump, but there are obvious parallels that you can draw."
Hunter, who voted to remain in the European Union, thinks the similarities have been exaggerated but agrees there are overlaps. He said the political divide between east coast cities and rural midwestern towns in America has been building for a long time.
"It's appalling the way working class people (in the United States) have been neglected, and that's why Trump has tapped into that," he said. "Of course, it is a bit daft that you get a billionaire property man that's supposedly representative of mainly poorer whites."
According to an October Capital News Service article, the areas in Democratic-leaning Maryland where Trump's support is at its highest are rural areas along the Eastern Shore.
London resident Pelumi Owaseja thinks both countries' citizens are "scapegoating" certain groups for their respective problems. She said she has noticed people in the U.K. blaming refugees and immigrants for the country's problems, which "shouldn't be what we stand for as a country."
"There's been a lot of segregation, a lot of xenophobia," she said, "which is just completely ridiculous."
Owaseja voted to stay in the European Union, and went to bed early the night of the referendum because she thought the "stay" campaign was doing well. She woke up at 5 a.m. completely shocked to see the results.
She still thinks the U.S. election is the "craziest thing I've ever seen."
"Obviously Trump should not be president at all, but at the same time there's so much controversy with Hillary (Clinton) as well, so I'm sort of in the middle," Owaseja said. "Isn't there any way we could get some sort of last-minute candidate to just jump in?"
Munro said leaders in both countries must answer the question of how to re-engage with groups that they "took for granted": the working class of northern England who felt neglected by the Labor Party, and Trump supporters who grew tired of mainstream Republicans and Democrats.
"Those concerns won't just go away even if Hillary wins or even if we decide to stay in the EU," she said. "There's this kind of beast that's woken up."