COLLEGE PARK, Maryland — With Los Angeles clinging to a 3-1 lead in the ninth inning of World Series Game 1, Tupac's "California Love" blared over the Dodger Stadium loudspeaker as Kenley Jansen walked from the left-field bullpen to the mound.
For Dodger fans, "California Love" has become an anthem signaling the bitter end for their opponent, as Jansen has evolved into one of the game's best closers. Game 1 was no different, as he worked a 1-2-3 ninth to give the Dodgers their first win in a World Series contest since 1988.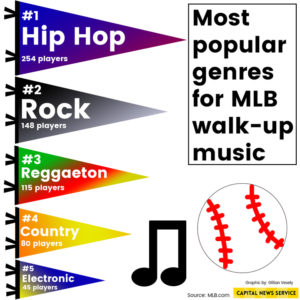 Jansen is one of hundreds of Major League Baseball players who enter the game to the sound of hip-hop, the most popular genre for MLB walk up songs, a Capital News Service analysis found. Of the 721 players with walk-up songs listed on MLB.com, more than a third walk up to hip-hop, nearly double the number that walk up to rock, the next most popular genre.
"Hip-hop's popularity in baseball reflects what's popular in music today, from the audience's perspective," said Bruce Warren, an executive producer for World Cafe, an NPR program that highlights different musical artists and genres. "Hip-hop now pretty much crosses all age groups, races and genders. The right cuts from songs – hip-hop, rock and reggaeton – can get people really hyped and excited, so it works in stadiums."
The two most common artists for MLB players are hip-hop stars Drake and Future, with country star Jason Aldean and rock bands Imagine Dragons and AC/DC rounding out the top five.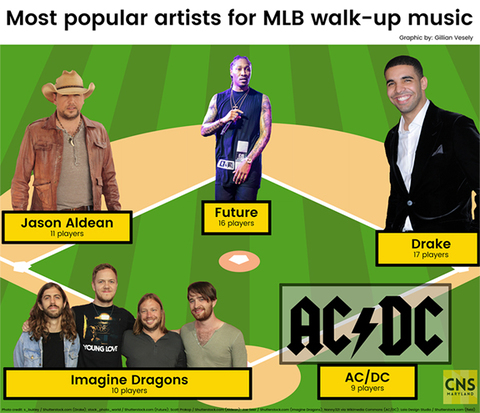 Despite hip-hop's prominence in the sport, the players who enter to songs from that genre are not as successful as those who prefer other genres, the analysis found.
Hitters who walk up to pop music are the most successful, posting a collective .795 OPS (on-base percentage plus slugging percentage). It helps that this group includes perennial All-Stars Anthony Rizzo of the Chicago Cubs ("Bad Blood" by Taylor Swift) and Bryce Harper of the Washington Nationals ("Look What You Made Me Do" by Taylor Swift, among other songs). To be clear, it's not that listening to pop music makes someone a better hitter, but that there is an interesting connection. [See the dataset we built, merging baseball player performance statistics with audio features of their walkup songs.]
Those who choose country, electronic and dance music also have a collective OPS well above the league average of .750. Batters who walk up to reggae fared the worst this season, with a .731 OPS on average, even though the list includes National League MVP candidate Anthony Rendon ("Welcome to Jamrock" by Damian Marley) and Philadelphia Phillies rookie sensation Rhys Hoskins ("Jamming" by Bob Marley and the Wailers).
As with position players, pop music is associated with pitching success.
Only seven hurlers enter to pop music, but those who do own a 3.92 FIP (Fielding Independent Pitching, a statistic that shows what a pitcher's ERA would be with a league-average defense). Of the genres with at least ten pitchers, rock fans have the most success; those who enter to bands like AC/DC, Lynyrd Skynyrd and Fall Out Boy have a 3.99 FIP. Pitchers who enter to latin dance music or hip-hop do not fare as well, posting FIPs over 4.50.
Three of the four most popular songs overall have Spanish lyrics: "Bailame" by Nacho, "Despacito" by Luis Fonsi, Daddy Yankee and Justin Bieber, and "Otra Vez" by Zion and Lennox. "The Outsiders" by Eric Church is the highest ranking English-language song.
Spanish-language music is quite popular throughout all of baseball. A total of 115 players walk up to reggaeton, making it the third most popular genre behind hip-hop and rock, with others using songs classified as salsa, banda or other latin genres.
"Reggaeton is already incredibly popular, and I think it's the major leagues reflecting the popular music, not the other way around," said Felix Contreras, the co-host of NPR's Alt.Latino, a program about Latin Alternative music and Latino culture. "When you consider it geographically, lot of the guys in the Major Leagues are Dominican or Cuban or from the Caribbean, and that's where reggaeton is more popular."
Most players choose to walk up to music from the last few years. Nearly 40 percent of the players with music listed on MLB.com have at least one song released in 2016 or 2017. This includes "Bailame" and "Despacito," which were both released this year.
While today's hits are the most popular, some players prefer something a little older. New York Yankees third baseman Todd Frazier walks up to Frank Sinatra's recording of "Fly Me to the Moon," and Detroit Tigers pitcher Daniel Norris comes in to "Green Onions," an iconic soul instrumental by Booker T. & the M.G.'s. Both were released in 1962. Oakland Athletics pitcher Daniel Mengden enters to "Come and Get Your Love" by Redbone, a 1974 hit that he said reinforces his image on the mound.
"Everything about my windup and look is old school, and I heard this in a movie and thought it went well," Mengden said in an email interview. "It's saying 'come and get your love'…like I'm gonna get you, so it pumps me up. I want the hitter to know I'm not scared and I'm coming after them."
Hip-hop and country fans prefer much newer songs for their walk ups, while those who prefer rock draw from the past fifty or so years. Rock comprises most of the walk up songs released prior to 2000; at least ten rock songs were chosen from every decade dating back to the 1960s. On the other hand, less than 20 percent of the hip-hop and country walk up songs were released before 2000.
Other players draw inspiration from movies and television. Derek Holland, a Chicago White Sox pitcher, enters to the theme from "The Dark Knight Rises." Wilmer Flores, a New York Mets infielder, walks up to "I'll Be There For You" by The Rembrandts, better known as the "Friends" theme song. A native of Venezuela, Flores began watching "Friends" in the minors as a way to learn English, according to CBS Sports, and chose the song because of his personal connection with the show.
There are also players who choose a walk up that plays off their name. Chicago Cubs third baseman Kris Bryant uses "Warm It Up" by Kris Kross, while Giants reliever Derek Law enters to The Clash's version of "I Fought the Law." One of Washington Nationals second baseman Daniel Murphy's walk up songs is "I'm Shipping Up to Boston" by the Dropkick Murphys.
"I feel like there isn't a bad walk up [in baseball] because everyone is using it for themselves," Mengden said. "So just because you don't like it doesn't mean it doesn't pump up or relax that particular guy for his at bat or getting ready on the [mound]."
While players' individual tastes and personalities often come out in their walk-up songs, teams' tastes do not vary as much. Hip-hop is the most prevalent genre on 28 of the 30 MLB teams; the Detroit Tigers prefer reggaeton and the Kansas City Royals prefer rock. On five teams – Baltimore, Cincinnati, Oakland, San Francisco and Seattle – hip-hop makes up more than 40 percent of the roster's walk up music, while Washington is close behind at 38 percent.
Capital News Service also analyzed advanced musical statistics for each walk up song using Spotify's music database, and looked for relationships between the danceability, energy and tempo of a player's walk-up song and his on-field performance. Perhaps not surprisingly, we found no significant connections between musical features of songs and in-game play.
The Giants, who finished tied with the Tigers for the worst record in baseball this season, rank last in average danceability, and second-to-last in energy and tempo. The Mariners, White Sox and Reds have the most danceable, energetic, and fast-tempoed walk up songs, respectively, but they too each finished with a losing record in 2017.